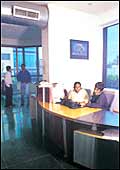 Role models: MindTree's front office is run efficiently by two physically-challenged individuals who silently make the case for equal opportunity
Bracketing employees, or prospective employees, together under some sort of group label is a shameful practice, and several firms flatly refused to discuss 'jobs' alongside 'physically challenged' with us. They're entitled to their discomfort. We persevered, however, because some uncomfortable issues do need to be addressed by responsible HR professionals. Hiring physically-challenged individuals for non-physical jobs is one of them.
Back in 1989, Javed Abidi was a 24-year-old bubbling with excitement. After a four-year course in mass communications from Wright University, Dayton, Ohio, he was sure of snagging a good job as a hack with some top-notch publication of India. What he got was loads of sympathy, no job offers. Was it his wheelchair? It hobbled his physical mobility, but not much else. Determined to make a career for himself, he started freelancing-and even organised a gripping face-to-face between the times' cola warriors, Parle's Ramesh Chauhan and Pepsi's Ramesh Vangal. In 1992, he decided to dedicate the rest of his life working for the disabled. Today, he's Executive Director, National Centre for Promotion of Employment for Disabled People (NCPEDP).
The Difference
Abidi initiated the first-ever corporate research study on the disabled, conducted in 1999 when NCPEDP looked up the 'Best Employers' survey published by a magazine and mapped disabled-friendly policies across India's 'top 100 companies'. The findings? Of the 70 respondents, 20 admitted in writing that they did not have a single physically-challenged employee on their rolls. Recruitment in the private sector was 0.28 per cent of the universe, and in the public sector, a marginally better 0.5 per cent, taking the average to 0.4 per cent. For MNCs, the figure was 0.05 per cent.
The research was conducted 18 years after the then Prime Minister Indira Gandhi announced a 3 per cent job reservation in the public sector for the physically-challenged, and four years after the Parliament passed the Disability Act that extended the reservations beyond peon/clerk jobs.
Now, with the intensity of bottomline pressures any business faces, it's unrealistic to expect do-gooder recruitment policies. But the strange thing is, few have devoted much thought to such recruitment as a strategic HR issue, as something that could deliver results.
Can it? Well, there are those who've resigned to their disability. And those who'd rather die than do just that-the sort who speak with a passion, a steely nerve to compensate for the disability, that could surprise you.
Ironically, few have devoted much thought to such recruitment as a strategic issue.
New Deal
Compassion works best when it's good business. For many firms, it is. In fact, that's what it really is: a recognition of the value brought to the business. Ashok Soota's MindTree Consulting, for instance, has seven employees with assorted physical challenges. The offices are designed with them in mind, too. Says Subroto Bagchi, President and coo, MindTree Consulting, "A person in a wheelchair can roam around MindTree campuses without any assistance, there are separate restrooms for the physically-challenged situated in each floor of our Bangalore campus, swipe card slots and door handles are placed at a height that can be easily accessible to a person on a wheelchair."
The fact is, some of the world's wisest people have had impairments of some sort. For tech blue chip Infosys Technologies, it's simply an issue of meritocracy, according to Hema Ravichandar, Senior Vice President (HR). There should be no discrimination on gender, age, sex, physical abilities or other classification. "In fact," she says, "we have people with disabilities holding high-responsibility positions."
The country's big disabled-recruiter, though, happens to be the state-owned NTPC, which employs as many as 288 physically-challenged people. The company provides wheelchairs, special ramps with railings and disabled-friendly toilets, apart from other measures.
Often, a gesture as simple as a small sign can do the trick. Sadly, though, even libraries (physical disabilities tend to create voracious readers) are not very disability-friendly in India.
The cause's champions, however, are in no mood to give up. The Worth Trust, founded 40 years ago by Paul Brand of the Christian Medical College in Tamil Nadu, started as an organization to rehabilitate the leprosy-cured, and has widened out since. "We have six small-scale industries and profits from these go into the training and rahab of the disabled," claims Director C. Radhakrishnan. The Trust also runs three industrial training institutes.
Depression Challenged
Whichever way one looks at it, it's hard not to admire the very perseverance-against steep odds-that many physically-challenged people display. Combine that with the extra book-reading and brain-wracking they may have done, and they pack one helluva punch. Yet, most of India Inc. seems resistant to this logic, groans Abidi. By his information, 70 per cent of all Chinese disabled are gainfully employed, while barely 1 per cent of their Indian counterparts are. What's worse, he rues, is the brain-insulting tasks they're often assigned-as if the disability must somehow manifest itself above the neck as well. Ironic, don't you think?
---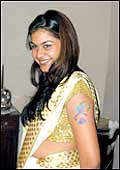 Tattoo art: Designer work in the flesh
Make moolah branding people? Become a tattoo artist. The art's been evolving in India for 1,500-odd years, but now with the rich n' famous getting into alt bod-appeal, you could dream of your own designer studio. "We charge anything between Rs 2,500 to Rs 1 lakh," says Hardy Mitra, owner of Funky Monkey, a swank high-hygiene Gurgaon studio, "depending on the kind of design the client wants." It takes the skill of the craft, of course. But more importantly, a vivid imagination combined with a special sensitivity to the client's unarticulated motivations. Self-expression is a game of intimate empathy. Forget FTV. This is real designer-work, in the flesh..
---
I am a 36-year-old manager (training and development) with a cellular service provider in Uttar Pradesh. My expertise lies in sales and certain behavioural programmes, for which I have been trained by international partners in my previous organisation. I've just been offered a training assignment by a telecom MNC which is basically a product distribution company. The package being offered is not very remunerative, but working with an MNC and that too in Delhi seems tempting. I had a frank chat with my boss who advised me not to leave, guaranteeing me a promotion in March. In my current job, my performance rating has been 'outstanding' and I've been awarded as well. Also, I'm in charge of quite a few HR initiatives within the company. My boss even went to the extent of saying that he would eventually want me to head a circle independently as an HR manager. Should I stick around or take the opportunity at hand?
One thing that is attractive about your current company is your chance of becoming an HR manager and not being pigeonholed into training. However, once this offer is out of your hands will your boss stick to his promise? Or actually, is it really a promise? On the other hand, the attraction about your new assignment is that it's an MNC and located in Delhi, which opens up the field for you professionally. I would say a bird in hand is worth two in the bush and unless your boss puts pen to paper where his mouth is-I don't think you can bank on that. However, do make sure you are joining a good company in an assignment commensurate with your experience and that there is scope for growth there. Otherwise you will be a loser both ways.
I am an engineer with seven years' experience in materials management and logistics management. I recently got an opportunity to pursue MBA in operations management from a second-rung B-school. Will this improve my career prospects?
An MBA degree, even if it is from a second-grade business school, will give you an additional qualification, especially in operations and definitely improve your career prospects-there is no doubt about it. I will advise you to go ahead with it.
I am a 25-year-old junior service engineer in a multinational tractor company with two years' experience. I am a diploma holder in automobile engineering and also got an opportunity to edit the company's workshop manual and booklet about tractor maintenance. However, I'm not satisfied with my remuneration. It seems I need to upgrade my qualifications to get more opportunities or to play a larger role in the organisation. Will an MBA via correspondence boost my career prospects?
An MBA through correspondence will not substantially improve your career prospects. However, it may give you additional knowledge and aid in learning and self-development. If you are looking for a resume boost, you need to do a full-time MBA.
I am a software application engineer-cum-systems and network administrator with over 12 years' experience in the Indian and international it arena. My last job was with a TV broadcasting company in Malaysia where I spent four years. However, due to family problems, I had to return to India last year. Thereafter I decided to start working from home turf and applied to several Indian it majors. I was even called for preliminary interviews. But to my astonishment, I found that most of these companies were using technologies that were either obsolete or far less known than what I've learnt abroad. So it comes as no surprise that they rejected me, seeing my credentials and experience. Ever since I've returned, I have even upgraded my CV with certificates from both Sun Microsystems and Cisco. How should I deal with the problem?
Well it is surprising that you have not found a company which has technology matching your experience. However, it may just be that the economic environment is not conducive for high-tech jobs. In any case, you need to do two things. One, ask around which companies deal in technology that is your forte and apply to those. Secondly, you need to acquire skills that are in demand. You have just done two certifications-that should stand you in good stead if they are relevant in the current environment. Highlight these courses while applying for jobs. You may have to take a little backward step to get into a good it company. That may be a compromise worth making in the short term.
---
Answers to your career concerns are contributed by Tarun Sheth (Senior Consultant) and Shilpa Sheth (Managing Partner, US practice) of HR firm, Shilputsi Consultants. Write to Help,Tarun! c/o Business Today, Videocon Tower, Fifth Floor, E-1, Jhandewalan Extn., New Delhi-110055.
---
Twist of Fate
The BT industry is hiring PhDs, but is it getting brainier?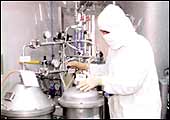 Next frontier: There's something cooking, but what is it?
Okay, so it'll be some time yet before protein-enriched potatoes can actually plug India's nutrition deficit. Or before DNA-group-specific medicines and diet-targeted food brands hit the market. But the labs are busy, and the promise of biotech glory has upped the life-sciences and genetic engineering ante. India alone has nearly 800 biotech companies hoping to leverage the country's high-grey-matter concentration and low-cost advantage to crack global apps. It's a specialisation in which India turns out some 700,000 post-graduates and 1,500 PhDs every year.
Nice numbers. But are they world-beaters?
"The intellectual capital focus is on scientists and the target technical areas are biotechnology, biochemistry, bioengineering, microbiology, enzymology, synthetic chemistry, biopharmaceutical and biomedical sciences," says Nirupa Bareja, Group Head (HR), Biocon India Limited, which boasts of 60 PhDs on its rolls. Raman Akella, Head (HR & Administration), Shantha Biotech, is also keen on PhDs (the company has 16). Likewise, Ranbaxy, which has nine.
That's a lot of PhDs. So should we expect to see their breakthroughs appear in prestigious research journals such as Nature? Maybe not just yet. Besides, as Akella sums up, "There are no stereotypes in the biotech world, except for the desire to make an impact on the world of disease."
---
Barista Coffee Beancounters
Is it still about customer engagement?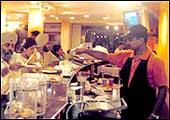 Cafe Barista: Now the dumbed-down model?
Barista, for those who still don't know, means 'bartender'. The cheery fellow who insists on your name and is bothered about more than wallet disgorgement in lieu of a hot liquid down the gullet. Bothered, actually, about coffee-brewed to its stimulative best-and you the person. Or, at the very least, you the person and coffee, as you might see it. It's a hoary old tradition, coming down the ages. "Barista Coffee is not just about drinking coffee," as a spokesperson for the café chain says, "but also about the entire experience."
Experience? The baristas don't even get the names right anymore, forget the rest. Ever struggled for popcorn during a blockbuster intermission? That's roughly the engagement level nowadays (okay, with the name-taking ritual thrown in as part of the process), if Gurgaon's mall bars are any indication. So much for soaking the baristas in all the world's café lore.
To be fair, the engagement model was always somewhat unrealistic in India, a country beset with too much social awkwardness for bartenders-in the fullest sense of the term-to operate as a genuine brand USP. Would a single-outlet café, then, be able to make a go of the original idea?