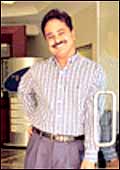 A squeaky clean image has always been top priority for the Hyderabad-based pharma major Dr. Reddy's Laboratories. So, when it decided to bring out the Safety, Health and Environment (SHE) Report for 2002-03 assessing its 12 manufacturing and R&D centres (the first for an Indian company), it was a very serious affair with the CEO G.V. Prasad keeping a tab on its progress on a daily basis. "Statutory compliance is a minimum requirement in this industry. We want to measure our performance not just on financial parameters but also on SHE," says Prasad. The report is part of the Rs 1,655-crore company's efforts to comply with the still-unratified Kyoto Protocol, which requires disclosure of the amount of greenhouse gases discharged. Last year the company had invested Rs 12 crore on its green activities like zero-effluent discharge. We're all for green because that's the colour of money as well.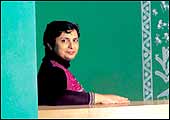 Bollworm Buster
The lone beneficiaries of the anti-genetically modified (GM) crops tirade, some say, are the dreaded bollworms, and their ilk. Bangalore-based biotech hotshop Avesthagen just compounded the pest's problems by filing a patent in the US for a new technology to manufacture rice and cotton gm seeds-a first for an Indian company. "Although it will take five-to-seven years to commercialise the technology," gloats the University of Louis Pasteur (Strasbourg)-educated 39-year-old founder-CEO Villoo Morawala Patell, "it puts us in an elite club." Avesthagen boasts of high-profile backers like the Tata group. Pop the bubbly, depending on what side of the gm divide you are on.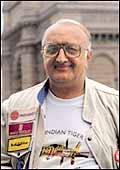 Bollywood Calling
That flying is a passion for Vijaypat Singhania is well known. But Bollywood movies? Passion or not, the Chairman Emeritus of Raymond sees business merit in producing films. The production of the first film Woh Tera Naam Tha is already under way and is expected to be released later this year. The production company is christened Radha Krshna Films. Singhania, while confirming the venture, wouldn't elaborate. According to a Raymond executive, Singhania's plan is to produce a slew of low-budget movies in the crossover mould that require under Rs 7-8 crore. Singhania, sources close to him say, has invested in the new business more in his personal capacity. A foray into films is perhaps just the thing that will make Singhania the perfect businessman.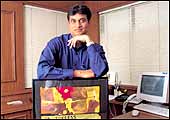 Sachet Warrior
After giving the FMCG heavyweights a run for their money with his 50-paise shampoo sachets and fairness creams, C.K. Ranganathan, the 41-year-old Managing Director of the Chennai-based regional FMCG satrap CavinKare, is setting his eyes on the food business. To start with, his Rs 270-crore company will introduce a range of pickles (yes, this too will come in one-rupee sachets) and ready-to-eat meal accompaniments under the Chinnis brand name in his traditional stronghold, the south. Ranganathan plans to invest Rs 10 crore in his new venture. "We want to be an all-India company and not just a regional player. Our products will be tailor-made to suit the tastes of various parts of the country." Nestle and MTR had better watch out.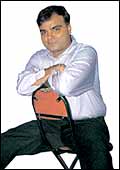 Creative By Accident
As an account manager in Mudra in 1996, Sandeep Verma felt the agency's creative team was fooling around with an HSBC (then HongKong Bank) campaign. At a stage when he ran out of excuses that he could offer the client, Verma decided to write the script himself, only to discover his hidden creative skills. Five years and a few more successful ads resulted in his Mumbai-based boutique agency ICOMO, which now clocks Rs 5 crore in billings annually. Meantime, he dabbled with writing scripts for Bollywood thrillers (Sudhir Mishra's Is Raat ki Subah Nahi and Calcutta Mail are two). He's currently working on a black comedy titled Paradise on Earth based on Kashmir. His one minute-long public awareness films on noise pollution, street children and water conservation, screened last month, have also received critical acclaim. "I'm a creative maverick," says Verma. Someone who takes the odd break from his busy schedule to tutor MBA aspirants, has to be one.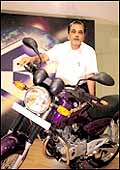 Back With Bajaj
Just a month back R.L. Ravichandran, the 53-year-old Bajaj Auto VP (Marketing & Business Development), sprang a surprise on his company by putting in his papers. "I plan to take a break and go abroad," he had said. The real reason, some suggested, was that he wasn't getting along well with Joint Managing Director Rajiv Bajaj. According to the compromise hammered out subsequently, Ravichandran will have a bigger role in Bajaj Auto's forays into international markets and product planning. "Now I can use my knowledge without straining myself too much. The arrangement suits both the parties," he says. Professional managers being at loggerheads with the promoters is nothing new, but the Bajaj's speedy resolution of the issue shows Ravichandran's importance at Akurdi.