Tangra remains quintessentially Chinese; most house are adorned with huge vermillion scrolls and dangling chinese lanterns. The buzz, though, is gone

Health Snippets
The Chinese moon festival dates back to the Tang Dynasty, circa 618 A.D. and celebrates the brightest full moon of the year. Also called the mid-autumn festival, this takes place on the 15th day of the eight lunar month, or September 11, 2003, in this case in layspeak. The celebration this writer attends has the regulation moon cakes, round pastries filled with black bean. There are also other assorted pastries, grapefruits, and plastic cups of steaming herbal tea. Only, all this is happening in Kolkata, in a classroom that has seen better days at the Chinese School at Tangra, the borough that houses what remains of the city's once-thriving Chinatown.
"Those were the days this was a real Chinatown," sighs Monica Liu, unwrapping a moon cake. Liu's reference is to a time, in the 1970s, 1980s, even some part of the 1990s when the narrow Byzantine lanes of Tangra, just off the city's Eastern Metropolitan Bypass, housed a heaving Chinatown: over 10,000 people, four Chinese Schools, three newspapers, business interests spanning leather tanneries, Chinese eating dives with names as predictable as Kim Ling, Canton, and Beijing, and factories turning out an exotic range of Chinese pickles and sauces.
Tangra still remains quintessentially Chinese; most houses are adorned with huge vermillion scrolls emblazoned with golden script and dangling Chinese lanterns. The buzz, though, is gone. Of the four schools, only two remain. Of the publications aimed at the community only one, the Overseas Chinese Commercial Of India survives.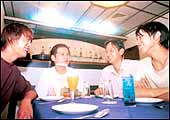 Gen-next: Dominic Chai (second right) and Jeffrey Chen (right) with friends on a night out that is increasingly becoming difficult
Canada is a popular destination, although the peripatetic Chinese don't mind moving anywhere in search of better prospects
Its last rival downed its shutters nearly six years back. And thanks to a 1996 Supreme Court order, most Tangra tanneries have been forced to down shutters-they do not meet pollution control norms-and shift to a straightforwardly titled Leather Complex, some 20 kilometres away. Rather than do this, most Chinese have preferred to exit the business altogether. Today, there are less than 1,000 Chinese left in Tangra. The rest have moved on.
Canada is a popular destination, although the peripatetic Chinese don't mind moving anywhere in search of better prospects. Dominic Chai is a 22-year-old who has worked at one of India's best-known Chinese restaurants, China Garden in Mumbai. Now he is off to Sweden where he has landed a chef's job. "I will make five times what I could in India," he says. "Then, there's the prospect of eventually starting my own restaurant.'' "At least 90 per cent of the young are frantically saving up for a chance to leave Kolkata," adds Jeffrey Chen, a gawky 21-year-old who manages his family's popular Ka Fu Lok restaurant and has seen most of his friends and cousins depart for foreign shores.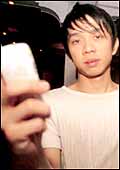 "At least 90 per cent of the young Chinese are frantically saving up for a chance to leave Kolkata"
Jeffrey Chen, Ka Fu Lok
Canada is a popular destination, although the peripatetic Chinese don't mind moving anywhere in search of better prospects
The trend of its young departing for Vancouver, San Francisco, Sydney, and, more recently, Shanghai should have spelled good news for the community. After all, the resilience of the Chinese economy can be attributed, in part, to overseas Chinese who pump money back into the mainland where they still have family ties. Unfortunately, the migratory phenomenon in Tangra is different: the entire family migrates. And the people who remain, often find themselves a splinter group of families where most of the members reside in China, Canada, or elsewhere-anywhere but Kolkata.
F.H. Chen is one of those who opted to stay back. The 47-year-old runs a mid-sized tannery and never felt the need to join his parents and six siblings in Canada. "Now the government wants us to give up the place the tannery has been in for generations and move to a the new Leather Complex," he rues, pushing back a mop of unruly still-black hair from his forehead. "It's not easy at all."
The others present at the Moon festival organised by the Lius-head of family K.C. Liu is President of the Tangra Chinese Welfare Association and a second generation migrant who runs four popular Chinese restaurants in Kolkata-are all middle-aged and they couldn't agree more with Monica Liu's memory of a booming Chinatown. These are largely die-hard old-timers who cannot bring themselves to leave Kolkata. Their feeling of alienation and sense of vulnerability heightened by decreasing numbers, these Tangra residents-many of them live in houses that are veritable miniature fortresses-strive to retain their sense of and identity.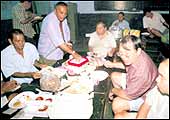 There feeling of alienation heightened by decreasing numbers, these residents strive to retain their identity
It doesn't help that Kolkata itself is no longer the city it once was. In Delhi, Mumbai, even Bangalore, Chinatown would have served as a tourist-magnet. Kau Fu Lok's Chen believes there's a chance of doing something similar in Kolkata. "There's no reason why Tangra cannot be marketed like Chinatowns across the world," he says. His dream is to build a mall in Tangra that stocks the best Chinese goods. For the moment, however, he is busy scouting for properties in Bangalore and Hyderabad where he believes "our distinctive Hakka cuisine will do well".
The moon-worshippers will not be happy to learn that the spirit of their once-glorious Chinatown will live on in a noodle shop in Bangalore.
TREADMILL
AB infinitum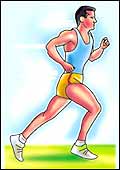 That's right. Even more on building your abs. the quest goes on. This time, for those who're tired of doing millions of crunches, here's something that may bring cheer: "Abs aren't made in the gym, they're made in the kitchen." Every day at the gym I see people doing hundreds of crunches-weighted crunches, twisted crunches, side bends, leg raises, the works. The sad news is that none of that works. None. You can't spot reduce body fat. Period. Put simply, you can't pick and choose the areas that you would like to lose fat from and do exercises to miraculously shed flab from those parts. The body doesn't work that way. The only way you can cut fat in key areas is by lowering your total body fat levels. Fat loss happens all over the body and not from specific areas.
So, how do you develop your abs? Watch what you eat. No matter how many crunches you do, your abs will not show unless you lose your body fat. For men, if your body fat falls below 8 per cent (14 per cent for women) that's when the abs begin to show. Want to calculate your body fat? Here's a site that will do it for you: www.freeweightloss.com/calculator1.html. Just enter your weight and waist size and click the button. This may not be the most scientific method for calculating body fat since the optimum levels vary depending on the kind of frame. Calipers that measure the fat layers, especially around your belly, are better tools. But try out the site by all means.
Back to the diet. That's step one. Go for a high protein, moderate carbs and moderate fat diet. Cut out simple sugars, lower your dairy content and cut out all excess saturated fats. Most of the fats you consume should come from Omega-6 and Omega-3 fats. Hint: eat fish.
Step two, exercise. Run, walk, jog, or climb at least three times a week for 30 minutes a session. This speeds fat loss by increasing your metabolism. Step three, exercise your abs to tone the muscles. Do them two to three times a week and stick to simple crunches in the beginning. Don't overwork your abs. Your abs work like an accordion or a corrugated board. While doing crunches, therefore, it's not important how high you raise your trunk, but how tightly you squeeze your abs. Because that's what maximises your muscle tension and, hence, develops your ab muscles.