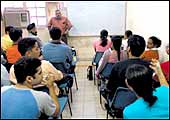 Riding the rush: A classroom session at Career Launcher, a popular CAT coaching school
Nalin Aggrawal knows his mind, and how. Even before he got into an Indian Institute of Technology (IIT), he was very clear that, post graduation, he would move on to an Indian Institute of Management (IIM). Today, the final year student of electrical engineering at IIT-Mumbai has got it all figured out. Post-IIM (and it will have to be either Ahmedabad, Bangalore, or Calcutta in that order; nothing else will do) he plans to sign on with consulting firm McKinsey & Co. and, eventually, found a company. Aggrawal, like most students in his batch of 400, has a job offer on hand, but he'd prefer to get into an IIM right away. He can often be seen with IMS course material in his hand and believes that CAT (the Common Admission Test that is the first step of getting into the IIMs) is a breeze for someone from IIT. "Eight hours a week is enough preparation," he says.
Like Aggrawal, Tushar Chaudhary, a 22-year-old final year student of computer science at IIT Delhi, is preparing for his cat. When he is not working on his thesis on automata theory (the formal study of the power of computation of abstract machines, according to The Collins English Dictionary), Chaudhary is worrying about pushing his rank from 50, to somewhere in the 20s in an all-India mock cat conducted by his coaching school. Averages are on Chaudhary's side: of the seven IITs, Delhi has traditionally sent the most students to the IIMs; last year, nearly 250 of the total batch of 400 appeared for cat and 100 managed a call from one or more of the IIMs.
It isn't only engineers who are obsessed with cat or any of the other admission tests they need to clear to gain admission to a B-school (See Tough To Crack). Aparna Bhawal is a B-school aspirant from Delhi's Shriram College of Commerce (SRCC). Every year, SRCC, Lady Shriram College, and St. Stephens send some 200 students to B-schools across the country. "A plain vanilla degree won't take us anywhere today," says Bhawal, a student of economics. "Fortunately, our choice isn't just restricted to the IIMs as there are plenty of other good B-schools."
TOUGH TO CRACK

TESTS

NO. OF PEOPLE APPEARING

NO. OF SEATS

B-SCHOOLS

Common Admission Test (CAT)

100,000

5,000

All IIMs, S.P. Jain, MDI
XAT

40,000

2,000

XLRI, XIM, LIBA, Goa Inst. of Mgmt.
JMET

10,000

360

All IITs and IISc
MAT

50,000

3,000

AIMA's MBA programmes
Bhawal is right, but there's no denying the fact that everyone would rather gain admission into an IIM. "If we don't get through cat this year, we will just wait and write it again," say Abhimanyu Sarvagyan and R. Praveen, students of chemistry and physics respectively at Chennai's Loyola College. This, despite their alma mater's own business school, Loyola Institute of Business Administration climbing through the rankings (See India's Best B-schools). Saikat Chatterjee, a student of commerce at Mumbai's Poddar College, says he spends around 10 hours a day preparing for the cat, but claims that the hard work will pay off once he gets into a blue-chip company. Strangely, Chatterjee's company of choice is also McKinsey & Co. And almost half of Mumbai's St. Xavier's graduating batch specialising in economics and commerce will sit for the cat on November 23, this year. As D-Day nears, terms such as quants, RC, DS, VA, and Simcat (quantitative analysis, verbal ability, reading comprehension, and data sufficiency, all sections of cat, and simulated cat) resonate through campuses, especially the tech ones (engineers have always been partial to acronyms), all over India.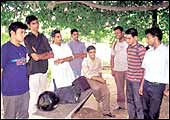 IIM or Bust: Some of these students from Loyola swear by the IIMs
Tapping this frenzy are coaching schools such as IMS Learning Resources. Every year, it trains around 30,000 students across 30 cities. A third of the students at IMS, claims Kamalesh Sarjanani, its head, already work, some for blue-chip names, but want a crack at cat to further their careers. The courses don't come cheap-they cost between Rs 5,000 and Rs 16,000-and some aspiring MBAs get taken in by shysters out to make a quick buck.
It isn't easy getting into an IIM. Last year, some 100,000 students vied for 1,300 seats. Sarjanani reckons that students with the right aptitude (read: brains) who put in two hours a day for six months should walk through cat. He claims that close to 1,000 of his students made it to an IIM last year making three out of every four IIM students, an IMS product. Delhi's Career Launcher is another coaching school that is reaping the benefits of the great MBA-rush. The academic head at this school, Chandrashekhar Singh has things down to a mathematical equation. "A net score over 70 can ensure two to three IIM calls," he rattles off. "And the requirement for other B-schools can be on the lower side".
Given the competition, most aspiring MBAs begin early. Abhishek Surana, a second year student of physics at Bangalore's Sri Bhagawan Mahaveer Jain College has formed a small study group with like-minded aspirants. Their target: cat 2004. ''It is never too early to start," explains Devendra Kumar, a member of the group and a student of the city's National College. "The competition is intense; next year, we intend to take up specialised coaching to crack the exam." Messrs Singh and Sarjanani should be happy.
-additional reporting by Dipayan Baishya, Venkatesha Babu, and Nitya Varadarajan