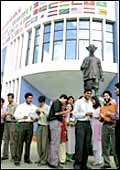 RANK 6


SIBM: Innovating its way to the top
Three months before he landed at the Symbiosis Institute of Business Management (SIBM) campus in Pune, Aniruddha Basu spent time learning basic accounting and economics. But it wasn't simply a case of an (REC, Nagpur) engineer wishing to cram up on Commerce 101. Rather it was part of a rigorous pre-session training that SIBM puts its incoming students through-online, and in this case, in the comfort of Basu's home in Guwahati. The result: "I could analyse a balance-sheet even before I started on the classes here," boasts the 25-year-old Basu.
If getting into a good B-school is tough, becoming and staying one is harder still. And innovative value-additions to teaching is just one of the many things that aggressive tier-one-but-not-quite-IIM schools like SIBM, Jamnalal Bajaj Institute of Management Studies (JBIMS), and the Faculty of Management Studies (FMS) at Delhi University are resorting to close the gap between themselves and the IIMs (A, B, C, L) and XLRI.
Take FMS, for example. Next year, it will launch new courses in management consultancy services, education management, and civil aviation. Or SIBM. The school runs a Young Managers Development Programme that allows its young alumni to tap the faculty to help solve on-the-job problems. In fact, after the placements (which will happen ahead of passing out), the students spend three months at the institute, learning more about the industry they've opted for. "The idea is to get them acquainted with the ways of the corporate world before they become a part of it," says Arun D. Mudbidri, the school's director.
Since all the three institutes are relatively old, they have a big alumni network that they are working to win confidence among recruiters. JBIMS, for instance, has a 2,000-member strong alumni network that's used for student mentorship programme. At SIBM, students (in small groups of three or four) are put under a mentor right after the first semester. Every fortnight the group meets its mentor, which includes people like Satish Sekhri, MD of Kalyani Brakes, for three to four hours.
FMS, on the other hand, boasts former students such as D.S. Brar, CEO, Ranbaxy; Ramesh Sobti, CEO, ABN-Amro Bank; and Sunder Hemrajani, Executive Director (Sales), Pepsi Foods. All these companies regularly recruit from FMS. There are other benefits, too. One of FMS' alumni at LG recently gifted air-conditioners to the school.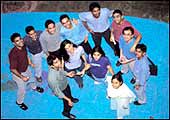 RANK 7


JBIMS: Alumni-mentors add to the experience
Mentorship, active alumni, and a strong grounding in practical work help students come closer to the recruiter's expectations. Says Rajan Acharya, Vice President (Corporate HRD), Wipro, an alumnus of SIBM: "We go to almost all the prestigious B-schools and we look at the potential of a candidate to grow in the future. To that extent, students from SIBM suit our job requirements."
For FMS and JBIMS, location is another big advantage. It is not unusual for the ceos of big south-Mumbai companies such as HLL, Johnson & Johnson, and Tata Motors to stop by at the school for guest lectures. Says Manish Daruka, a first-year student at JBIMS: "The visiting faculty here is very powerful. They tell us exactly what's going on in the corporate world. Besides, the projects they give us to work on are very helpful."
Value For Money MBA
Perhaps, one of the biggest attractions of these three schools is their relatively low course fee. FMS, which last year received 26,000 applications for just 90 seats on offer, charges a pittance-Rs 10,000 per annum. JBIMS, Rs 40,000 per annum, and SIBM has only this year upped its fee from Rs 75,000 to Rs 90,000 per annum. "It's a simple cost-benefit analysis," quips Daruka.
Indeed. FMS' average (domestic) annual salary this placement season was Rs 6.88 lakh, JBIMS' was a tad lower at Rs 6.4, and SIBM's at Rs 4.5 lakh. How does that compare with that of the IIMs? A's was Rs 6.2 lakh, B's Rs 6.1 lakh, C's Rs 6.2 lakh, and L's Rs 6.18 lakh. A caveat is in order, though: All the salary figures are based on the information provided by respective B-schools and, therefore, taken at face value by BT.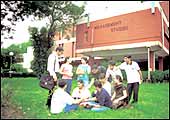 RANK 8


FMS: Its rock-bottom fee is a big attraction
Making these offers are top-notch companies. At JBIMS, top recruiters include the Tata Group, McKinsey & Co., HSBC, ICICI, P&G, ITC, Cadbury, and Coca-Cola. At SIBM, it's an equally stellar list including Wipro, GlaxoSmithKline, Colgate-Palmolive, Accenture, and P&O Nedloyd. FMS also draws heavyweights like Ranbaxy, GE, and HLL.
To make up for their relatively low fee, the institutes aggressively chase consultancy projects and management development programmes. JBIMS, for example, earns Rs 2 crore every year from project work, and SIBM racked up Rs 1 crore from management development programmes alone. "We have been providing MBAs to the corporate world even before the IIMs did," says R.K. Jadhav, Director, JBIMS, to drive home the school's claim to superlative management education.
It may be years before one of these three displaces any of the powerful IIM triumvirate (A, B and C), but nobody will deny that they have a fair chance of doing so.