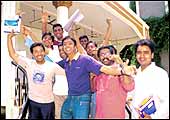 RANK 9


LOYOLA INSTITUTE OF BUSINESS ADMINISTRATION
Elective courses in geographical information systems (GIS), neural networks, and disaster recovery management? That's just one of the changes Casimir Raj ushered in soon after he returned to LIBA in 2001. The other thing that the B-school's director did was to introduce the XLRI test for admissions, widening the scope of students to all India rather than just south India, and making recruiters take note. Then, he overhauled large parts of the syllabus, making it contemporary. His agenda was straightforward: Catch up at least with XLRI, which is another Jesuit b-school like itself.
On that front, Raj-who in 1986 left LIBA for XLRI and later Santa Clara University in the US, among others-is doing rather nicely. While last year LIBA came in at No. 21 (XLRI did not participate in our survey last year), this year it's at No. 9, just five places behind its kindred school in eastern India. What makes LIBA's rank even more commendable is the fact that its full-time MBA programme is barely eight years old, although it has had a three-year, part-time course since 1979. Says K. Pandia Rajan, Managing Director, Ma Foi Consultants, "LIBA has managed to impress corporates with its curriculum and some good marketing."
Over the last few years, Raj has focused on improving the school's fundamentals. For example, students had limited access to computers and the pedagogy did not encourage practical work. Raj had the institute invest more than Rs 3 crore in setting up a computer lab with state-of-the-art software tools, including those for datamining and data warehousing. Today, the 120 students have unlimited access to the 60 computers in the lab. A barrage of electives (83 in all, and picking six per term is mandatory) on subjects like BPO management, emotional intelligence, and safety management for it ensured that students get a hands-on experience of the subject. Then, there are projects that all the students have to work on outside their regular classes. Currently, LIBA-it has positioned itself as a school of marketing-has six such projects underway, including one that examines the feasibility of a "value-based" (in terms of content) south Indian TV channel.
The initiatives have helped bring in more companies for campus recruitment. Prior to 2001, the number of recruiting companies was less than 20 on an average. Last year, though, 59 companies came. That's boosted the average annual salary from Rs 72,000 to Rs 3.2 lakh. Says N. Raghavan, Director, ORG-Marg (Chennai): "LIBA is increasingly getting assessed independent of Loyola and, as recruiters, we find that the quality of their students is good. That's what matters."
Small wonder, then, companies like Citigroup, HDFC Bank, Euro RCG Advertising and Reliance Industries figure among the recruiters at LIBA. But the young B-school has a long way to go. It has to spruce up its infrastructure and add to its management development programmes, of which it only has 20. Agrees Raj: "We have made a beginning, but the pace has to be stepped up." Happily for him, LIBA may already have caught a lucky wind.