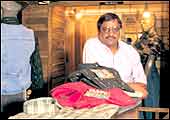 Kishore Biyani: Having found that discount stores work, he wants to add new categories of them
Kishore Biyani's Spartan office at knowledge House in Mumbai's Jogeshwari may not impress visitors, but its occupant's vaulting ambition is there for all to see. Just across Biyani's shiny teak table, on the wall above, hangs a collection of portraits of great men and a woman. The "hall of fame" (that's what Biyani calls it) includes photo portraits of J.R.D. Tata, Rahul Bajaj, N.R. Narayana Murthy, Rabindranath Tagore, Sam Walton, and Mother Teresa. But placed strategically next to the portraits is a mirror, which at an angle reflects a swarthy, mustachioed face-Biyani's own.
An architectural quirk? Hardly.The scion of a textile family, the 42-year-old Biyani has often articulated his ambition to be India's biggest retailer. In 1999, when he was just a struggling, six-store retailer of ready-to-wear garments, Biyani set himself a target of reaching Rs 1,000 crore in revenues by the end of 2005. Today, he's already pushing Rs 750 crore a year, and straddles a wide spectrum of retail formats: from departmental store (Pantaloon) to discount store. He's got 14 Pantaloon stores, six Big Bazaars (discount stores), and two stand-alone Food Bazaars, all spread over some 6 lakh sq ft of retail space. In terms of revenues, this year, Big Bazaar will fetch Rs 270 crore, Pantaloon some Rs 260 crore, Food Bazaar Rs 175 crore, and the new Gold Bazaar (launched in June this year), Rs 45 crore.
Over the next three months, Biyani's Pantaloon Retail India will set up new stores in Nagpur, Bhubaneshwar, and Ahmedabad, taking the tally of Big Bazaar to 14 by the end of 2004. Included will be two "category killers" (specialised bazaars), one for footwear and another for financial products. For the former, Biyani is talking to Liberty Footwear, and the for the latter he has already launched a co-branded credit card with ICICI Bank. In days to come, his financial bazaars will also offer insurance and mutual funds. For such reasons, Biyani reckons he'll breach the Rs 1,000-crore mark before 2005.
Success hasn't come easy to Biyani, though. Soon after Pantaloon went public in 1991, he landed smack in the middle of a controversy on the use of IPO money, partly because of his flamboyant lifestyle. To make matters worse, Biyani dabbled in movie-making (his only two movies were unmitigated disasters) and sports personality management, with cricketer clients such as India's Ajay Jadeja, South Africa's Hansie Cronje, and Sri Lanka's Sanath Jayasurya. However, today, by his own admission, Biyani has lost all passion for cricket and movies; retail is his life. He prefers calling himself the Chief Knowledge Officer and his group, the Pantaloon Knowledge Group Company (remember, his corporate HQ is called Knowledge House).
Unstated in that name is the belief that he knows retail best. Indeed, industry "experts" laughed at him when he wanted to set up discount stores. Today, his Bazaars are closely watched by his competitors. "The so-called consultants make money out of fooling people," Biyani thunders. "India is a nation of shopkeepers, and managing retail comes naturally (to us); it is quite simple," he says, by way of explaining why India needs new retail formats of its own and not American copies. If Biyani's formula delivers, the mirror in his office will almost certainly give way to another portrait. His own.
---
Boom Times Ahead For FMCG? Don't Bet On It
Not lack of demand, but downgrading by retail finance-enamoured consumers is hurting FMCG growth.
The way the stock of Hindustan Lever Ltd (HLL), the beacon of the fast-moving consumer goods (FMCG) sector, took off in the recent bull charge would probably make even Chairman Vindi Banga blush a deep shade of red.
A gain of 50 per cent in the past four months, and a price/earnings multiple of just under 24, have been fuelled by rampaging foreign institutional investors-who obviously feel more at ease placing their chips on a dour Unilever counter than on an unknown devil-and expectations of buoyant rural demand on the back of good monsoons. The pundits have been predicting agricultural growth of 6 per cent for the current year.
And that's one reason why a section of investors is over the moon, predicting the return of the good times and double-digit growth for HLL and the FMCG sector.
Whilst doubtless the monsoons will play their part in reviving rural demand-which accounts for at least half of HLL's sales-double-digit is still very much a pipe dream.
That's because not all the speedbreakers slowing down the FMCG bandwagon lie in rural India. To be sure, it could well be you dear reader who's responsible for HLL's loss of marketshare in key categories like toothpastes.
Yes, you the city-slicker, who has his hands full paying back either a housing loan or a car loan or a consumer durable loan (or all of them), or mobile phone and credit card bills to square up.
That's why you're opting for cheaper soaps or detergents or toothpastes or skin creams or hair oils as you're feeling the pinch of a lower disposal income since a chunk of your wages is being diverted towards those monthly installments.
This phenomenon of ''downgrading'' might manifest itself most visibly during recessionary times, when consumers typically scrounge for cheaper goods. But FMCG managers now theorise that it could well be downgrading courtesy retail-finance fuelled consumerism that's putting the brakes on FMCG growth.
That's why the smaller players-this magazine featured a story last year about how they are outdoing their bigger peers-aren't hurting as much as the big boys, and that's why HLL and Procter & Gamble have been compelled to reduce the premium on their products.
Eventually that price-slashing strategy, coupled with the generosity of the rain gods, might just about prop up those sluggish top lines. But double-digit growth...I wouldn't bet on it.
---
A
To Toonz Animation India (heard of them? Their show Tenali Raman appears on Cartoon Network) for consistently making a mark at international festivals. The Trivandrum-based studio's most recent achievement is the three nominations it has received at the Chicago International Children's Film Festival.
C-
To HCL Tech chairman Shiv Nadar for consistently disappointing the Street. The company was breathing down the necks of Infosys and Wipro a few years ago, but seems to have lost its edge now.
---
Q&A
"This Gets India Closer To The Action"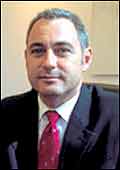 Russell Farmery has just taken over as the Managing Director for South Asia at ACNielsen ORG-MARG. Farmery was earlier in charge of retail measurement services across the APAC region. Armed with a business degree in Agricultural Marketing he joined ACNielsen 19 years ago, as a field researcher. It's been a long journey and as Farmery puts it to BT's Priya Srinivasan, ''as a Kiwi I never thought that I would be running India.''
Your predecessor Titoo Ahluwalia is considered the last word in market research in India...
Titoo has built a great business which has 1,600 people today. He had announced his intention to retire and the company decided to bring me in. I do feel that this raises the profile of India and the region since I am an executive committee member of ACNielsen in the APAC region. In theory, this gets India closer to the action. From my viewpoint I also see a lot of opportunity in terms of services we can provide to people globally. In a sense its outsourced work, but more importantly I see an opportunity where talented individuals at ACNielsen India will move into global postings.
Where does India stand in the overall scheme of things at ACNielsen?
Today, India is small, but we do a massive amount of research; it's just that the pricing is low. China, India, and East Europe are the markets of the future.
Sometime ago the list of households in the people-meter sample of one of your group companies leaked out.
The leak should not have happened. Our methodologies in India are right, the procedures, correct and the services, in good shape.
---
Last fortnight, Tata Motors rolled out its first batch of rover-badged Indicas that will sell in the UK. So just what will the India-made car go up against in the British market? There's a clutch of competitors including the Renault Clio, Toyota Yaris, Fiat Punto, Peugeot 106 (or Citroen Saxo), and Ford Ka. We decided to pit the CityRover against the cheapest comparable car in the UK, and came up with the Fiat Punto. On almost every count, the CityRover proves to be "more car per car". Will the Britons agree? We are watching.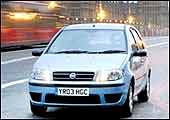 Fiat Punto
Price: £7545
Engine Size: 1242 cc
Fuel: Petrol
BHP: 60 @ 5000 RPM
Weight: 875 kg
Environment-friendliness: Euro III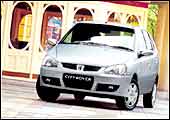 CityRover
Price: £6,500
Engine Size: 1405cc
Fuel: Petrol
BHP: 85 @ 5500rpm
Weight: 980 kg
Environment-friendliness: Euro III
---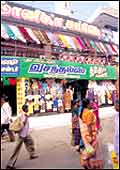 Coimbatore: F&Os anyone?
The brokers are laughing all the way to the bank. They set up offices in cities such as Ludhiana, Lucknow, Baroda, Chandigarh, Jaipur, and Coimbatore-not metros, but not one-horse towns either-on the hunch that investors there would be interested in the futures and option (F&O) market. Boy, have they been proved right!
The share of Mumbai in the total F&O turnover has decreased from 68.33 per cent in 2000-01 to 40.57 per cent in 2002-03. And the share of the smaller metros (as these cities are classified) has increased from 5.08 per cent to 17.37 per cent. That seems natural, given that these cities were partial to badla (the carry forward system) trading.
Thanks to all this trading, the total trading in derivatives on National Stock Exchange has jumped from Rs 1,01,925 crore in 2001-02 to Rs 1,40,363 crore in August 2003, alone. And daily trading turnover has zoomed from Rs 413 crore to Rs 7,018 crore. Phew!
---
The Mating Season
Indian telcos have no shortage of suitors.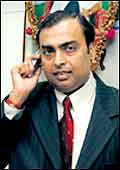 RIL's Ambani: Sprint may just be the start
India is one of the world's few remaining telecom hotspots. The base of wireless (irrespective of whether it is GSM or CDMA based, or on whether the service is being provided by a cellular telephony company or a basic telephony one) subscribers is expected to grow at 75 per cent a year and hit 150 million by 2007. And industry-revenues are estimated to increase by around 20-25 per cent a year. That's enough lure for global telcos such as Sprint-it is in the process of finalising a technology consulting contract with Reliance Infocomm-Telstra, AT&T, ST Telemedia, Equant, Vodafone, British Telecom, and Cable & Wireless. Some of these companies exited India in the late 1990s, but are now being drawn to one of the world's fastest-growing telecom markets.
Hold the bubbly, though. Most companies will prefer to wait for six-12 months-the window within which the ceiling on foreign investment in Indian telecom companies is likely to increase from 49 per cent to 74 per cent-and then make an entry. Then, there's the current regulatory flux. "You won't see any increase in foreign investment until the WLL situation is finally resolved," says Ty Graham, a member of the board of Idea Cellular. Graham's reference is to the ongoing court battle on whether basic telephony companies can provide cellular services using the Wireless-in-Local-Loop (WLL) platform of the CDMA technology.
Indian telcos need the money; it will finance their expansion, a requisite in a booming market. Already, banks have increased their lending to telcos. In the past 12 months Rabo has arranged over Rs 200 crore in debt for Bharti Televentures and Idea Cellular, the bulk of the amount residing in its books. For global telecom majors, emerging from a slump, the Indian market, and the need companies here have for capital, spells opportunity. The great outsourcing phenomenon (business process outsourcing) has ensured that there is a huge demand for bandwidth to pipe data into India. "For this reason, India is pretty high in the priority list of all telcos," says Kobita Desai, the Principal Telecom Analyst at Gartner. Now, if only the regulatory regime would play ball.