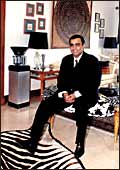 RIL's Mukesh Ambani: Sitting pretty in the numero uno position
Towards the end of November, Mukesh Ambani will be listening very keenly to three detailed business plans presented to him. Eventually the Chairman of Reliance Industries Ltd (RIL) will pick out the best one. No, he won't go ahead to implement it; these blueprints have nothing to do with RIL, but will be the presentations of the top three finalists of the MasterPlan competition, which is just one of the events being hosted by IIM Ahmedabad students as a part of Confluence, IIMA's annual business school meet that will be held between November 24 and 27.
Ambani, for his part, knows a thing or two about crafting business plans, and executing them, having masterminded the setting up of RIL's refinery six years ago, having put together the blueprint for Reliance Infocomm, and now the strategies for the life sciences and retail forays. Reliance Infocomm, of course, is now run by younger brother Anil, who's gone his own way with chunks of the Reliance empire after a six-month long-drawn acrimonious battle for control with his elder brother. Little wonder then that on August 3 this year, shareholders of RIL were witness to a rather different annual general meeting (AGM). The usual fanfare at each AGM was of course there, although the announcement on the demerger of the power, financial services and telecommunications businesses-in a bid to facilitate a settlement between Mukesh and Anil-took precedence over everything else. Shareholders now had to contend with a new-look RIL, which had fewer businesses and possibly would not display that invincible look that had become RIL's trademark over the years. After all, the Reliance Group would now be without businesses that accounted for roughly 10 per cent of its revenues. Chairman Mukesh Ambani did his best to allay investors' fears: For one, he pointed out the demerger would actually lead to the unlocking of value for RIL shareholders-after all each shareholder would also get stock in the four companies that would come into existence post-demerger. For another, the elder Ambani stressed on the preservation of the fundamental nature of RIL.
Time Last Year...
A year may be just a drop in time, but that's an aphorism the Ambanis, their three million-odd shareholders and 12,113 employees (at the end of FY05) may not agree with. Around this time in 2004, Mukesh Ambani blurted to a news channel that there were "ownership issues" within Reliance Industries Ltd (RIL). What followed was unforeseen mayhem till mid-June 2005, when eventually the warring brothers, Mukesh and Anil, hammered out a settlement, with each going his separate way. Before all that happened, the Reliance Group was a Rs 1 lakh-crore behemoth, with a major presence in petrochemicals, petroleum, polyester, power, telecom and financial services, with RIL holding a 50.2 per cent stake in Reliance Energy (REL), 47.2 per cent of Reliance Capital (RCL) and 43 per cent of Reliance Infocomm's equity.

Today, with a demerger that facilitates a separation between Mukesh and Anil on the cards, RIL is set to bear a new look.

Power, telecommunications and financial services will not be a part of RIL anymore and will be run by younger brother Anil, who has already announced the creation of Anil Dhirubhai Ambani Enterprises (ADAE). RIL will be left with its core businesses of polyester, petrochemicals and petroleum, and an opportunity to pursue new avenues like life sciences and retail. Chairman Mukesh is now working on the blueprint of an integrated foray into retail, which will straddle the entire value chain-just as he's done in petroleum-right from procurement to warehouse management to the shopshelves. Shareholders for their part won't lose out as they will get shares in the four demerged entities (one for coal-based energy activities, one for such gas-based businesses, another for telecom and a fourth for financial services).

The ADAE side, meanwhile, has been moving briskly, by acquiring stakes (strategic and financial) in companies like Adlabs, Celebrity Fashions and Kinetic Engineering. The Adlabs deal will make use of its expertise in film processing and production, which will be combined with Reliance Infocomm's mega broadband plans. The objective has been to bring "content at the click of a finger". Anil Ambani had earlier spoken of the potential in RCL to become a financial powerhouse and interestingly, most acquisitions over the last couple of months have been through it. They may have gone their separate ways, but the Brothers Ambani are doing what Reliance has been best-known for so many years now: Growth that's focussed on creating shareholder value.
That's the crucial part. Over the years, RIL's core businesses of polyester, petrochemicals and petroleum refining have created immense wealth for the three million-strong shareholder base. And the blueprint doesn't end there-a petroleum refining expansion is being unfolded, and frenetic activity is under way on the gas exploration and production front. Ambani, at the AGM, spoke of how crucial these businesses were, and outlined a mammoth Rs 50,000 crore investment on these businesses. The doubling of refining capacity at Jamnagar to 60 million tonnes will account for half of this investment. "We are setting ourselves an aggressive schedule for the second half of the financial year 2008-09 for completion. The full benefit of the new capacity will be available from the year 2009-10."
FAQ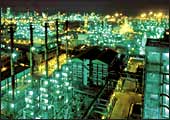 Is the company in a sector where India has a long-term competitive advantage?
Yes, this is because there is a shortage of refineries across the world. Overall, Reliance's strong presence in petroleum and petrochem will make it a global player.
Does the company have what it takes to succeed in the long-term?
Yes. RIL's game plan is about making huge investments (Rs 50,000 crore), building new businesses and acquiring some.
Should you invest in the company?
After the demerger stating that the true value of each business will now be known, yes. The consensus is the RIL stock is still undervalued and given the healthy results for the first half of FY06, it looks a good pick.
The objective has been to straddle the petroleum value chain and RIL's decision to put in close to Rs 18,000 crore on upstream oil and gas exploration and production is in that context. Ambani himself confirmed this when he said that RIL's cash flows over the next few years would be largely expended on the core oil and gas, petroleum refining and petrochemical businesses. "Equally, it would be used in opening new avenues of growth," he added. A report put out by IDBI Capital (towards the end of October this year) after RIL's half-yearly numbers for fy06 were declared put a buy on the stock when it was quoting at Rs 751. "RIL post the demerger is all set to be among the 10 largest oil and gas companies. The company enjoys healthy operating margins, has low gearing and strong cash flows to fund its expansions," it states.
Five Things Going For The Company
Presence across the value chain:

RIL has a presence from upstream (exploration) to refining and marketing, going all the way to the consumer leading to value chain domination.

Rollout of petrol pumps and the retail domination: The mega-plan envisages the rollout of close to 6,000 pumps across India. Eventually petrol will be only one of the many things sold.

Petrochemicals' high quality performance: RIL has already bought out NOCIL and SM Dyechem, and will set up a new plant at Jamnagar to manufacture polypropylene.

Life sciences: With the healthcare sector growing exponentially, RIL is looking to get a share of it.

Businesses possess healthy cash flows: This will also help the company in raising large sums of money both from the domestic and international markets.
If Ambani's ambitions materialise on the petroleum front, there will be more than one reason for RIL's shareholders to smile. Notwithstanding the pressure on margins as far as the petroleum business goes, that could well be the biggest story from RIL (for the second quarter of 2005-06, net refining margins have fallen to 8.2 per cent from 9.6 per cent for the previous quarter). "The scaling up of refinery capacity will make RIL extremely competitive on a global level. Oil and gas is an extremely compelling story and the gas discoveries will make them even stronger," thinks Rajiv Memani, Country Managing Partner, Ernst & Young India. The presence in every aspect of the value chain is certain to help RIL here and here is where the rollout of the petrol pumps (eventually, there will be 5,849 pumps) will give it a presence in the last mile. Memani adds that the retail rollout will be "RIL's next big story".
So what does the demerger then imply for RIL shareholders? According to Karvy Stock Broking's Vice-President, Ambareesh Baliga, the demerger will not make much of a difference to RIL's businesses. "RIL's interest in the demerged businesses was only in the form of equity holdings. The RIL stock is still undervalued today," he asserts.
Five Things That Could Go Wrong
Lack of experience in retail:

Considering this contributed significantly to the troubled launch of Reliance Infocomm's wireless services, RIL must be ensuring that it gets it right on its retail plan this time around

Refining margins under pressure: Though scalability is not an issue with RIL, there have been pressures on refining margins. With volatile crude oil prices, this is surely an area of concern.

The subsidy burden: RIL has refused to share the subsidy that is today borne completely by the government. If it is forced to share this, profits could see a downside.

Original integration strategy may have to be reworked: This initially outlined the strategy from the gas well all the way to electricity. With Reliance Energy not a part of RIL anymore, this strategy will have to be looked at afresh.

Payout on RIL's holdings in demerged entities: As RIL's holdings in the energy, telecommunication and financial services businesses are untangled, some of Reliance's reserves may have to be sacrificed.
The rollout of the petrol pumps (these will also offer basic services like food and beverages, and recreation) could well be just one piece of the bigger picture Ambani has for retail, which could be to create huge malls/shopping complexes. According to Rajeev Thakkar, Head of Research, Parag Parikh Financial Services, retail holds out great promise for RIL, although it will also prove a challenge. "But it is here where RIL's project execution skills could be useful," he states. A Citigroup report released in August this year points out that in the overall retail industry in India, organised (and modern) retailing accounts for just 3 per cent. "Rising incomes, favourable demographics and changing consumer tastes are driving growth at more than 30 per cent for modern retail formats," it adds. And like any other Reliance project, this too is said to be massive in scale and according to Memani, it is RIL's ability to scale up effortlessly that makes it a globally competitive player.
The mega-plans will also pervade into the life sciences sector, which Ambani terms the "next major initiative". Obviously, he has set his eyes on the emerging health care market, which is an astronomical $4.5 trillion (Rs 2,02,50,000 crore) in size globally. It is learnt that there will be a couple of announcements from this segment over the next couple of months. So, what will this foray be all about? According to Ambani, RIL intends to incubate an innovation-driven biotechnology business. "It also helps serve unmet needs in medicine, agriculture, industry and the consumer. Life sciences would help RIL in engaging directly with the consumer, stabilise cash flows and create new product-market domains."
RIL's ability to go global has rarely been in doubt and Ambani has always spoken of the need and ambition to become a significant player in every segment it operates. "RIL has always changed the global paradigm in every sector it operates in," quips Memani. The value-creating engine just doesn't stop humming.