| | | |
| --- | --- | --- |
| | | |
| TCS' Ramadorai: Game, set, match, India eh? | Infosys' Nilekani: India's best-known global brand | Wipro's Premji: More like IBM than anyone else |
When Dutch banking major ABN Amro announced a $2.22-billion (Rs 9,990-crore) outsourcing contract in September this year, naming three Indian firms of a total of five vendors for a global outsourcing project, there was a collective sigh of relief from various industry participants and watchers, particularly investors and market analysts who were hoping that the disappointing fourth quarter (January-March 2005) performance of the sector was a temporary blip.
Though growth had started to pick up in the first quarter of the current year, 2005-06, the ABN Amro deal worked wonders in terms of market confidence. For one, it signalled that Indian vendors had appeared on the radar of customers along with the likes of IBM or Accenture. Though the value of the contract bagged by IBM was much larger, it wasn't that much of a win for the company, given that even a couple of years ago it would have probably bagged the entire contract instead of having to settle for just part of the cake. "ABN Amro was a benchmark deal," says N. Chandrasekharan, Executive Vice President and Head, Global Operations at TCS. "The entire application portfolio came to the Indian vendors, but infrastructure management went to IBM." He explains that customers are also increasingly unbundling infrastructure management. "The offshoreability of remote infrastructure management is very high," he adds.
The traditional forte of Indian vendors, applications development and maintenance, is now perceived as an increasingly commoditised business and companies are rapidly moving into spaces like 'transformational business' or the rationalisation of systems and processes or remote management of infrastructure, or even transaction oriented business process outsourcing (BPO).
The margins in these businesses are higher than in application development and maintenance, and the good news is that this foray into newer spaces is showing up in the revenues of companies as well. While Infosys jumped from a 4 per cent (sequential) growth in the first quarter of this year (April-June 2005) to a 11 per cent growth in revenues in the second (July-September), TCS saw a climb from 4.7 per cent to 9 per cent and Wipro registered a 5 per cent growth in the first quarter in its it services business and a 9.8 per cent one for the second. Evidently, the fundamentals of the business as reflected by the three bellwether stocks continue to be solid.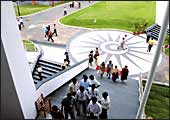 Same, Yet Different
Understanding the IT business is like trying to make sense of shifting targets and evolving paradigms all the time. It is not India's first global industry for nothing. Companies in the business have had to chart a trail-blazing path, and in the process change the rules of the game globally. Curiously enough, even as they chase similar goals, India's leading it vendors have adopted very distinct strategies.
Take Infosys for instance: it is not the biggest Indian it company (TCS is), nor does it have a presence in the largest number of verticals (Wipro has), but it still evokes a kind of awe and respect that has helped it increase its market capitalisation from Rs 38,122 crore in the last BT 500 (average market capitalisation in the first half of the year, April-September) to Rs 60,585 crore this year.
A lot of this has got to do with the middle-class success story of its legendary founders and their wealth sharing philosophy; then, this has been backed by the fact that the company has grown at a CAGR of 45 per cent over the last five years. To put things in perspective, in 1998-99, Infosys boasted revenues of a mere Rs 509 crore; it will close this year with sales in excess of $2 billion (Rs 9,000 crore). During this period it has managed to retain its margins (net profit) in the high 20s, compared to its other Indian peers who generally do in the mid to high teens. Little wonder it has been a darling on the bourses. "Infosys is all about setting runaway aspirations and achieving them," says Lakshmi Narayanan, President and CEO of Cognizant Technology Solutions. "(It is) A global leader in the information technology industry that challenged a generation of Indians to think big and do big. Infosys created a culture of transparency that helped others in the industry to learn and be fast followers."
The Deal That Changed Everything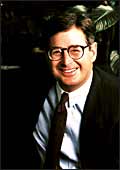 IBM's Sam Palmisano: Will the smile stay?

One of the most significant or possibly the most significant development for the IT sector this year was the mammoth $2.22-billion (Rs 9,990-crore) contract awarded by Dutch banking major ABN AMRO in September. The deal was significant not just for its size, but for the fact that for the first time in the history of the Indian IT sector, a single contract (spread over a five-year period) was handed out in parts to five different vendors-three Indian and two overseas. The Indian players who bagged parts of the contract were TCS ($200 million or Rs 900 crore), Infosys ($140 million or Rs 630 crore) and Patni Computers. While IBM bagged a lion's share of the contract, $1.8 billion (Rs 8,100 crore) for infrastructure management (the Indian firms will handle application development and maintenance alongside Accenture, which was awarded a slice of the application development pie), the deal assumes great significance as Partha Iyengar, Vice President (Research), Gartner, a global IT research firm, reasons, because "earlier a deal like this would go at one shot to a player like, say, IBM alone, whereas here it has been broken down and handed out to five players". This is definitely not good news for the IBMs, Accentures or EDSes of the world for it simply signifies that the battle for market share has reached their doorstep. Even as they struggle to get the Global Delivery Model right (a Forrester study last year clearly pegged the overseas players behind the Indian software majors on practically every efficiency parameter of the offshore delivery model), Indian majors are putting their front-ends in order, with increased investments in sales and marketing, and through smart acquisitions. "If you ask me, the ABN AMRO deal, which typifies the strategic global sourcing trend, is the most important pointer to the future of the IT industry," says Harit Shah, Analyst at Quantum Information Services. "Of course, at the moment the Indian players are not in a position to take on a billion-dollar contract, but the trend augurs very well for the medium-term and in the long-term Indian firms should be able to bag and handle mega contracts too." The man has a point. What the deal simply signifies is the faith (of customers) in the offshore delivery model coupled with the fact that clients are taking Indian vendors very seriously. Also, it couldn't have come at a better time. After a disappointing last quarter in 2004-05 (the January to March 2005 period wasn't kind to most Indian IT firms) and a marginal improvement in the first quarter of 2005-06 (April-June 2005), this deal signalled that all was well with the Indian IT sector. And sure enough the second quarter of the current fiscal bore out that premise (and promise).
Wipro Has A Different Story To Tell
The company, which was into selling vegetable oils, entered the it market following the government of the day's booting out of multinationals, including IBM, in 1977. Spotting an opportunity to fill the gap left behind by the likes of IBM, has paid Wipro handsome dividends. Over the last 10 years, its revenues have grown at a CAGR of 25 per cent, its net profit at an astonishing 47 per cent. The company seems to have subconsciously modelled itself on global it Services behemoth IBM to a great extent in terms of the range and breadth of its presence in various verticals (even going to the extent of having a Wipro 123 spreadsheet similar to IBM's Lotus 123).
Unlike most Indian it companies (barring TCS, which derives a sizeable 12 per cent of its revenues from the domestic market) that have focussed exclusively on the international market-primarily, the us, Europe and Japan-Wipro derives a significant chunk of its revenues from the domestic market. A full 16 per cent of its Rs 8,169 crore revenues last year came from the domestic market. Again, unlike most Indian it players it has an impressive hardware portfolio. It sells everything from PCs to the enterprise market to notebooks and servers. "Selling products is a Trojan horse strategy to get a foot in to the customers' door," says Suresh Chandra Senapaty, Corporate Executive Vice President (Finance), Wipro. There are a quite a few other things that set Wipro apart. It derives nearly a third of its total revenues from the European market compared to say 22 per cent for Infosys. This means that if there is a slowdown in the American market, Wipro wouldn't feel as much pain as other players. "Wipro has over 30 per cent of its revenues from the European market, something that few others can claim and (this and) its strong six sigma (practice) has moulded that into a key differentiator in the global market," says Deepak Khosla, VP (Marketing), Patni Computers.
FAQ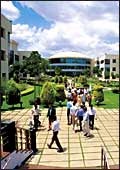 Are the companies in a sector where India has a long-term competitive advantage?
Yes, they are. Generally speaking Indian IT companies have proven that offshore delivery works. Companies are also increasingly diversifying from the now-commoditised application development and maintenance work to consulting, systems integration, and packaged software deployment, which is a good sign.
Do the companies have what it takes to succeed in the long-term?
The one thing that the three largest IT services companies have in common is rock solid management teams. Besides this, they have each shown a propensity for topline growth in excess of the industry averages and also a capacity to manage operating margins in situations where cost pressures have mounted. They have also performed well on parameters like 'return on net worth' (equity+reserves) and display high productivity levels.
Should you invest in the companies (sector)?
Yes, but you need to have a long-term perspective. Valuations are currently very high, what with Infosys trading at 29 times FY06 (expected) earnings. Clearly these are not short- to medium-term investments. You need at least a three-year time frame when you look at these stocks.
Wipro's telecom practice is the largest of all Indian players as is its outsourced R&D practice. Except for Siemens, Wipro works for all the major telecom giants, Alcatel, Motorola, Nokia and Ericsson. With the sector making a strong comeback globally this business of Wipro, which reflected the recession in the sector in the early 2000s, has seen an upturn. Infrastructure management services or remote it maintenance and testing are two other verticals that highlight the company's strengths. These are the two fastest growing vertical segments for the company and are expected to power its short- and medium-term growth.
TCS, on its part, belongs to the Tata stable and was only constituted as a company (from being a division of Tata Sons) last year prior to its public issue and listing in August 2004. The company has traditionally focussed on the fixed price fixed time business model (where payments are milestone based) unlike peers Infosys and Wipro, which still have a large part of their revenues coming from the time and material model (where clients are billed on an ongoing basis). While the fixed price model is less predictable on a quarter-to-quarter basis, it enables the company to take on more complex engagements. These projects, however, call for a greater onsite presence, thereby eating into margins. It's a conundrum TCS faces, but one that the company has been able to overcome with very good productivity levels. As Harit Shah, an analyst at Quantum Information Services, points out. "In the first quarter of the current fiscal, Infosys' operating margins had fallen by 1.5 per cent on a sequential basis due to rising wage costs, but TCS, which had raised salaries, did not see a pressure on margins due to its improved productivity levels".
All three companies display excellent return ratios. The return on net worth for Infosys, for instance, stands at about 40 per cent while Wipro's is at about 35 per cent and TCS' 65 per cent (the company's one time payout to Tata Sons last year renders its cash reserves low, which contributes to the high return ratio). While Infosys has seen a CAGR in revenues of 39 per cent since 2000-01, TCS' stands at about 33 per cent (US GAAP) and Wipro's 28 per cent. Profit growth too (CAGR) stands at a healthy 32 per cent for Infosys, 27 per cent for TCS and 25 per cent for Wipro for the same period.
Long-term advantages for the Indian IT sector
» The offshore model is gaining currency; India has thus far tapped just about 2 per cent of the $600 billion (Rs 27,00,000 crore) global IT Services market; and global IT spend is expected to continue to grow at about 5 per cent a year over the next three.Indian IT firms have a headstart over global competitors in the offshore delivery model and it is something they are capitalising on.

» With India producing four lakh engineers a year (compared to around 60,000 in the US), the sector can cast a wide net to scout for talent.

» With an Indian chip-design engineer costing just about $30,000 (Rs 13.5 lakh) a year, as compared to $150,000-$200,000 (Rs 67.5-90 lakh) in the US, the Indian IT sector's cost advantage is huge. The cost structure difference in ITES/BPO is even more stark.

» The time zone advantage (India is 12 hours ahead of the US) puts India in a unique position. Even as American engineers go to bed, their Indian counterparts can seamlessly pick up the baton to continue work.

» Large and mid-sized Indian companies typically spend only 2 per cent of their budgets on IT compared to global standards of around 10-11 per cent. As Indian companies increasingly look to become global giants, their IT spend will rise, creating a huge domestic market.
The big question remains structural growth for this sector: will it continue to grow at the 28-odd per cent that it has managed over the last several years? "There is still cost arbitrage (opportunity) and India's market share is still low so growth will continue," sums up Mahesh Vaze, it Sector analyst at BRICS Securities. He warns of rising employee costs and increasing commoditisation of some of the work Indian it firms traditionally do. Then, that's part of the game.
The Road Ahead
Each of these of these it stars has its own set of challenges. While Wipro has displayed a huge appetite for risk, not all its acquisitions (since 2001, it has spent more than $200 million on some five acquisitions) have been successes. While some acquisitions like that of the energy practice of AMS or niche-consultancy firm Nerve Wire have helped, others like the pricey Spectramind (now called Wipro BPO and the company paid $95.5 million or Rs 453 crore for it in July 2002; it was done in two tranches) have yet to pay off in a big way.
Spectramind, in particular, has been a drag. With the bulk of its revenues coming from the voice business where margins are wafer thin and attrition levels (of people) the highest, it has not proved the winner Wipro thought it would be. "Of course we have had some learnings," admits Senapaty. "We have increased our non-voice business to around 16 per cent from low single digits." The man insists that the company's risk-taking attitude has paid off. All acquisitions, he insists, are strategic in nature and "will help long-term growth". "We will not buy revenues," he adds. Sill, the operating margins in Wipro's BPO business have been consistently falling. For the second quarter of the current fiscal, this stood at 13 per cent down from 22 per cent in the corresponding period of the previous year. Compare this with Infosys' BPO business, Progeon whose net margin of 25 per cent for the second quarter of the current fiscal is double that of Wipro-Spectramind's operating margins and you will see why this is an area of concern for the company. "Wipro has a strong presence in remote it maintenance and R&D services, but it seems to lack specific domain skills," adds Patni's Khosla. "It is weak in financial services, which is the largest spender on it and its telecom (practice) is primarily driven by its focus on R&D services, rather than an inherent strength in the market."
Things that can go wrong for
the Indian IT sector
GLOBAL ECONOMIC SLOWDOWN (MORE SO AN AMERICAN ONE):

IT spends after galloping for the past decade have been growing in low single digits in the past few years. If the American economy (from which Indian IT companies derive a bulk-70 per cent plus for most-of their revenues) slows down, so will the Indian IT story.

INFRASTRUCTURE: A no brainer actually. If India fails to get its infrastructure act together at some point, even IT companies, which have in the past succeeded precisely because they were not inhibited by local factors, might succumb. Bangalore itself maybe Bangalored by a Bangkok or a Shanghai.

RACE TO THE BOTTOM: The Indian IT sector should move away from being a price warrior alone. For this it will have to move up the value chain (consulting, domain expertise, verticalisation). Else it will be a race to the bottom.

OUTSOURCING BACKLASH: Indian companies have to become more culturally inclusive; otherwise they cannot emerge as true global companies. Then there is the backlash against outsourcing itself.

RISING COSTS AND AVAILABILITY OF TRAINED MANPOWER: Costs have been rising in the high teens. Rampant attrition (in excess of 25 per cent for the sector as a whole) and lack of trained manpower might also hinder its growth.
Infosys, in contrast, has been wary of the acquisition route. The company has parlayed its core strength in application maintenance and development for the banking and financial services market, into a sizeable presence into various other verticals like system integration and testing/validation as well as infrastructure management services. Barring an odd buy like its acquisition of Expert Information System in Australia (now part of Infosys Australia) the company has been chary of growing inorganically and prefers to grow its own business rather than buy.
Nandan M. Nilekani, CEO, President and MD of Infosys, defends this approach. "Look at our track record," he says. "Results speak for themselves. Pace of growth on all fronts, revenues, pat, customers, people, all have been huge. Our ability to scale and grow business has been considerable." Compared to its other Indian peers, Infosys has moved more aggressively into the high margin, but high risk, consulting space-by hiring rainmakers and growing a business around them-a traditional domain of international heavyweights like IBM, Accenture and eds.
Nilekani says that by some measures, Infosys already derives nearly a fifth of its revenues from the consulting business. This has also meant that the company has been able to move beyond the IT manger level to CXO relationships, which are crucial. "We are already a player at the high table and are actively considered for most $100 million-plus contracts," says Nilekani. He admits that there are challenges the company faces. "Managing scale, while at the same time retaining the basic DNA of the organisation even as we sustain and enhance our current growth, will be our biggest challenge." "I am confident we will be able to achieve it," he adds
TCS, a latecomer to the BPO business, has made up for the delay with its massive $850-million (Rs 3,825-crore) win in the UK life and pensions industry space for insurance transaction processing for the UK-based Pearl Group wherein TCS will take over Pearl's transaction processing division. And it has also acquired Chilean Comicrom, a banking and pensions BPO in that country. "We have clearly decided that we are going to be transaction processing oriented, platform centric and verticalised and all our strategies will be geared for this," sums up Chandrasekaran.
Each of the three is adopting a different route to finally achieve the same goal, a global position of the stature of an EDS, IBM or Accenture. And who says these companies are similar?