HLL's Harish Manwani: His
vision for HLL is awaited
ITC's Y.C. Deveshwar: May have more luck with the rural markets
The year 2005 will perhaps be remembered as a watershed in the history of the country's consumer market. Not just because the country's biggest consumer marketer, Hindustan Lever Limited (HLL), managed to grow its revenues after a long dry winter that spanned over five years. And not even because after over a decade of being right at the top of the fast moving consumer goods (FMCG) podium (according to market capitalisation) HLL, once again, gave way to cigarettes-to-hotels major, ITC.
The real story comes alive once you try peeking behind these numbers. Why has the stock market given ITC a capitalisation of Rs 39, 716 crore (#6 in the BT 500 list this year) ahead of HLL's Rs 33, 688 crore (at #7)? Is it simply because ITC's profit (and profitability) is much higher (Rs 2,191.40 crore) compared to HLL (Rs 1,197.34 crore)? Or is it because it has shown a compounded annual growth rate (CAGR) in sales (2000-2005) of almost 11 per cent, even while HLL's remained flat over the same period? "Demand for cigarettes is price inelastic, so ITC has huge pricing power and hence its current valuation," says Vineet Nigam, FMCG analyst at credit-rating agency, ICRA. Well, all these have certainly played a significant role in ITC's market valuation. Then, that's not the end of the story.
It is for the first time in the history of the country's FMCG market that HLL has more than met its match. Don't get us wrong, for we mean no disrespect to venerable global biggies such as Procter & Gamble and Colgate Palmolive, or home-grown competitors like Amul, Marico and Nirma. Then, the fact remains that in each of these cases, HLL was competing, at least within India, with an entity almost fourth or fifth its size in terms of sales. None of these rivals could match HLL in terms of scale of operations, profits, size of product portfolio and distribution depth. But most importantly, and this is critical from HLL's point of view, its competitors, all this while, lacked the vision and hunger to challenge it for supremacy of the entire Rs 48,000 crore FMCG market, choosing instead to stay focussed and challenge HLL in few product categories or geographies.
Rural, With A Vengeance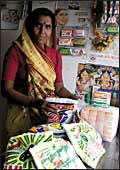 Luring rural masses: That's precisely what HLL's Project Shakti

Their models may be as different as chalk and cheese, but increasingly both HLL and ITC are looking at garnering a bigger piece of the rural market. For one, HLL's Project Shakti uses the entrepreneurship of rural women to reach out to over one million rural households directly to sell anything from soaps and shampoos to tea and biscuits. ITC's e-Choupal, on the other hand, is an innovative, technology-aided low-cost model to build a trading platform (to both buy farm produce and sell agri inputs) with millions of farmers across the country's six lakh villages. In that sense, both are not purely distribution-driven endeavours, but examples of finding consumers at the bottom of the pyramid.

There are about 5,000 e-Choupals now, spread over 31,000 villages across the country. And ITC's agri business (second biggest in its portfolio after cigarettes) owes much of its success to e-Choupals. And as the network strengthens and spreads, ITC is looking at leveraging it to also sell its FMCG range (it also sells a range of other products for other companies including insurance). HLL's Project Shakti, the 'Amway' of rural India, now covers over 12 states, 61,400 villages with 15,000 Shakti Ammas reaching around 71 million rural consumers. Though it is anyone's guess on the incremental reach and sales generated by these Ammas for HLL (currently just over Rs 100 crore by industry estimates), it's clear that the country's biggest consumer marketer is alive to the potential of a market that contributes almost half its sales.
Goliath Versus Goliath
The entry of ITC into the FMCG space in 2000-01 and its recent showing here (revenues from FMCG-sales overtook those from hotels in September 2005) is changing all that. Increasingly, as ITC marches into categories dominated by HLL-soaps, detergents, packaged food, personal care products-the market is gearing itself up for a good fight between a formidable challenger and reigning Goliath. For ITC has deep pockets (Rs 2,000 crore of free cash from the cigarette business), management bandwidth and the vision to change its face from a tobacco company (cigarettes still account for 73 per cent of its sales and 87 per cent of profits) to a diversified consumer goods giant.
Five Things Going For The Sector
» Strong economic growth coupled with good monsoons aids cause of growth in the fast moving consumer goods (FMCG) sector, across urban and rural India.

» Huge tax concessions on manufacturing in states such as Himachal Pradesh and Uttaranchal has driven costs down, helping in HLL's profitability.

» Brand relaunches by HLL in tea, coffee and shampoo seem to be working with these brands picking up market share.

» Market leadership and relative inelasticity of cigarette demand has given ITC a huge pricing power, something that its competitors can only dream about.

» An aggressive market share grabbing approach in the FMCG sector puts ITC in the reckoning with global biggies, such as Unilever and Nestle, in India.
"ITC has shown that it is willing to bite the bullet and do whatever it takes to play the mass-market game in FMCG," says R. Subramanian, md, Subhiksha, a Chennai-based discount store chain. Competitors point to the company's smart choice of entry products, volume builders such as atta and biscuits, something that has given the company a toehold in the grocery chain market almost overnight.
Though it's still early days, the two have already sized each other up in the market for confectioneries, branded atta and biscuits. From the investor's point of view, what is important, going forward, is that the impending competition between these two can become a great internal growth driver for the sector, something that it lacks currently. Even the current 5.4 per cent growth (July-September 2005) in the sector is largely driven by feel-good factor generated by a strong economy, and here too the growth is sub-optimal (below the GDP growth rate of 7 per cent), even while other consumer markets such as automobiles, telephony, electronics and retail continue to boom. "Rural growth normally picks up after a lag, so the broad picture for FMCG sales is optimistic," says Satish Kumar, MD, Henkel Spic.
Five Things That Could Go Wrong
» Most of HLL's new ventures are either struggling or are, at best middling successes, and this puts a serious question mark on the company's ability to seed new businesses for the future.

» Incremental volume gains are coming in at higher costs for HLL, putting a huge strain on the company's bottomline.

» ITC is getting into highly competitive segments like food and personal care, and it has to sustain huge losses here to establish its brands against entrenched competitors.

» Lack of global linkages in categories such as food and personal products can prove to be a competitive handicap for ITC while dealing with global biggies in India.

» The Tobacco Bill can prove to be a double-edged sword for ITC, with brands weakening without any strong promotional support.
An Even Fight?
"HLL is merely riding on current buoyancy in the FMCG sector. It isn't doing anything different in order to outgrow the market," says Nikhil Vora, Vice President (Research), SSKI, a Mumbai-based brokerage house. Though there is a temptation to go along with Vora's views and dismiss HLL's strong 13.8 per cent revenue growth in the July-September 2005 quarter as just that, it would be unfair to discount HLL's ability to outgrow the market or defend its turf against ITC's onslaught. Its brands already reach two out of every three Indian households (no other marketer comes even close, not even ITC). So, it could be just a matter of getting that elusive marketing touch back, and it will fly, once again.
True, HLL's new ventures, confectionery, ayurvedic products, ready-to-eat foods, direct-to-home distribution (Sangam), water, and an alternate rural distribution channel (Project Shakti) have, at best, not taken-off in any significant manner. At worst, they are being shelved as in the case of confectioneries. Then, Sangam, Project Shakti and water are businesses of the future, much like ITC's foray into FMCG, and they need time and nurturing before they can significantly impact sales or profits.
ITC Choupal Sagar in Hyderabad: There id definitely more to ITC than being a mere tobacco giant!
ITC Bhadrachalam Prlject: Beneficiaries of social
forestry at Ganapavaran
village in AP
"HLL has not taken aggressive bets on its new businesses unlike ITC," says another FMCG analyst. He has a point here, for even while ITC continues to pour money (and post losses) in FMCG, HLL has chosen to be mindful of its bottomline. Half-hearted attempts at the biscuit market (with Bistix) and ready-to-eat foods (Annapurna 4'O clock Tiffin) only strengthen the case against it for not walking its talk. ITC, on the other hand, is spending big money promoting its FMCG brands, deploying part of its over 34 per cent operating profit margins to build up momentum for its new businesses-FMCG witnessing quarter-on-quarter growth (September 2005) of 90 per cent and agri business around 64 per cent. "Someone willing to continuously spend such huge money on generating sales and growth would certainly be a threat to a big player such as HLL," says C.K. Ranganathan, Chairman and Managing Director, CavinKare.
ITC seems to have had a free run at the FMCG market till now. However, as it attempts to delve deep into brand-led categories such as personal products, detergents and processed foods, it will have to face the might of some formidable brands from the HLL stable-Lux, Lifebuoy, Sunsilk, Clinic, Kissan, Lakme. And much like HLL, incremental growth for ITC in FMCG, here on, will come at an incrementally higher cost.
FAQ
Is the company in a sector where India has a long-term competitive advantage?
HLL's ex-Chairman M.S. Banga's much talked about $10 billion (Rs 45,000 crore) outsourcing opportunity for the company and the country in FMCG hasn't materialised as yet; the potential, though, surely exits.
Do the companies have what it takes to succeed in the long-term?
HLL and ITC are repositories of some of the country's strongest brands. They also have an enviable depth of management.
Should you invest in the companies (sector)?
If you are a long-term player and willing to invest based on business fundamentals, HLL and ITC are capable of throwing up pleasant surprises in the long-term.
"Well, we have the examples of Emami and CavinKare, companies that have successfully build personal product brands from scratch, so why should it be different for ITC?" says a senior manager of a food retail chain. But don't expect HLL to give up its dominance of the six-million-odd grocery retail shops across the country to anyone on a platter. Here too, ITC will have to innovate and spend its way in, much like what it has done with atta and biscuits, something that will strain its bottomline, a sight the stock market hates more than a stagnant topline.
"Market share (gain) is important for the long run," says an HLL spokesperson. That is a clear indication that HLL is willing to defend its turf, even if it means changing track and forgoing profitability, as apparent from a 1.35 per cent drop in its operational profits for the quarter ended September 30, 2005. "World over, intense competition in any category has always been good for the consumer and the category," says Utpal Sengupta, President, Agrotech Foods.
With a head-to-head fight between an aggressive ITC and a born-again HLL almost inevitable now, the FMCG market (and marketing) will never be same again. And hopefully, it can help unlock the riddle of India's huge rural market.