L&T's Naik: His formula for success is to reinvent constantly
IVRCL's Reddy: His goals
are clear: become
another L&T
India's first prime minister Jawaharlal Nehru had called dams, factories and infrastructure the temples of modern India. Construction and infrastructure development companies can be forgiven for thinking that they are all dedicated to Mammon. That's because the boom in the country's construction sector is translating into larger toplines and fatter bottom lines for almost every company operating in it.
Larsen & Toubro, the largest company in this space, is aiming high. The goal: become an Indian E&C (engineering and construction) multinational by 2010. And it is doing so by constantly reinventing itself. "What is core today will become non-core tomorrow," says A.M. Naik, CMD, L&T, adding that reviewing its portfolio is an ongoing process at the company "as you need to get out of businesses during good times-before they become obsolete". L&T has about 60-odd businesses under its umbrella. Naik's take: any business smaller than Rs 500 crore that does not contribute significantly to the profitability of the company is a prime candidate for sell-off.
Five Things Going For The Sector
BEDROCK OF THE ECONOMY:

Infrastructure is seen as the key enabler of rapid economic growth. Hence, the government is expected to keep pouring investments into the sector.

NEW GROWTH AREAS: Economic development is throwing up new opportunities in this sector-airports, oil and gas pipelines, ports and power plants, to name just a few.

FULL ORDER BOOKS: Increased capex by the Centre, states and by private companies have resulted in bulging order books for most players in this sector.

HIGH GDP GROWTH RATE: The economy is expected to canter along at 6 per cent-plus for the next few years. As companies expand capacities to tap this opportunity, E&C firms will gain.

RISING KNOWLEDGE GRAPH: Indian firms are scaling up their knowledge. Result: they are winning contracts that used to go to foreign players and also winning overseas contracts.
He's confident that sales for the current year will grow 12-15 per cent from Rs 13,418.38 crore and that the company's order book position will swell over 50 per cent to more than Rs 20,000 crore. Providing ballast to these figures are the government's ambitious highway, electrification and irrigation programmes. "Next year looks good for L&T. We have a strong order book; this will improve our profitability," says Naik, adding that he expects the company to close 2006-07 with sales of Rs 19,000 crore and net margins of 5-6 per cent. "This is among the best in the world and in line with those recorded by global competitors like Tecni and KBR Brown," he informs. Expectedly, the E&C division is the crown jewel within the L&T empire: it contributed Rs 11,400 crore, or 85 per cent, to its topline and Rs 1,100 crore, or 65 per cent, to operating profits in 2004-05. An interesting sidelight: L&T's E&C division is four-and-a-half times the size of the second largest Indian construction conglomerate, Jaiprakash Associates, which reported revenues of Rs 2,700 crore last year. Says Satyam Agarwal, Research Analyst, Motilal Oswal: "Given its improving export margins and bulging order book, we expect the company's operating margin to improve to 8.5-9 per cent in the next one year."
Down south, IVRCL, the teenager on the block, is similarly bullish about its future. "Our target is 3,000 x 4 by 2008," says E. Sudhir Reddy, Vice Chairman and MD of the 18-year-old company. What he means is that IVRCL has set itself a target of achieving a turnover (Rs 1,057 crore in 2004-05), asset base (Rs 1,600 crore at present) and market capitalisation (Rs 1,479 crore on November 9) of Rs 3,000 crore each, and a manpower strength (2,100 now) of 3,000 by that date. "There are enough opportunities in the infrastructure sector," he says, "and at least 20 players can hope to become like L&T over the next 5-10 years." Needless to add, he's targeting a slot for IVRCL in this exalted list.
Five Things That Could Go Wrong
GOVERNMENT POLICY:

Infrastructure activity is driven mainly by the political leadership. Any political change at the Centre can stall the current boom in the sector.

RISING HR COSTS: Greater demand for manpower as a result of robust growth in the industry will result in wage inflation, putting pressure on margins.

CAPITAL COSTS: Could go up if the interest rates rise. Secondly, companies increasingly trade in derivatives to hedge foreign exchange risks. This can be very risky for individual firms.

FOREIGN COMPETITION: Rising competition from foreign companies will squeeze margins. With import duties cut to zero levels, Indian companies start with a 7 per cent handicap.

TALENT CRUNCH: Young engineers and professionals prefer IT, consultancy and FMCG companies because of higher pay and the glamour quotient. This may affect the sector in future.
Like most other players in this sector-and, indeed, like L&T, despite its protestations to the contrary-IVRCL is looking to upgrade its skills by tying up with global giants (see Hegemon or Benefactor?). And although it is executing projects in a wide variety of sectors-roads, rural development, nuclear plants, etc.-it sees itself mainly as a niche player with a focus on the water sector, which accounts for 58 per cent of its total orders in hand of Rs 4,500 crore. Besides, it is implementing another Rs 1,600-crore worth of build, own, transfer (BOT) projects.
Such healthy order books-and this phenomenon prevails across the industry-will reduce competitive intensity in the sector and boost the margins of bigger players like L&T and IVRCL. Why? Most players are more focussed on executing orders rather than winning new ones, says a BRICS Securities report. And L&T, in particular, is passing up contracts which will not give it the desired margins.
In order to maintain its lead over the competition, L&T has broadened its construction portfolio to encompass a whole range of construction activities, from road projects to high-end power, oil and gas projects. This diversification has given it the size and scale required to capitalise on the opportunities thrown open by the government's Rs 1 lakh-crore infrastructure development programme (as of March 2005; analysts estimate that the figure could increase to over Rs 2 lakh crore by 2010). L&T is also exploring opportunities in the construction and development of ports and airports and is also likely to enter the ship-building business soon.
Another factor helping L&T is the increase in the average order size from Rs 300-400 crore a few years ago to Rs 800-1,000 crore now. Since customers typically prefer to place their orders with big players, the E&C division of L&T is ideally poised to leverage its size and track record of successful project implementation to win a significant chunk of orders flowing from fresh investments in infrastructure. "L&T is definitely much more competitive than its smaller rivals, especially when it comes to huge, complex projects which call for skills across a spectrum of sectors," says a Mumbai-based consultant.
Hegemon Or Benefactor?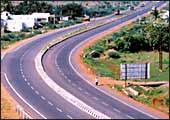 Smooth ride: A highway project executed by IVRCL

The infrastructure and construction space in India is moving up the value chain. As projects become more complex, high technology processes play an increasingly important role in their execution. Not surprisingly, Indian companies are sourcing technology either by forming joint ventures (JVs) with foreign companies or by taking over Indian companies that have it.

Larsen & Toubro, India's numero uno infrastructure development company has a slew of joint ventures and associates-last year, its JVs reported a combined turnover of Rs 1,600 crore-but, surprisingly, it is wary of tying up with foreign partners. Says A.M. Naik, CMD, L&T: "I am dead against JVs in my core business. I don't want foreign partners. JVs survive only if technology transfers are a part of the agreement. Unless the Indian partner absorbs new technologies, you can be rest assured that the foreign company will soon issue it marching orders."

L&T can afford that attitude, but JVs still add value to smaller companies like IVRCL. "A JV can make a difference if it brings complementary strengths together. An international partner can also bring international exposure at an early stage. However, the partner should be part of the project and not just a balance sheet lender," says E. Sudhir Reddy, Vice Chairman and MD, IVRCL Infrastructure Projects Limited. The company's tie-up with Befesa of Spain in the niche water space helped it win a Rs 500-crore desalination project from the Chennai Metro Water Supply & Sewerage Board. The design, build, own, operate and transfer (DBOOT) project is the first such project in India. "We hope to learn from them how a large full-fledged desalination plant can be built at low cost and still be technologically advanced and also learn how to operate and maintain this plant," says Reddy.

Following this JV, Reddy says, he is now considering tying up with GE Water and Pall Filtration, both of the US, for future projects. Incidentally, IVRCL acquired Hindustan Dorr-Oliver from the Dubai-based Jumbo Group in September 2005 to leverage its design, technical and manufacturing knowhow, especially in the water space and move up the knowledge chain. Says Reddy, "Hindustan Dorr-Oliver adds strength to our core areas of water and sewerage management and brings new products and services to IVRCL's portfolio."

That JVs add value to Indian companies is undeniable. Despite its reservations, L&T has seven of them in sectors ranging from injection-moulding machines (L&T-Demag Plastic Machinery), dredging (L&T Dredging International), hydraulic excavators (L&T-Komatsu), industrial valves and safety systems (Audco), earth-moving and construction equipment (L&T Case Equipment Private Limited), paper industry solutions (Voith Paper Technology) and welding and repair solutions (EWA Alloys Limited.)
Currently, L&T is working on 15 major projects, and several smaller ones, including five overseas ones. It has also recently won orders worth Rs 3,050 crore. These include a Rs 1,000-crore order from Tata Steel to expand its blast furnace capacity, another one from Hyderabad Airport (Rs 500 crore), a residential complex in the UAE (Rs 340 crore) and the Muscat Water Supply & Pipeline Project in Oman (Rs 200 crore).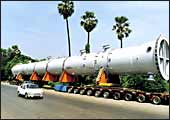 Going places: An absorber made by L&T for Kellog Woodside Energy
The L&T management is also trying to create further value for its shareholders by rejigging its portfolio and by setting up holding companies for some of its businesses. For example, it has set up L&T Infrastructure Development Projects Ltd as a holding company for its investments in the infrastructure sector and L&T Power Investments Ltd for its power sector foray. It is also considering another holding company for its property development business. The intention is very clear: have focussed, integrated businesses, which can unlock shareholder value under one roof. "This structure will allow L&T to mobilise funds through its subsidiaries without any effect on its own cash flows," says Agarwal of Motilal Oswal Securities.
In line with its goal of becoming a multinational E&C company and also to hedge the risk of operating in a single country, L&T is expanding into new geographies as well. The goal: have a footprint spanning 14 countries by 2010. The geography: West Asia, China and Africa. In fact, it will inaugurate a switchgear manufacturing unit in China in January 2006. The Electricals & Electronics (E&E) division of L&T, of which the switchgear unit is a part, contributes only around 9 per cent of total revenues (2004-05), but it is growing at a fast clip. "Our international operations are expected to contribute 25 per cent of total revenues by 2010 (current level: 17 per cent)," says Naik. By then, L&T hopes to achieve a topline of over Rs 25,000 crore. But there are fears that L&T's focus on the international market may leave it open to damage and other claims in case of time overruns or any other failure.
FAQs
Are the companies in a sector where India has a long-term competitive advantage?
Yes, it is a growth sector in India. There is serious government backing, both at the central and state levels.
Do the companies have what it takes to succeed in the long term?
L&T is the undisputed market leader and IVRCL a serious niche player in the water segment of the infrastructure development sector. Both are expected to survive and thrive in the medium- to long-term.
Should you invest in the companies (sector)?
By all means. L&T is considered a surrogate for the sector and looks set to maintain its record. IVRCL also looks a good long-term bet. The sectoral outlook looks bullish and good companies within it will continue to make money.
Also, managing input costs is always a tough ask, especially in an industry where project lifespans extend to several years. Both L&T and IVRCL try and cover this risk by focussing only on large projects at the top end of the market where technology becomes a barrier for small operators, thus, protecting themselves against undercutting by price warriors. L&T goes a step further and insists on an escalation clause linked to the cost of raw materials. Alternatively, it insists that its customer supply it with inputs which are susceptible to price fluctuations. "We cannot afford to let our margins slip. Therefore, 80-90 per cent of our project contracts have price escalation clauses," says Naik. There are, however, concerns that if there are significant cost escalations in L&T's fixed price contracts, they could eat into the company's overall margins and put pressure on its profitability. IVRCL also follows a similar strategy. "Most of our contracts have escalation clauses. That apart, we protect our margins by focussing on efficient implementation of projects and by spreading our risks across a larger number of them. Besides, like many other players in this sector, we are taking the JV route to hedge our risks," says Reddy.
"Given L&T's size and order book position, there is no cause for concern in the near- to medium-term," says Gurunath Mudlapur, MD, Atherstone Institute of Research. But he wonders if L&T can maintain its lead in the long term. "Competitors are growing at a faster pace and can, in the long term, eat into L&T's market share." In fy2004-05, L&T had the lowest current orders backlog to net sales ratio among its peers like HCC, Gammon and IVRCL. This, he says, implies that its competitors are bagging a larger share of new orders than L&T. IVRCL, on the other hand, has nothing to worry on this count: Its order book can sustain its current sales level for almost six years.
For now, both companies are viewing the future with confidence. "We are looking to build up our manpower and knowledge levels and increase our focus on the water sector," says Reddy. His in-house design team has already grown more than three-fold from 45 to 145 since August following the takeover of Hindustan Dorr-Oliver. Reddy wants to ramp this up to 250 by 2008, by which time, he hopes, his 3,000 x 4 initiative will have reached its target. And Naik is confident that by then, L&T will have spread its wings further and be closer to its goal of becoming the first Indian MNC in the E&C sector.