The MNCs of Indian pharma: Ranbaxy's Brian Tempest (left) and Sun Pharma's Dilip Sanghvi
The global Indians: Cipla's Y.K. Hamied (left) and Dr Reddy's MD & COO Satish Reddy
At the end of a long working day, Malvinder Mohan Singh, though tired, is looking happy. The President of the Rs 5,426-crore Ranbaxy Laboratories had arrived earlier that morning from the us after a week-long trip. Despite a long flight, his eyes straining from lack of sleep, Singh had driven straight to his office in Gurgaon's Sector 32. The 33-year-old scion of India's largest pharmaceutical company has been fielding calls from journalists and business partners the entire day. But for a change, Singh has some positive news to share. The previous day, on November 9, Ranbaxy had won a process patent challenge in Norway against Pfizer's anti-cholesterol drug Lipitor. Although the Scandinavian nation is a small, $50-million (Rs 225-crore)-a-year market (and growing at 8-10 per cent) for Lipitor, it's a big morale booster for Ranbaxy, as it received an adverse judgment in a UK court early last month (of course, Ranbaxy plans to appeal against the UK court's decision soon). But the Norway ruling (although partial, as Pfizer has won its defence on the patent of the intermediate compound) is a confidence-enhancer since the mother of all judgments is expected in December-when a us court will announce its verdict on the Lipitor challenge for that market. The value of the anti-cholesterol drug in the US market is $7 billion (Rs 31,500 crore), which is as big as India's domestic pharma industry. Singh says, "We are very confident of winning our challenges. We have a strong case."
Funnily enough, whichever way the decision goes, either party has the right to appeal against it. Besides, challenging Big Pharma's innovations can become time-consuming, costlier and uncertain. Ranbaxy has already spent $30 million (Rs 135 crore) in legal fees this year and the amount is unlikely to come down next year since the number of blockbuster drugs it has been challenging has gone up from 11 last year to 17 or 18 currently. Nevertheless, that's one of the paths India's frontline pharma companies like Ranbaxy and Dr Reddy's (DRL) have chosen to further their growth. In the past, Ranbaxy and DRL have won such patent challenges and raked in huge revenues (for instance, Ranbaxy's Cefuroxime Axetil launch in March 2002 raked in $115 million-Rs 563.5 crore then-in just nine months). "It's a high-risk-high-return strategy. If you can crack one drug like Lipitor (valued at $11 billion or Rs 49,500 crore), it will bring in previouly unheard of revenues to the company," says an analyst.
Five Things Going For The Sector
» India's low-cost chemistry skills are an advantage. The country has the potential to capture a significant share of the $30 billion (Rs 1,35,000 crore) worth global contract research industry.

» India is emerging as a hub for clinical trials. A dozen global companies such as AstraZeneca, Bayer, Eli Lilly, GlaxoSmithKline, Novartis and Pfizer have chosen India as a centre for conducting clinical trials and research.

» In India it will cost only about $100-200 million (Rs 450-900 crore) to develop a new drug, compared to the US' $500-900 million (Rs 2,250-4,050 crore), so a lot of basic research is expected to be shifted to the country.

» $80-billion (Rs 3,60,000 crore) worth of drugs are going off patent globally in the next three to five years, and India stands to gain with its innovative and branded generics.

» Indian companies have shown that they are capable of acquiring companies abroad and will continue to do that to expand geographies and product portfolio.
But coping up with uncertainties in patent challenges is only one part of the worry for the Indian pharma biggies. The other is the cyclical nature of the US generics market, resulting in huge price erosions in the bread-and-butter generics business of Indian pharma leaders. For instance, Ranbaxy saw a huge 90 per cent dip in its net profits in the third quarter (ended September 30, 2005) to Rs 18.7 crore from Rs 200.4 crore in 2004. In fact, the company has been putting up a poor show on the revenue as well as profit fronts for the last few quarters. Much of this can be ascribed to spiralling R&D costs, a spike in marketing expenses, and of course, because of lower sales realisations in the US market. The result: investor sentiment took a beating, with the Ranbaxy stock hitting a 52-week low of Rs 344 on October 25, eroding almost 60 per cent of its market cap in a matter of few days.
Five Things That Could Go Wrong
» MNCs will have an advantage over the next 10 years in the domestic pharma market. The product patent regime is already here, which disallows copying drugs patented after January 1, 1995.

» Highly commoditised generics industry would put pressure on topline, so Indian companies will have to cut costs and streamline their product portfolio, while at the same time enhancing their marketing budget.

» There is a growing consolidation in the international generics market (for instance, Teva acquired Ivax). Indian biggies too will have to go for size.

» If the product pipeline is not continuously spruced up with a steady stream of ANDA and Para IV filings, it would affect future earnings.

» The smaller companies (estimates range from 5,000-25,000 such) could vanish if they don't improve manufacturing practices and standards.
DRL had also faced a similar situation last year. In February 2004, it lost a legal battle to launch its specialty drug amlodipine maleate (a variant of amlodipine besylate, the essence of Pfizer's best-selling angina and hypertension drug Norvasc), dashing its hopes of tapping a $200-million (Rs 900-crore)-a-year opportunity; besides, the company was losing share in the generics market in the us. Then Novo Nordisk announced that it was discontinuing trials of an insulin sensitiser molecule, which was licensed to it by DRL. The result of all the bad news was that DRL's stock tanked to Rs 700-half its peak price in early 2004. However, that's changing as the company is taking a host of steps to drive revenues and cut costs (more on that later).
So which are the most valuable pharma companies in this year's BT 500? It is a mixed bag. For instance, Ranbaxy and DRL, which have a similar strategy of strong R&D focus and the expensive policy of challenging patents, are significant losers. Ranbaxy, ranked 9 in 2004, is down to 11 this year. DRL tanked to 42 from 25 last year. One can see a similarity in what DRL went through last year and what Ranbaxy is going through currently. On the other hand, Sun Pharmaceuticals (which maintained the rank of 24) and Cipla (up to 23 from 25 last year), who do not follow the high-risk strategy of Ranbaxy and DRL, have benefitted.
Bottomline Saver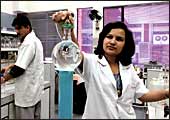 Ranbaxy R&D: Not keen on partnership yet

Three weeks after Dr Reddy's Laboratories (DRL) floated Perlecan Pharma in a unique deal with Citigroup Venture Capital and ICICI Venture, the company's Executive Vice President and Chief Financial Officer Vishar Subramanian Vasudevan gets a reward: a promotion to President and Chief Finance Officer. In a mail to employees, DRL Executive Vice Chairman and CEO G.V. Prasad talked of the innovative deals 'Vasu' had spearheaded. Besides giving shape to Perlecan, the country's first integrated drug development company to undertake research on new chemical entities (NCEs), Vasu was also instrumental in striking a deal with ICICI Venture to fund generics research early this year. These are clearly innovations in finance. And DRL needed them since heavy R&D spending had been taking its toll on the company, which was already been suffering from declining margins in the US market. "Perlecan provides a model to rapidly advance DRL's existing as well as future NCE assets through Phase-II trials and seek out-licensing, co-development or joint commercialisation opportunities," says Vasudevan.

So, is DRL setting an example for others in the industry who have been grappling with the cyclical fluctuations in the commoditised generics market or those who do not want to take on research risks all by themselves? Gujarat-based Torrent Pharmaceuticals is believed to be thinking of roping in a private equity or venture capital firm to share its R&D risks. The partnership will be aimed at guiding one of its lead molecules through the process of advanced development to a stage of clinical application. Taking the lead compounds to clinical trial stage involves studies on a global scale and is fraught with high costs and uncertainties. But not every pharma exec will concur with that. "It's a good model for anybody who has a bottom line problem," says the chairman of a leading pharma company. Ranbaxy Laboratories, despite a slip in its bottom line in the last few quarters, says it will not consider any such partnerships currently. "Partnerships have always been available. But we haven't felt the need yet," says Malvinder Singh, President (Pharmaceuticals). Then, at the end of the day, sharing risks mean sharing returns too.
What have helped Sun are its strong domestic business and its lower dependence on the price-sensitive American generics market (exports constitute only 40 per cent of Sun's sales while they do 80 per cent of Ranbaxy's). In generics, Sun is maintaining a tight leash over costs. Says Dilip Sanghvi, Chairman, Sun Pharmaceuticals, "Ultimately, the generics business is all about costs." In Cipla's case, although domestic sales have remained flat, its core business of exporting formulations is doing well, and is growing at 15 per cent quarter-on-quarter. Cipla has also successfully struck partnerships with large us-based generic companies such as Watson, Ivax and Pentech Pharma for supplying formulations. Says Shahina Mukadam, Head (Research), IDBI Capital, "Cipla's model is low risk. It partners with litigators instead of litigating itself."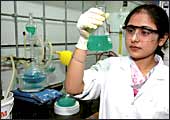 DRL's dose: Can you see the big bucks?
But DRL and Ranbaxy hope to turn around their fortunes through innovative deals, spruced-up product portfolios and smart acquisitions. In March this year, DRL struck a landmark deal with private equity firm ICICI Venture to raise $56 million (Rs 252 crore), which will fund the cost of launching generics in the US market. Last month, in a deal that was first of its kind in Indian pharma, DRL teamed up with Citigroup Venture Capital and ICICI Venture to form Perlecan Pharma, which will fund the development of new chemical entities. The private equity investors will each put in $22.5 million (Rs 101.25 crore) in Perlecan while DRL will contribute $7.5 million (Rs 33.75 crore), and over time hold a majority stake of close to 75 per cent in the company. And on November 9, it acquired Roche's Active Pharmaceutical Ingredients business, in Mexico for $59 million (Rs 265.5 crore), helping it emerge a leading player in the Custom Pharmaceutical Services (cps) business and position itself as a partner of choice for innovator companies.
DRL's Executive VC and CEO G.V. Prasad says, "We have not altered the trajectory for the company, but we do recognise the shareholders' concerns in the short term."
FAQ
Are the companies in a sector where India has a long-term competitive advantage?
Low-cost manufacturing, world-class talent and well-developed R&D skills put the Indian pharma sector on par with that of the developed markets.
Do the companies have what it takes to succeed in the long-term?
The sector has companies that have been in the business for the last 40 to 70 years (like Ranbaxy and Cipla) and have successfully transformed in tandem with changing market dynamics.
Should you invest in the companies (sector)?
You should, depending on your risk appetite and investment horizon. The four companies that we have discussed are good medium- to long-term bets, and there are several others too that are worthy picks.
Ranbaxy is also affected badly by the short-term investor expectations, which Singh says "has no basis". "Any upside from a win in the Lipitor challenge has not been factored into Ranbaxy's future earnings while expenses have been factored in the costs." So a temporary legal setback has no impact on the fundamentals of the company. Concurs Y.K. Hamied, Chairman, Cipla, "I am against quarterly, half-yearly, or even annual performance expectations. We are in the business of science." But the price erosion in the US generics market is real and the key is how the companies are planning to tackle it. "In the case of Ranbaxy," says Brian Tempest, CEO, "the strategy is three-pronged-cut costs, have a strong product portfolio and explore inorganic opportunities." Ranbaxy has already got 111 products approved by the US Food and Drug Administration and 43 are awaiting approval, which will be the key to tap $40 billion (Rs 1,80,000 crore) worth of drugs going off patent in the next three years. Besides, the company plans to raise $1.5 billion (Rs 6,750 crore) through a combination of instruments like ADRs, GDRs and FCCBs, and another $1.5 billion through debt. "This will be used to acquire quality assets in the us (or anywhere else)." DRL, which hived off its R&D risks to separate entities with the help of private equity investors, claims a pipeline of 50 ANDAS pending for approval. Among them, 26 are Para IV opportunities that give a 180-day exclusivity in marketing.
Indian pharma is clearly a mixed bag. The frontliners like Ranbaxy and DRL, who have bet big on R&D and risky patent challenges, are the long-term stories. Then there is Sun and Cipla who have less risky models with a healthy combination of domestic and export opportunities, followed by dozens of contract manufacturers like Dishman Pharma. Take your pick.