Who: Shankar Annaswamy, Managing Director, IBM Global Services, India
Why: Because IBM has acquired Network Solutions, a Bangalore-based systems integration and infrastructure firm for an estimated $40 million (Rs 180 crore); and because the buzz is that a still hungry Big Blue is now looking at Chennai-based software services firm Polaris, a strong player in the banking and financial services segment
Is it: No, say both companies
Rationale: Polaris has long suffered mid-sized pangs; its most recent net profits, for the six months ended September 30, have declined 35 per cent as compared to the same period last year. And a banking software firm would fit neatly in IBM's scheme of things
Precedent: The Oracle acquisition of Citigroup's stake in i-flex. Citigroup also owns 23 per cent in Polaris
---
Who: Scott Bayman, President and CEO, GE India
Why: The company was paid $145 million by the Government of India, Maharashtra Government and financial institutions, for its stake in the Dabhol Power Company. GE had invested $100 million in the company in 1992
Where: GE will use the money to create a fund, the India Development Fund
What: Through the fund, GE will make investments in multiple projects in the infrastructure sector such as power, healthcare, hospitals, water treatment, desalination, special economic zones and airport expansion
Opinion: "The GE India Development Fund allows us to make investments in projects developed by the company's strategic customers and, therefore, helps deepen and broaden our relationship with them. The fund will contribute to the economy and growth of the economy"
---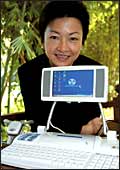 Asiatotal.net's Chen:
Free for all
Companies have tried several innovations to get around the problem of low PC penetration. However, even the Rs 10,000 that some such devices cost could be too much for people at the wrong end of the digital divide. Asiatotal.net, a Hong Kong-based IT solutions company, has an answer: a free computer simply called iT, with users having to pay just the telephone charges for accessing the internet. "Our business model will solve this problem," says Judy S. Chen, President and CEO, Asiatotal.net. So, how will Asiatotal make its money: iT's keyboard will feature several hotkeys that can take users directly to the websites of the company's partners in areas such as financial services, healthcare and education. These firms, reasons Chen, will pay to have hotkeys dedicated to them, in the hope that at least a few of the people who visit their sites will transact some business with them. The original flaw in this model seems to be that it assumes people who cannot afford a PC can do that. Chen will also have to battle India's low tele-density (below 10 per cent). That may well explain why Asiatotal has chosen to test the product (200,000 of them, actually) in Brazil, not India or even China.
---
P-WATCH
A bird's eye view of what's hot and what's not on the government's policy radar.
HURRAH

CBDT clears the confusion on ELSS.
» All schemes launched till November 3, 2005 to enjoy tax breaks
» Investments up to Rs 1 lakh eligibile
» No distinction between open- and close-ended schemes
» MFs not obliged to wind up schemes within given time frame
ALL ELSS PLANS WILL CONTINUE TO ENJOY TAX BREAKS
Existing equity-linked savings Schemes (ELSS) offered by mutual funds (MFs) will continue to enjoy tax benefits under Section 80C of the Income Tax Act, 1961. The Central Board of Direct Taxes (CBDT) has clarified that investments up to Rs 1 lakh in elss (both open- and close-ended) launched this fiscal till November 3, 2005, will continue to enjoy the tax benefit as long as they conform to the Finance Ministry's 1992 and 1998 notifications. The confusion arose after an earlier CBDT notification, dated November 3, allowed tax exemptions only to close-ended ELSS. Most plans launched by MFs after 1998 are open-ended.
BANKING OMBUDSMAN SCHEME: OLD WINE IN NEW BOTTLE
The Reserve Bank of India (RBI) is trying to make life easier for bank customers. How? It proposes to revise the Ombudsman Scheme 2002. The ombudsmen arbitrate on customer disputes of less than Rs 10 lakh; these range from non-maintenance of minimum balances to charges not disclosed upfront on mortgages and credit cards and much else. The existing scheme was funded by banks -an obvious conflict of interest. Result: when banks were dissatisfied with the ombudsman's rulings, the results were invariably reviewed; but customers were not extended the same courtesy. RBI will now pay for the scheme out of its own coffers; the idea is to make ombudsmen truly independent. But will it provide the customer with any relief? Given the way officialdom works in the country, no one is betting on that.
ONE PHONE NUMBER, MULTIPLE SERVICE PROVIDERS
Telecom consumers will soon have greater choice. TRAI has finally decided to implement the Carrier Access Code, a provision that is part of the National Long Distance (NLD) Licence. What does this mean? Subscribers (of Reliance, Bharti, Hutch, or, for that matter, any other service provider) will be able to route their ILD calls through a competitor's network if the latter offers cheaper rates. They will simply have to dial a universally available access code to indicate the carrier of choice. Subscribers currently have to pay whatever charges their service provider levies. The initiative, which comes close on the heels of a dramatic reduction in ILD and NLD licence fees, will intensify competition in the long-distance call market. "The consumer should have the freedom to access the lowest cost carrier," says a government official. This facility will become available early next month.
BIG BANG FDI
The commerce ministry has identified seven sectors-petroleum, coffee and rubber, mining of diamonds, coal and lignite, power trading, airports, and trading-that should be opened up to 100 per cent foreign investments. However, retail and insurance are not on the list. But the Department of Mines wants the current FDI limit of 74 per cent in mining to stay. Prime Minister Manmohan Singh will take a final call on the draft report soon.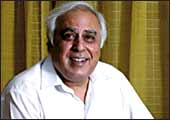 Science Minister Sibal:
Hi-tech
INCENTIVISING RESEARCH
Union minister of science and Technology, Kapil Sibal, is drafting a Bill, modelled on The Patent and Trademark Law Amendments Act, 1980, of the US-popularly known as the Bayh-Dole Act-to provide incentives for universities to conduct cutting-edge research for India Inc. "The idea is to bring synergy between academia, research centres and industry. Scientists and researchers, too, must get a share of the profits," says Sibal. The Bill is likely to be tabled in Parliament during the next Budget session.