HEADLINER
Mr TaxSmart
CALL IT prescience? What else can explain the fact that investors pumped in huge amounts of money into a fund, only to have it declare a dividend a few months later? In May 2005, for instance, ING Vysya Equity Fund (Dividend) had Rs 2.52 crore under management; the next month, it had Rs 85.56 crore. On September 15, 2005, the fund declared a dividend of 65 per cent (Rs 6.5 a unit). A fund manager from a domestic mutual fund says that such instances are typically caused by companies keen to book losses (once a fund declares a dividend its NAV falls; in the above example, for instance, the NAV fell to Rs 11.23 after the record date of September 15). The manager further adds that companies somehow seem to know which funds will declare dividends, three or four months down the line (according to India's tax laws, a company can book losses if it enters a fund 90 days before it declares a dividend). Instances of similar prescience abound. The corpus of Principal Balanced Fund (Dividend), from Rs 32.94 crore in July to Rs 152.44 crore in August (Dividend of 30 per cent declared on November 9, 2005); that of Birla Balance Fund (Dividend) from Rs 134.11 crore in September to Rs 222.84 crore in October (a dividend is due anytime now, surely)
-Mahesh Nayak
Multiple Ownership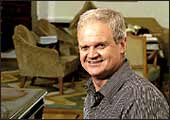 SAB's Parker: Gin and beer it?
One fall-out of the UB acquisition of Shaw Wallace's spirits business was the dispute over the ownership of some of the acquired brands. After all, Shaw Wallace's brewery business had been acquired by SAB Miller Breweries in 2003. And Royal Challenge and Haywards are both brands of beer and brands of spirits. Now, says Andre Parker, Managing Director, SAB Miller, UB and his company have arrived at a solution. "We will continue to hold the rights to the brands in the beer business, but they will hold the rights to the brand in the spirits business," he says. "These rights are for perpetuity and there is no monetary compensation involved either way."
Who's Better?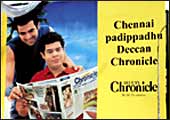 A DC ad: New kid on the block
The hold music when you call The Hindu is a dignified instrumental; at the Deccan Chronicle, it is a brassy Tamil jingle. As they slug it out in Chennai, nothing typifies the two dailies better than this. DC is the brash new kid in town and in the eight months since its launch, claims to have garnered a circulation of 2.75 lakh on weekdays. The Hindu, itself with a Chennai circulation of 2.64 lakh, (2,64,411) is openly sceptical: "I do not accept Deccan Chronicle's claims," says N. Murali, Jt Managing Director. "DC Chennai, which is not a member of the Audit Bureau of Circulation, can make such fanciful claims." Ravi Reddy, Managing Director, DC, insists that his paper will figure in ABC's July-December survey. With a fairly large pool of English-reading public, Chennai probably has place for more than one daily. It will get this once The Times of India launches its edition sometime next year. "It will be a new ball game then," admits Murali.
Fill It, Forget It...
Templeton comes out with a new fund.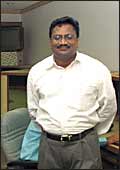 Franklin's Subramanian: Bottoms-up
Small-caps-read penny stocks-may have deservingly received plenty of flak in the recent past, but that doesn't mean that all such scrips are of dubious pedigree. Why else would Franklin Templeton Mutual Fund launch a close-ended scheme-called Franklin India Smaller Companies Fund (FISCF), with the objective of investing in small and mid-cap companies. The mutual fund has also set a clause that it can invest up to 10 per cent of its total corpus in non-listed companies. Says K.N. Siva Subramanian, Senior Vice President & Portfolio Manager, Franklin Templeton: "In a growing economy, smaller companies benefit from the structural economic shift. Therefore, we have filed in our offer-document that we will be investing a part in non-listed companies to reap the complete advantage of potential growth."
Typically, many of such small-caps would have private equity investors looking for an exit route. A classic example is UTV Communication where CDPQ of Canada offloaded its stake when the company went public. Similarly Punj Lloyd plans to mobilise over Rs 500 crore from the capital market through an initial public offering (IPO). Standard Chartered, New York Life, Merlion Fund and Dunearn Investments, an affiliate of Temasek, hold stakes in the company.
Being a five-year closed-ended fund will give the fund manager the flexibility to make his bet on particular stocks without worrying about redemption in the fund. "The investing approach will be bottom-up and investment would be in stocks that are not flavour of the market, but that are strategically placed to take the advantage of the robust economic growth in India and the global outsourcing trend," explains Siva Subramanian.
-Mahesh Nayak
---
NEWSMAKERS
The Dotcom Beneficiary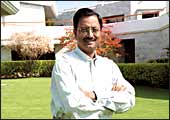 Satyam's Ramalinga Raju: 23-plus times better
Any CEO who manages to earn $117 million (Rs 527 crore at today's exchange rates, and this is the total consideration that has been received to date) on an original investment of $5 million (Rs 23 crore at today's exchange rates) is either very smart, or very lucky, or a mixture of both. Satyam Computer Services' Chairman B. Ramalinga Raju, who did just that on his company's investment in Sify, is the last. Some newspapers have compared this amount, which includes the $62.6 million (Rs 282 crore) paid by Infinity Capital Ventures for Satyam's 31.6 per cent stake in Sify recently, to the Rs 499 crore Sify paid for Rajesh Jain's IndiaWorld family of dotcoms; then, that acquisition was made by the NASDAQ-listed Sify (not by Raju or Satyam), and involved no cash outgo from his side. Sify isn't really a dotcom. It is an internet service provider and seller of bandwidth and much of its revenues comes from corporate customers to whom it provides such services. However, it has consistently been treated as a dotcom, and its acquisition, by Infinity Capital Ventures (a company controlled by Raju Vegesna, a Silicon Valley name who made his money when Broadcom acquired ServerWorks which he had founded for $1.8 billion or Rs 8,100 crore in 2001) could well signal a resurgence of interest in the dotcom space in India. Sify is yet to register net profits; it lost around Rs 30 crore on revenues of Rs 361 crore for the year ended March 31, 2005. Vegesna, who is investing a further $37 million (Rs 167 crore) in Sify, is confident that this will change. Well, surf's up and all that, but Raju is back (with a fatter wallet) on terra firma.
---
30: The number of Indian firms listed among top 2,000 firms worldwide in the Forbes Global 2,000 list of corporate titans
450,000: The number of Indian students who enrolled in engineering colleges this year, up from 250,000 last year
$100 million (Rs 450 crore): The amount of business Indian BPO outfits are expected to lose over the next one year because of poor data protection
46%: Managerial positions held by Indians in private sector establishments in Dubai, according to a study conducted by the Dubai municipality
200: The number of pilots Indian Airlines, Air India and major private airlines like Sahara and Jet have lost to new discount carriers in the past one year
28 million: The number of households in the United States which has no savings for retirement, according to the Prudential's US arm, Jackson National Life (JNL)
207.2 million: The total number of households in urban and rural India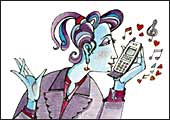 74%: India's software piracy rate in 2004, with losses amounting to $519 million (2,336 crore). This compares with 73% ($367 million or 1,652 crore) in 2003. Software piracy rates in Asia Pacific range from a high of 92% in Vietnam to a low of 23% in New Zealand, according to BSA (Business Software Alliance)-IDC
$10 billion (Rs 45,000 crore): Expected losses by US airlines this year, according to industry estimates, as they struggle with high fuel prices and competition from low-cost rivals
$100 billion (Rs 4,50,000 crore): World Bank estimates for China's trade surplus this year as against $33 billion in 2004
25 million: The estimated number of ringtones downloaded every month by customers across India
---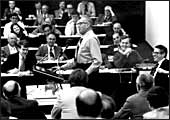 The purpose of any organisation," Peter Drucker once wrote, "is to make ordinary people achieve extraordinary things." "There is only one valid definition of business purpose: to create a customer," he wrote another time. The two definitions, pithy, insightful, and delightfully lacking in the kind of jargon today's management gurus revel in are quintessentially Drucker (they are culled from the over three dozen books he wrote). The man himself, renowned as much for his bluntness-he described Wall Street brokers as "a totally non-productive crowd which is out for a lot of easy money"-wouldn't have described himself as a management guru. He was an economic philosopher, albeit one who pioneered the concept of decentralisation after studying the operations of General Motors in the 1940s, and coined the terms knowledge worker and management by objectives. And true to that description (economists, as a species tend to be a whole lot more cynical than management-types), the second, and concluding half of the quote that opens this piece reads... "In reality, most organisations allow even extraordinary people to achieve only ordinary things." Management has lost its voice of reason.
---
Recognised: Aaj Tak, part of the India Today Group that publishes Business Today, as the best news channel and India Today Editor Prabhu Chawla as the best anchor in the talk show category at the Hero Honda Indian Television Academy Awards held in Mumbai. This is the fifth consecutive year that Aaj Tak wins this award.
Refused: By ONGC, a request from the government to declare a special dividend as part of an exercise aimed at shoring up its revenues. The company was responding to a request from the Petroleum Ministry which was acting on the basis of a communication from the Finance Ministry.
Acquired: By State Bank of India, PT Bank IndoMonex, an Indonesian Bank as, part of its efforts to go global. This is SBI's third overseas acquisition this year after Indian Ocean International Bank in Mauritius and Giro Commercial Bank in Kenya.

Ranked: Italy, as the #1 country brand in an exercise by FutureBrand and Weber Shandwick. The ranking was based on a survey of business travellers, consumers, convention planners. Government agencies and officials, travel industry execs and analysts. Australia came in at #2 and the USA at #3. India was not part of the main listing but finds a honourable mention at #4 (after China, UAE and Cuba) in the Rising Star category and #6 (after Italy, Egypt, Greece, Turkey and China) in the History category.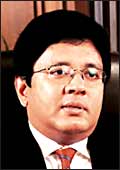 Sold: By Dayalu Ammal, wife of DMK chief M. Karunanidhi, the 20 per cent stake she holds in the company that controls the Maran (the late Murasoli Maran, formerly India's Commerce Minister, is Karunanidhi's nephew; Kalanidhi Maran, seen here, Union IT and telecom Minister Dayanidhi Maran's elder brother, manages the business) media empire, spanning several media vehicles including Sun TV and Tamil magazine Kungumam for an undisclosed amount to the Maran family.
---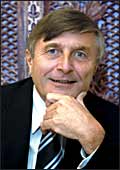 ARM's Robin Saxby: B'lore calling
If Sir Robin Saxby, the chairman of the Cambridge (UK)-based ARM, a chip-design firm, is in Bangalore, blame it on the fact that the Indian market is becoming very important for the firm. So much so that not just Saxby, but ARM's entire board is here to get a first-hand look (ARM also has an R&D centre in the city). Already, ARM-designed chips are embedded in two-thirds of the mobile phones sold in the world (ah, there's the India connection). "India isn't just a low-cost software destination," says Saxby. "It is one of our fastest-growing markets."