| | |
| --- | --- |
| | |
| Devdas: Masochism in its cups | Road to perdition: Another coming of age of motion picture |
Both were released on July 12, are based on novels famous in their own right, are set at least 70 years into the past, and boast enough star-power to do a major constellation proud, but the similarities stop there. Devdas, based on Sarat Chandra's Bengali tragedy and starring Shah Rukh Khan, Madhuri Dixit, Aishwarya Rai, and Jackie Shroff is a kaleidoscopic tear-jerker that should at once cater to the Indian audience's growing bias towards form (as long as it involves an acceptable plot, and Devdas has one).
Road to Perdition is based on Max Allan Collins' best-seller (it was a graphic novel illustrated by Richard Piers-Rayner, and published by dc Comics), features Tom Hanks, Paul Newman, Jennifer Jason Leigh, and Jude Law and is essentially the story of a hitman and his son trying to escape the Mafia. That provides for enough of the father-son bonding sequences popular with American audiences. Both releases, then, should find favour with their respective audiences. We are, repeat after us, what we watch.
---
HOG-LIKE
Not For The Boys
Cruisers have captured warm-blooded male's imagination since Peter Fonda and Dennis Hopper set the roads afire in Easy Rider. Here are two and some stats to help you decide.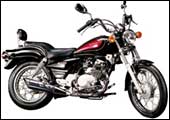 YAMAHA ENTICER
Price: Rs 49,000
Engine Type: 4 cylinder
Displacement: 123.7cc
BHP: 11
Transmission Type: 4 speed
Tank Capacity: 13.5 litres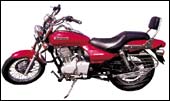 ELIMINATOR
Price: Rs 87,000
Engine Type: 4 stroke
Displacement: 173.9cc
BHP: 15.2
Transmission Type: 5 speed
Tank Capacity: 14 litres
---
AIR PLAY
Jamming The Airways
Before the year ends, there will be some 30 FM stations on air in India. Is there room enough for all?
The glut that satellite television suffers from is all set to be repeated in the case of fm radio stations. Already 10 private fm channels in six cities are vying for listeners, and 20 more will hit the airwaves in the next couple of months. The question is just how different are these going to be from one another? Not much.
All, yes all, of them play (or will) a mix of Hindi and English music, target on-the-move 18 to 35-year-olds, with similar prime drive-time. But differentiation is an absolute must to grab not just audience, but also advertisers.
''We want to be the Star Plus of radio,'' says Sumantra Dutta, Chief Operating Officer, Radio Division, Star India, emphasising the mass positioning that its Radio City is gunning for in Bangalore, Lucknow, and Mumbai. But so are most other stations like Radio Mirchi (a Times Group brand) and Red fm (from the India Today Group, which publishes BT).
''Yes, right now all stations sound alike, but there are latent radio listeners, and their specific needs will drive differentiation over time between stations,'' says the chief operating officer of a recently-launched Mumbai-based fm station, which claims to target audience not based on language, but mood shifts through the day and week.
Currently, a bare 1 per cent of the total Rs 8,600-crore advertising spend comes to radio, and most of the advertisers are big companies.
Unless the stations are able to attract retail advertisers-typically the bread and butter of fm the world over-the share may not grow. Worse, some fm licences have cost Rs 150 crore apiece, with a 15 per cent escalation clause every year for the next 10. If the stations don't hit upon smart ideas soon enough, you might just find them playing the blues.
---
EXECUTIVE TRACKING
Angel Dust
Boredom and better prospects elsewhere are forcing venture capitalists to explore alternative careers.


Neeraj Bhargava (top) and Luis Miranda: outward- bound
The thrill is gone. And veecees are moving on. You know the score: Walden's Sudhir Sethi joined Infotech Enterprises (Walden funded it) as head of sales; HSBC Private Equity's Vivek Kalra hopped aboard amp India, and eVentures partner Neeraj Bhargava signed on to World Network Services.
The latest to move on is the flamboyant Bharat Kewalramani-that's right, the same Kewalramani who had a yacht anchored off the coast of Mumbai (just outside the Taj at Apollo Bunder in case you want to know). Kewalramani will continue to be on the board of Chase Capital Partners but the buzz is, he'll no longer play an active role in the fund.
Also outward bound is Luis Miranda, a partner at Chrysalis. The company has shifted base to Delhi, one of its founding partners Raj Kondur has left, and the fund is also reported to be moving to a more sustainable (read: staid) private-equity culture.
Expect more movements in the angel industry says R. Suresh, the Chief Executive Officer of head-hunting firm Stanton Chase. ''These are high quality professionals managing old investments; they are getting very bored in the absence of new investments.'' Well, they're managing to effect soft landings.
PS: Former Bombay Dyeing CEO Adhiraj Sarin-he could not be reached for comment on the subject-is said to be joining the Murugappa Group's TI Cycles as chief executive in place of V.A. Raghu who retires soon.