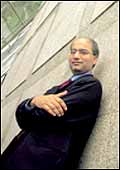 My career thus far has been a story of diversity. After graduating from IIM-A in 1993, I joined FMCG major Hindustan Lever, where I spent four years, first as a brand manager and then as an area sales manager. Then, in 1997, I signed up with McKinsey & Co. as a consultant specialising in consumer goods, pharma, and M&A. In February this year, I joined Max New York Life as VP. It has been a varied experience-first as a line manager in an FMCG, followed by consultancy, and now in the insurance business. But in all these phases, what I learnt and was exposed to at IIM-A was very useful. In a sense, the two years at IIM-A were like an advanced preparation for what was to happen in the future.
To be able to succeed at Hindustan Lever, my first job, you have to have a very strong desire to learn and work across different functions. By rote, Lever recruits are put through their paces in different functions-marketing and sales, accounts and finance, and even HRD and production. IIM-A nurtures in you a very strong passion for learning. Your ability to learn and survive is driven by this passion. At Lever, you get immense opportunities to travel and learn. As an entry-level executive, I was made to travel across the country and also work across different functions. The passion for learning new things that IIM-A had stoked in me was very useful. At my second job in consulting, the challenge was very different from marketing or selling consumer goods. Here I had to work across projects in different industries and interact with senior managers at the client firms. The skills I learnt in IIM-A-of being able to take a top management view of businesses-were very handy at McKinsey. It was a big change from Lever where I had been a brand manager and a sales manager. At McKinsey, I had to often take a bird's eyeview of different businesses and solve problems that were multi-dimensional. Secondly, IIM-A teaches you how to quickly grasp the essentials of a new problem and, consulting is all about that. Thirdly, on campus, you learn to use analytical skills, which helped immensely in the job.
My current job in insurance is very different. Here you have a product that everybody needs and yet you have to sell it very hard. Again, it is the training we got at IIM-A, which helps you get down to the basics of business and operate from there.
What helps most is that the IIM-A faculty has always been of a very high standard. And there is a frenetic pace that you are put through at all times, but that helps you to be prepared for anything later on in your career. From a recruiter's point of view, what helps is the screening that students from IIM-A go through. The rigour of the course ensures that you get people of high quality with high performance standards. The high salience of the IIM-A brand helps too. When you graduate and go to work, the outside world automatically recognises you. Besides, there is the great advantage that the networking brings-from a business perspective, doors open more easily across the alumni network.
Yet, the IIM-A brand is perhaps not as well-known internationally as IITs are. And that's a pity. I think there is need to attract more international recruiters and make efforts to get more international faculty members, perhaps on an exchange basis.