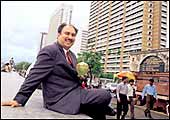 I have been dealing with MBAs in different capacities for the last 17 years, first as a faculty member at the Tata Institute of Social Sciences, then as a member of the recruitment team at Hindustan Lever Ltd, and finally as a man who started the first group management trainee programme at the Aditya Birla Group. And I can tell you a few things about MBAs straightaway: One, high quality MBAs are no longer the monopoly of branded institutions, there is a wider choice available. Two, more and more people with experience are doing MBAs and, therefore, the MBA today is no greenhorn like in the past. Three, those institutions that are actively working on industry-academia interaction put out MBAs with greater practical, real-life orientation.
Do I think it's easier working with an MBA versus a non-MBA? There's no black and white answer to this question. Indeed, given a heterogenous setting (MBAs working alongside non-MBAs), the outcome can be quite interesting and complex. Here's what I think happens: The non-MBA, even if he is good, develops a complex, and the MBA may not be as good as the non-MBA, but develops a degree of arrogance. Particularly, if you have disparate compensation structures.
Let me tell you what I love and hate about MBAs. I love the fact that they are usually tech-savvy, that they are well-informed about contemporary developments, that they have a desire to excel, and finally that they are analytical and questioning. What I hate about them? One, intellectual hypocrisy... unwillingness to admit mistakes when they make one. Two, for tending to be smart-alecky even in situations when only good old hard work will do. Three, their inability to respect people from different backgrounds, and the subsequent shutting out of learning (from experienced colleagues) that happens because of this. This "I-know-it-all" attitude is partly bred because some idiot is willing to pay them Rs 7 lakh or Rs 10 lakh per annum.
That's where the attitudinal issue comes in. There's so much hype about a B-school degree that the MBAs lose their sense of balance and reality. Yes, to an extent organisations expect MBAs to behave differently and bring in different capabilities, but MBAs have to understand that they can't change the world by themselves; they have to work with others.
I think the onus is on B-schools to better prepare their MBAs for the real life. They have to look at the attitude and inclination of each and every student, and as far as possible find a perfect fit. The schools have to help their students improve in areas, especially soft skills, where they are weak. One of the questions that I keep asking my friends in academia is, What is the difference between an online MBA and a classroom MBA? If it's just a question of acquiring concepts and skills, both should be equally effective. But the fact is, management is not just about concepts. It's as much about attitudes and values...that's the value addition a classroom MBA makes.
That's why when we pick MBAs we look for right attitude, skills and fitment. We want people who want to work for us, who bring what we want. We are not driven by the institutional brand. That said, is MBA a good thing? Yes it is. But is the hype surrounding it justified? I think not.