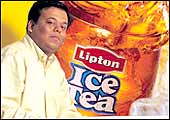 It's mid-may, 2002, and I am standing outside a Kirana store on an obscure street in Agra. The morning sun is beating down on me at a relentless 48 degree celsius, and as the sweaty shirt sticks to my back like a wet paper napkin, I-a management trainee of two months on his sales rounds with a redistribution stockist-begin to question my sanity. Although I was born in Lucknow, I spent my growing up years in Kolkata and later at Pilani, where I studied at bits. So, nothing-least of all the two years at IIM-A-prepared me for UP's blazing heat. What made it worse was the thought that while I roasted in Agra's heat, trying to sell soaps to a small-time kirana shop owner, I had batchmates in other companies enjoying the comfort of their ac offices. At another time, I had to go to Garhwal to appoint a stockist. Upon our arrival, we were greeted by a hailstorm. We did not know which hotel we would stay in and, as it happened, we also had to go without food that night.
So, life as a management trainee was often frustrating and at times I felt like quitting HLL. But every time such a thought crossed my mind, I-like all of us do so many times at IIM-A-gritted my teeth and focused on the task at hand. Only in hindsight do I realise the value of such experience. I thank my stars and, of course, thank HLL. Today, it's thanks to that grind that I know how the entire distribution chain works. More importantly, I fully understand the fact that what a small kirana store owner does to my product will determine the future of the company. He is a very important guy to me. He is my first customer.
I share these experiences with you to show you how life as an MT post-B-School is very different, and how few B-schools prepare you for either sweltering heat or hailstorms. HLL, on the other hand, has a fairly comprehensive and robust mode of induction for MTs, involving cross-functional training for the first 12 months. I, for example, did my sales stint at the detergents business in western UP, and my brand stint handling Fair & Lovely with the personal products business in Mumbai. I also completed an international stint in Bangkok on Dove-a stark contrast to my rural stint with HLL's Project Shakti at Andhra Pradesh. This involved advising the AP government on marketing strategies for products made by women's self-help groups, which are promoted by the state government.
The four stints combined took about nine-and-a-half months, with the last 10 weeks of training spent on "sub-charge", where MTs start on a job that they actually will occupy within the organisation upon confirmation. Afterwards, I became the brand manager for Lipton, which is the second-largest brand in the Unilever portfolio with a global turnover of Euro 2.7 billion. In India, it comprises the Lipton Yellow Label packet tea and tea bags, Lipton Green Label packet tea and Lipton Ice Tea. Apart from driving the hot tea business, which has been there for some time, I am excited by our launch of Lipton Ice Tea, which is about a year old.
As an MT, I also matured as an individual. Back in the B-school, we used to come up with solutions for case study problems. Here in HLL, I have live case studies. I need to think of a solution, get it approved from my boss and implement it in the marketplace. Some solutions look good on paper, but on ground you need to rework things, adjust to realities. The feedback loop is immediate. I know what's going right or wrong and how to set it right. That is where maturity or experience gets built. Thanks, HLL.