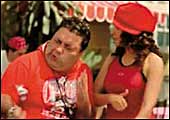 MANOJ PAHWA: The much-abused Romeo of the Usha ad seems to be a favourite with ad filmmakers. He has appeared in ads for Limca, Tide, Videocon, M-seal, 8 PM (whisky), and Mentos
BOOKEND
The residents of India's ulcer gulch have always displayed a predilection for beautiful people. Hindustan Lever Limited has just unveiled its newest Liril girl, its sixth; everyone has lost track of just how many hunks have played Raymond's complete man; and companies with money to burn still go out and get supermodel-turned-superstar Aishwarya Rai to endorse their products.
Over the past two years, however, advertising pros and the makers of ad films have shown a preference for people who, in their terminology, ''look different''. That's a term that spans the entire range of non-conventional looks, from fat to skinny to buck-toothed to squint-eyed to big-nosed to plain and simple ugly.
Different looking as the skinny, dazed-looking young man who appears in the CentreShock commercials, trying to get a rural barber in his dotage to give him a Hendrix-cut or arriving at his fat girlfriend's house to take her out on a date. Different as in the liberally-endowed-with-adipose paanwallah who manhandles a customer (a funny looking one) in the Chlormint ad. Different as in the short-and-fat street Romeo who gets repeatedly slapped by women, for no reason at all, in an ad for Usha fans, And different as in the dark-and-old groom who appears in a Fevicol ad.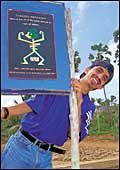 VARUN VOHRA: An ad filmmaker's assistant, he plays the skinny, dazed-looking young man in the CentreShock commercials, trying to get a rural barber in his dotage to give him a Hendrix-cut
''Young (ad) directors are not looking for tall, dark, and handsome models anymore,'' says Manoj Pahwa, the much-abused Romeo of the Usha ad who seems to be a favourite with ad filmmakers. He has appeared in ads for Limca, Tide, Videocon, M-seal, 8 PM (whisky), and Mentos, and sees filmmakers ''looking at the story and doing justice to their scripts''. Casting, the message between the lines goes, has come of age in the Indian advertising industry. ''Prasoon Pandey (the man who made the Fevicol film) told me I was the best guy to play the part,'' says Virender Saxena, the 48-year-old graduate from the National School of Drama who plays the groom in the Fevicol ad. Pandey also made the CentreShock film and picked his assistant Varun Vohra to play the protagonist. ''He struck me as having an interesting face with a character,'' says the filmmaker. That's a refrain many of his breed have adopted.
The Quasimodo Effect
The human mind remembers the unconventional and the plain ugly. An exec travelling on the 8.30 a.m. Virar Local in Mumbai will remember a hunchback far more vividly than he does a pleasant-looking girl. Make no mistake, the latest trend in ad film making isn't about featuring people like us; it is about featuring those who look different, very very different, from most people. The desire to break through clutter lies at the bottom of this phenomenon. Perfect faces and bodies have become clichés that no longer work in Indian advertising. ''Earlier, clients expected to see good-looking models in their ads,'' says ad filmmaker Ravi Udawar. ''Now, the realisation has dawned upon them that unusual and real faces have much more empathy and recall to them.''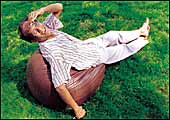 VIRENDER SAXENA: The NSD graduate who appears in the Fevicol ad says advertising films are a source of "additional income" up to Rs 50,000 a day, sometimes
Ad filmmakers could well be pandering to an emerging fondness for street-lingo and quirky humour among the young upper middle-class urban audience. The fact that most brands targeting other audiences still use good-looking models, sometimes movie stars, lends credence to this theory. However, even some of these brands are resorting to the use of models who 'look different'. ''Unless it is a fashion brand, sticking to specific physical types (of models) is no longer valid,'' says Ramesh Ramanathan, National Creative Director (NCD), Mudra Communications, proferring his own take on what kind of ads can use models with unconventional looks. If that is true-and circa 2004, that does seem to be the case-the era of ugly-duckling models is here to stay. ''The era of supermodels is over,'' says Amit Arora, who runs Glitz, a New Delhi-based model search agency. ''Anyone can be a model today.'' Indeed, of the 1,000-plus models on Glitz's roster, around 400 are what Arora calls ''character types'' (read: those who look very very different). Arvind Thakker, a hunk who graced several ad films in the 1990s and now a model coordinator echoes the sentiment. ''Anyone will do (as a model),'' he says. As does R. 'Balki' Balakrishnan, NCD, Lowe India. ''We look for faces with character, charm, and the ability to tell the brand story,'' he says. ''In many cases the angularity, the quirkiness, sometimes the ugliness of the model makes the ad and the brand-speak stand out.''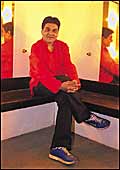 SHEKHAR SHUKLA: Gujarati theatre actor Shukla, the paanwallah in the Chlormint ad says ad films give him "exposure" and bring in lots of movie offers
The (Funny) Man Next Door
That desire to stand out has resulted in an altogether unexpected fallout: the 24x7 search for faces. Modelling agencies are, in the words of Prasoon Joshi, NCD, McCann Erickson, ''clueless'' when it comes to finding such. ''We do use a lot of street-casting around our lives,'' says Sheha Varma of Nirvana Films. And so, everyone from unsuspecting neighbours to passers by on the street to director's assistants, find themselves starring in ads. For the record, Vohra, the man in the CentreShock ads, says he himself is more comfortable behind the camera rather than in front of it. ''The other day, I was at a chemist's and the guy behind the counter had a tooth coming out in a very particular way,'' says Joshi of McCann Erickson. ''I do not know how and when I can use him, but I have taken down his contact details.''
''We try to pick up good actors rather than just peculiar faces,'' adds Piyush Pandey, Chairman and NCD, Oglivy & Mather India, introducing a note of caution about not getting swept away by the trend and ending up using unusual faces for the sake of doing so. And sometimes this acting talent doesn't come cheap. ''Advertising is just additional income, but sometimes it can go up to Rs 50,000 per day,'' says Saxena of Fevicol fame (and Sprite and soap Jassi Jaissi Koi Nahin he proudly adds). And even when it doesn't touch those stratospheric levels, it hovers at a respectable Rs 10,000-15,000 per day of shoot, same as what a good-looking model charges. ''The rates depend on negotiation,'' says Gujarati theatre actor Shekhar Shukla, the paanwallah in the Chlormint ad. And although they cannot survive on ad-money alone, it does come with perks attached. ''Ad films give me exposure and that brings in a lot of offers from (motion) pictures films,'' says Shukla. After all, it isn't easy finding faces that can launch a 1,000 brands.