Mumbai bound: Shobhana Bhartia (L), VC of Hindustan Times and N. Ram, Editor-in-Chief of The Hindu BL
Suddenly, the Rs 775-crore Mumbai newspaper market is abuzz with new launches. The Rs 93-crore Mid-Day Multimedia recently launched a morning newspaper The Morning Quick. The Chennai-based Hindu group also launched the Mumbai edition of its 10-year-old business daily, The Hindu Business Line (BL), late last month. Plus, there is talk of the Times Group launching a second general newspaper in Mumbai apart from The Times of India (TOI), reportedly to be called Bombay Mirror. The Bhopal-based Rs 447-crore Dainik Bhaskar Group has already evinced interest in launching its Gujarati daily, Divya Bhaskar, in Mumbai. And then there is the impending (and long awaited) entry of Hindustan Times (ht) in Mumbai, some time early next year.
So what's really happening? Why has the country's financial capital suddenly become a hot destination for the print media? One reason could be that for as long as one can remember, Mumbai has dominated the country's advertising market. Of the Rs 4,998-crore national print ads market, Mumbai accounts for a sizeable 16 per cent. "The mistake that everyone is making is reading too much into these launches and looking at them as signs of opportunity in either the readership or the advertising market in Mumbai," says Tariq Ansari, Managing Director of Mid-Day Multimedia, about the rush to enter Mumbai. "What really counts is not the opportunity, but the strategic need (of their businesses) to be here."
A tabloid, The Morning Quick is priced at Re 1 and has 24 pages, with snappy sections on world news, business, and sports et al
Ansari may well have hit the nail on the head. "We're not looking to achieve anything spectacular (in terms of circulation) in Mumbai. As a business paper that has achieved critical numbers (around 50,000) in circulation, we need to be in Mumbai as it is India's business capital," says a candid N. Murali, Joint Managing Director, Kasturi & Sons, the publisher of The Hindu Group. "And reporting from Mumbai will give us not just good visibility, but additional revenues in southern markets where we are already strong."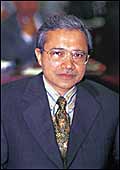 TOI and ET continue to be leaders among the general and business dailies in Mumbai
Samir Jain
VC/Bennett, Coleman & Co. Ltd.
So the now 13 edition-strong BL (with a combined readership of 130,000, according to the National Readership Survey, 2003) is not looking to challenge the predominance of the Times Group's The Economic Times (with a readership of 213,000 in Mumbai; NRS, 2003), but rather hoping to carve a niche for itself by taking away marketshare from other financial dailies such as Business Standard (with a Mumbai following of 20,000) and The Financial Express (a readership of 22,000 in Mumbai). The Dainik Bhaskar Group, with its focus on cornering the Gujarat market and the Gujarati diaspora through its international New York-edition of Divya Bhaskar, is not immune to the lure of Mumbai, with its large Gujarati population.
So does that mean there is no room for any new entrant to challenge the status quo in Mumbai's newspaper market? "A good alternative (something ht is expected to provide) will be acceptable to Mumbaikars," insists a senior ht manager. And most media buyers will tell you (well, strictly off the record) that any fragmentation in the Mumbai print market will be a welcome development as it would give advertisers what they have always sought-a choice.
Even Mid-Day's Ansari, who rationalises most of the recent newspaper launches as strategic needs to protect existing brands and markets, sings a different tune altogether when it comes to his company's Quick. "Our research showed a readership gap in the market among women and language crossovers. And we saw an opportunity for a simple and straightforward newspaper here." Quick is a morning newspaper in tabloid form. Priced at Re 1, it has 24 pages, with snappy sections like Quick Biz, Quick World, and Quick Sport.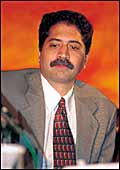 The group hopes to tap women and language readers with the launch of its The Morning Quick
Tariq Ansari
MD/Mid-Day Multimedia
That's not all. The group is offering free bundled advertising in Quick to its existing Mid-Day advertisers. "I am not saying what we'll do in the future. For the moment, we're giving more bang for the (Mid-Day) advertisers' buck," adds Ansari. And even as ht looks at dipping into its huge war chest it has built up by selling a 20 per cent stake in Hindustan Times Media to Henderson Global Investors last year (for Rs 120 crore by some estimates) for taking on the TOI's might, its Mumbai launch is essentially a strategy to deflect the latter's onslaught on its flagship Delhi edition (ht has already lost the leadership mantle to TOI if NRS, 2003 is anything to go by) and hit the competition where it hurts most (See Mumbai Newspaper Market: High Stakes). "They have been using the profits from their Mumbai edition to fight us in Delhi. Now we'll bleed them in Mumbai by bringing down both advertising rates and the cover price," warns the senior ht manager.
Says Sandip Tarkas, Chief Executive Officer, Media Direction, RK Swamy BBDO's media agency, "It is in this context (the need to take on ht's Mumbai gambit) that TOI's new newspaper needs to be looked at." Even Quick is purely tactical in that sense, for at a strong No. 2 in the general newspaper market in Mumbai (with a readership of 776,000; NRS, 2003) the need for it to flank its flagship brand Mid-Day is critical, given ht's impending entry as well as the threat it faces by default from TOI's Bombay Mirror. According to industry sources, the Bombay Mirror is looking to be both a flank to protect TOI from ht as also a tabloid-condensed version of TOI to take on Mid-Day, while offering an alternative to afternoon commuters in Mumbai. This, even as Ansari puts on a brave face: "Not everything I do is geared towards TOI. They don't define my life." The Times Group turned down BT's request for comments on Bombay Mirror, saying it was speculative and an internal corporate issue.
For Business Line, Mumbai was the next logical stop given its status of being India's financial capital
N. Murali,
Joint MD/Kasturi & Sons
Does this mean that most strong newspapers across the country, such as The Hindu and The Telegraph, will also start looking at a Mumbai foray sooner or later? "With the taps of foreign funding open now, this is the time a lot of people can get into the Mumbai market," says Sandeep Viz, Managing Director, Optimum Media Solution.
So even though TOI doesn't pose any challenge in the Kolkata market to The Telegraph at the moment, and doesn't have an edition in Chennai, no one has forgotten how TOI took on ht in Delhi and displaced it as the market leader. For a lot of media watchers will tell you how, for much of the early 1990s, the thought with the country's numero uno print group, The Times, was to 'consolidate Mumbai and confuse Delhi'.
Clarifies The Hindu's Murali, "We're not even thinking of The Hindu going there (Mumbai)." But in business, as in life, it's best to never say never.