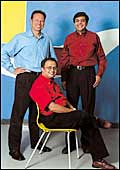 MphasiS' A-team: Chairman and CEO Jaitirth 'Jerry' Rao (sitting) with Vice Chairman Jeroen Tas (L) and CFO Ravi Ramu
It is now 14 hours since his day began 1,200 kilometres away in Mumbai, but 51-year-old Jaitirth 'Jerry' Rao, former high-profile Head of Citibank's Indian operations, current Chairman of India's National Association of Software and Service Companies (NASSCOM), Chairman and CEO of MphasiS, poet, author, and occasional math instructor is juggling an oily samosa and fielding an analyst call from New York in what is likely to be the only pit-stop between now and the end of the day, at least five hours away.
Secretary Awanti Agarwala interrupts the call to remind him that his senior management team, led by CFO Ravi Ramu, is close to finishing its presentation to a group of executives from an American company shopping for some it services. "You have to make the final remarks," she reminds him.
Rao finishes the call and turns to the window of his seventh floor office. It is half past six in the evening and the Bangalore skyline and a restored Ulsoor Lake-one of the city's largest fresh-water bodies-present a restful sight in the lambent light.
The view seems to recharge Rao, but not before a moment of weariness crosses his usually cheerful visage. Then, he is out of the chair, striding with his usual energy and confidence, all five feet and three inches of him, a pocket dynamo, to the conference room next door.
He's back 15 minutes later, grinning from ear to ear, and accompanied by Ramu. The visitors seem happy and the deal could well be in the bag. He congratulates Ramu, a KPMG-veteran who worked on Infosys Technologies' NASDAQ listing, on a job well done, instructs that the visitors are to be dined at the seven-star Leela Palace hotel on Bangalore's Airport Road before they catch a flight out at 10.30 p.m. "I will join you guys there," he promises. It is going to be one long evening for Rao.
The man wouldn't have it any other way: the length of his days is an indication of sorts of MphasiS' progress, from just one among the countless Indian software companies aspiring to greatness to the next big thing in Indian software. "Look at its customer base, growth rates, and offerings," says Rahul Bhasin, Managing Partner, Baring Private Equity Partners (India), an investor in MphasiS. "It is a tier-I company, and it has a management team with real multinational experience."
Four years ago, MphasiS was ranked 20 in NASSCOM's listing of India's largest software services companies; today it is ranked eighth on the list.
There's more: the company has just completed the acquisition of Kshema Technologies, an embedded software player to build up its non-banking, financial services, and insurance (BFSI in techie jargon) business, and it is pushing what it considers a revolutionary software services plus business process outsourcing (BPO) offering that makes it, if its claims are to be believed, India's only truly integrated software firm. In a field dominated by biggies such as Tata Consultancy Services, Infosys Technologies, and Wipro, that is some claim.
"We Have A Unique Strength"
Since taking over as chairman and CEO of MphasiS BFL in April 2000, 51-year-old Jaitirth ''Jerry'' Rao has virtually doubled the size of the company every 18 months. Now, as he tries to take MphasiS into the big league of Indian software services companies-populated by the likes of TCS, Infosys, Wipro, and Satyam-he faces a formidable set of challenges. In a candid interview, Rao outlines his vision for the future.
While the last couple of years have been good in terms of growth for the company, the software services business seems to have had a not-so-good 2003-04; margins are down; and manpower utilisation has come down...
Yes, the services business has not lived up to our expectations. However, remember that it is a two-quarter and not a two-year trend. We are fixing the services business and we hope we will see accelerated growth. Margins have been impacted. We hired in the hope that some of the projects in the pipeline would fructify. It did not happen, (manpower) utilisation fell, costs went up, margins went down...
Your numbers show an over-dependence on the banking, financial services, and insurance (BFSI) market. And the top customer accounts for 13 per cent of the business and the top five, 45 per cent. Isn't that risky?
There is nothing inherently wrong with being a major player in the BFSI segment as this is the biggest and fastest growing segment of the it services market. We have already entered utilities and retail and we will enter other spaces too. As far as number of clients are concerned, we have fairly well-established relationships. At the same time, we are also increasing the number of clients.
A third of your revenues come from BPO. Isn't that a risk too?
Instead of seeing this as a matter of concern, I take pride in the fact. This is something that sets us apart. Last year, our BPO business grew by 100 per cent. We added more clients and the business has not only broken even, but started making money. We quietly invested in developing high-end BPO services such as a 'Virtual Tax Room'. We have been able to convert a number of our services customers into BPO ones.
What sets MphasiS apart from an Infosys or a Wipro?
Until a few years back, we would go (to customers) and say 'we are Indian, we are cheap, give us your business'. They would say 'yes, you are Indian and cheap, but Infosys, Wipro, and TCS are bigger' and give them the business. Now we have a unique strength to offer: our integrated play. This is an emerging area like our Virtual Tax Room where both software services and business process outsourcing have to be co-mingled as an offering.
Yes, the others are trying to do the same, but even today Spectramind accounts for less than 10 per cent of Wipro's revenues and Progeon, around 4-5 per cent of Infosys'. We are not a me-too player. We are doing to BPO what Infosys and TCS did to software services. They changed the paradigm. Each player has what in Sanskrit is called swadharma (its own unique philosophy). MphasiS' swadharma is to provide an integrated BPO-services offering. This will power our growth.
A Brief History Of Possible Greatness
It's hard to say exactly, but MphasiS may well have been born in Rao's mind when he was Chairman of Transaction Technologies Inc, the it arm of Citibank.
This was the late 1990s, the bank was handing out multi-million dollar contracts to software companies, including Indian ones such as i-flex and Polaris, and the man spotted an opportunity to do his own thing. "In 1998, there was something in the air," says Rao, who admits that his entrepreneurial career may have had something to do with his base in California. "Money was easily available and every second guy was starting a company." And so, after an exit interview that lasted over two hours, Rao and a colleague from Citi, Jeroen Tas, set out to ''focus on internet solutions in the banking and financial services space and do some body shopping from India''.
Eighteen months later, coincidentally around the time the great dotcom bubble burst, the duo had reached a dead end: MphasiS had become a $6-million company, but it did not seem to have what it took to bag big projects. "Scale was an issue and MphasiS wasn't a known entity," says Rao.
Meanwhile, back home in India, BFL, a company originally promoted by Kolkata's Bangur family, had run into all sorts of trouble for reasons as varied as speculative interest in the scrip to lack of leadership to inefficient project management processes. In 2000, on revenues of Rs 121 crore, the company returned profits of a mere Rs 44 lakh, a net profit margin of around 0.36 per cent, something that is a nadir of sorts in the highly profitable software services business.
ING Barings, the single largest shareholder in the company (it held 52 per cent of the equity), facilitated a merger of the company with MphasiS (Barings had a 25 per cent stake in MphasiS too). And so, in February 2000, Rao found himself Chairman and CEO of MphasiS BFL. The turnaround was almost immediate.
Even as Rao, Tas and another former Citibanker, Bhaskar Menon, now Head of MphasiS' bpo operations in the US and soon to head MsourcE, the company's BPO arm in India, were celebrating the revival of the merged entity (revenues had increased from Rs 121 crore in 1999-2000 to Rs 273 crore in 2000-01 and net profits from Rs 44 lakh to Rs 13.6 crore), the tech winter struck.
Rao and his team decided to hunker down and focus on efficiency. Revenues grew a mere 14 per cent in 2001-02, but net profit more than doubled to Rs 41 crore. The markets, however, were unmoved; the stock, which now trades at Rs 489 after a 1:1 bonus, reached a low of Rs 26. Rumours flew about the company looking for a buyer. Meanwhile, Rao and cfo Ramu-he came on board in June 2001-were shopping for investors.
Finally, in July 2001, Chrys Capital's Ashish Dhawan invested $10 million for a 7 per cent stake in the company. Chrys had also picked up an additional 7.4 per cent stake in the company from the open market for between Rs 26 and Rs 100 per share. Today, the firm holds 13-14 per cent and the scrip trades at Rs 490 after a 1:1 bonus. ''What attracted us to MphasiS was their differentiation," says Dhawan, Senior Managing Partner, Chrys Capital. "They were extremely focussed on financial services instead of being everything to everybody and they had a small BPO offering. Remember, this was at a time when the Infosys' and the Wipros were not talking BPO." The company had the money it needed to grow, and grow it did.
Four years ago, MphasiS was ranked 20 in Nasscom's listing of India's largest software services companies; today it is ranked eighth
Is MphasiS Really Different?
There is no denying the fact that MphasiS' numbers look good: a net profit of Rs 98.5 crore on revenues of Rs 580.5 crore, and a guidance of 35-40 per cent growth in 2004-05. Pooja Narayanan, an analyst at Mumbai-based B&K Securities, believes the company will register revenues of Rs 780 crore and profits of Rs 135 crore in 2004-05, which should see it meeting its guidance. However, what worries some analysts is that around a third (Rs 186 crore) of the company's revenues in 2002-04 came from MsourcE, its BPO arm.
Back in 1999, Rao had turned his nose up at the suggestion that his company venture into the then emerging BPO business-"Here we were, doing high-end Java programming, and somebody was suggesting we set up call centers," laughs Rao-but eventually relented and invested in a 15-employee operation in Pune. Even then, the man was reluctant to invest in the company (MsourcE was formed as a separate company, but on February 26, the board passed a resolution recommending merger with the parent, a move that some analysts say was prompted by a desire to dress the numbers up some).
It was only when growth in the IT services business proved elusive that Rao started focussing on MsourcE. In 2003-04, the IT services business of MphasiS grew by a mere 16 per cent, while the BPO one did by around 100 per cent (almost 70 per cent of the company's 7,000 employees are on the rolls of the BPO).
Getting There


The momentum may be with it, but MphasiS has to work harder still to break into the honours list.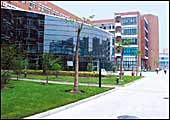 Shanghai's Pudong Software Park: Home to MphasiS' development centre in China
If venture capitalists, the managers of private equity funds, even lay investors-MphasiS' stock has zoomed to Rs 489 from Rs 273 over the past one year-are certain MphasiS is set to play in India's software major league, there is reason for it: the company's management. After all, a clutch of its equals (in terms of size), from Hexaware Technologies to Hughes Software Systems, have managed to grow both revenues and earnings faster in 2003-04. "Though its BPO arm MsourcE is doing extremely well, its software services business grew by only 17 per cent," says Ganesh Duvvuri, an it analyst at Mumbai brokerage Motilal Oswal Securities. That, he explains, is well below the average growth rate of its peer group. In 2003-04, almost a third of the company's revenues came from the bpo arm. That, say analysts, is bad from the valuation point of view. "Because value addition is low in this business, the valuation is lower," says Sandeep Shenoy, Head (Research), Pioneer Intermediaries. The acquisition of Kshema will no doubt help the cause of valuation-Duvvuri expects it to enhance MphasiS' margins-but certainly not enough to justify the growing opinion that this is Indian software's next big thing. That comes from three factors: the halo that surrounds Rao, the company's gumption in setting the trend in terms of facilities in China and Mexico, and its ability to make an integrated BPO-plus-software-services play, something that companies as varied as Infosys and IBM are also trying to do.
The irony isn't lost on Rao. "Three years ago, we were reluctant to even tell people that we had a call centre," he says. "Now, our integrated play of offering end-to-end offerings is our uniqueness." One example of this integrated play is Virtual Tax Room, a branded BPO offering that combines a traditional back-office function with project-management of a level one normally encounters in high-end it services outsourcing. "Unlike Infosys and Wipro, MphasiS has integrated its IT and it-enabled services businesses to offer unique services," explains Barings' Bhasin.
Rao seems convinced that this is the company's key differentiator, but analysts do not share the sentiment. Both Infosys and Wipro have strong BPO plays through Progeon and Wipro Spectramind.
"MphasiS is branding a BPO offering and that is a positive," says Ravindra Datar, Principal Analyst, Gartner India, a technology consulting firm, "but other companies may be able to offer similar offerings." He adds that the company stands to gain in an "era of vendor consolidation", but stresses that this is something that would also benefit "the likes of Infosys and Wipro".
Then, there are concerns about the emphasis on the BFSI market (62 per cent of its revenues come from this segment) and the seeming lack of management depth. Rao claims the company is aware of these concerns (see MphasiS Faces Challenges Aplenty...) and points to the presence of Tas, Menon, Ramu, and Anant Koppar, the CEO of Kshema who has been named President, MphasiS Technologies, the company's embedded software division, as proof that MphasiS doesn't depend on him, and on his Rolodex for growth.
Rao is right: MphasiS' senior management team has pretty impressive credentials. However, it is Rao's own standing as a professional-manager-turned-entrepreneur and his individualism that gives the company much of its character.
The man, you see, isn't the typical buttoned-down banker. Instead, he is arguably the most versatile and colourful of Indian software CEOs, peppering his conversation with literary metaphors, laughing easily, and generally managing to convey the impression that he knows what he is doing without really saying so in as many words.
Rao is hoping for an encore as the company tries to break into the top 5, a honours list where it will rub shoulders with TCS, Wipro, Infosys, and HCL Technologies
Back in Citi's early days in India, when its young team would work Saturdays, most executives would come dressed casually, in jeans and T-shirts. Rao would turn up for work in a neat dhoti and half-sleeved shirt. Indeed, after Infosys' N.R. Narayana Murthy and Nandan Nilekani, Wipro's Azim Premji and Vivek Paul, and HCL Technologies' Shiv Nadar, Rao may well be the most recognised software executive within the country and without, and not just because he heads NASSCOM.
All these, of course, do not immediately translate into software greatness and Rao recognises this. Still, he believes MphasiS has what it takes and a unique selling proposition besides, that can help it succeed. "Not many people believed we could make it to the top 10," Rao reminds this writer on his way out. That's right, not may people did. After all, analysts rated companies such as Polaris, Hughes, Mastek, even Aztec much higher than MphasiS just a few years ago. Today, the company has clearly managed to set itself apart, if not in terms of revenues, then in terms of positioning.
"We did it," says Rao. Now, he's hoping for an encore as the company tries to break into the top 5, a honours list where it will rub shoulders with TCS, Wipro, Infosys, Satyam, and HCL Technologies.
A Global Accent


MphasiS may be small, but it is as global as it gets.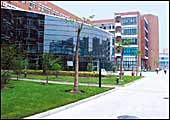 Shanghai's Pudong Software Park: Home to MphasiS' development centre in China
One would have expected Infosys technologies, Wipro, or TCS to be the first Indian company to make an m&a play in China. Instead, it was MphasiS that in February 2003, announced the acquisition of the Shanghai-based Navion Software Development Company for $2 million. The amount involved was small, and Navion was then a 50-employee company, and Rao himself admits that it was more of a strategic move than something that would pay immediate dividends. ''Our Japanese clients wanted us to be located there because it is in the same time zone and there is cultural proximity,'' says Rao. ''However, in the long run China itself will become an attractive market for us and we already have our feet on the ground.'' Not to be outdone, the company's BPO arm MsourcE has put down a 22,500 sq ft, 125-seat Spanish language BPO at Tijuana, Mexico. Then, there are MphasiS' marketing offices in New York, Memphis, Houston, Boston, London, Singapore, Tokyo, and Amsterdam, and a small software development centre in Memphis, but these are par for the course for most Indian software services biggies. The Chinese and Mexican plays are not.
Me And My Uncle


A famous uncle believes Jerry Rao is the smartest in the family.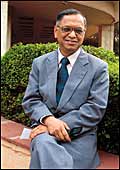 N.R. Narayana Murthy, Chairman and Chief Mentor, Infosys: Proud uncle

It is inconceivable that a man with as diverse interests as Rao ends up an academic. Still, that's what the young Jaitirth tried his hand at six years after graduating from the Indian Institute of Management, Ahmedabad in 1973. Citibank hired him from the IIM-A campus and sent him as a trainee to Beirut, Lebanon. However, fascinated by academia (his brother is a professor in the US), he took a leave of absence in 1980 and enrolled for a doctoral programme at the University of Cincinnati. But, stifled by the hidebound rules of academia, Rao quit two years later to return to Citibank. Over the following 25 years, Jerry (a name given to him by his batchmates at IIM-A) held several senior positions in the bank, including a famous stint as head of its Indian operations. Then, at a time when he was counted among the top 50 managers in the company, he quit and started his journey as an entrepreneur.

He may well have been inspired by an uncle of his who made a similar mid-life switch from salaryman to entrepreneur with spectacular results, N.R. Narayana Murthy, the Chairman and Chief Mentor of Infosys. ''We neither advertise nor hide the fact (that we are related),'' says Rao. ''He has always been an inspiration for me; we meet socially and chat about the economy and family matters; rarely about business.'' The more famous uncle is more forthcoming. ''Jaitirth is a convincing example of intelligence, smartness, dedication, and leadership,'' says Murthy. ''He is also a rare example of success both in the highest echelons of the corporate world (Citigroup) and in entrepreneurship. As an individual, he is fun to be with. I keep laughing most of the time we are together. He is a man of highest integrity and humility. He is extraordinary in his breadth and depth of knowledge. He can quote Kalidasa as easily as he does Shakespeare. He is as comfortable with the rural poor as he is with the most sophisticated urban rich. I have known him since he was a child of two years. Right from the beginning, I knew we had a winner in our family. I would say he is the brightest in the Nagavara clan.''

Rao's first book of poems Gemini II is already out and a second one is in the offing. He is also writing a murder mystery. The man is also a connoisseur of art and has an eye for paintings which have traditional Indian motifs (there's a painting of Vishnu's 10 avatars, Dashavatara, that is prominently displayed in his Bangalore office). His wife Neelambari runs a non-governmental organisation, Sujaya Foundation. Twice a year, during school breaks, Rao teaches math to kids from impoverished backgrounds with whom the foundation works. He has three children: two sons, Vijayendra, 23, currently a paralegal in the US waiting to enter law school, and Raghavendra, 13, a high-school student, and one daughter, Sanjeevini, 19, a graduate student at the University of Chicago.
The Embedded Executive
Or why MphasiS acquired Kshema.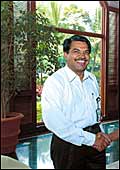 Kshema's Anant Koppar: Old pro

On April 2, 2004, MphasiS announced the acquisition of Kshema Technologies, a Bangalore-based mid-sized player in the embedded software (Read, the software present in electronic devices that help them to operate. For example, all TV remotes have embedded software.) market with revenues around Rs 60 crore and a net profit of Rs 7 crore. The company paid $21 million (Rs 94.5 crore) in a part stock, part cash deal (the cash component was $6 million, Rs 27 crore). MphasiS has good reason to pay 13 times earnings for Kshema. Its own embedded software business, which accounts for around 15 per cent of revenues is stagnant. The business needs critical mass to give it the locus standi to bid for high-value projects, and it needs an executive who can spearhead its growth in the area. The Kshema acquisition gives it both: the business almost doubles in size, and Anant Koppar, the Managing Director of the company who has just been named President of the embedded software business, MphasiS Technologies, is an old pro. The fact that there were no overlapping clients only sweetened the deal.