It is early in the morning on Monday, and I am happy that trading on the Bombay Stock Exchange has been halted for an hour, the first time such a thing is happening. In just around 22 minutes of trading, the market has plummeted 553 points. Manic Monday (some Rs 1,68,000 crore in market value evaporated in these 22 minutes), comes on the back of Black Friday, May 14, 2004, when the Bombay Stock Exchange's Sensex dipped 330 points, wiping out some Rs 100,000 crore in market value. May 14 was when everyone realised that the Communist Party of India and Communist Party of India (Marxist), the CPI and CPM would either have some say in the new government's economic policies, or be part of the new government itself (in which case it would have more than a little say); worse, that was the day a few members of two parties made rash pronouncements regarding the former government's disinvestment policy-"It's history," they chorused, making little effort to display read-my-lips tact of the kind more mature politicians do when they are considering something unpleasant. May 15 fortunately was a Saturday. And today, helped along by a malaise that seems to have affected all markets in the region and the news that the CPI and CPM will not be part of the new government after all and will support the government from the outside (read: all power, no responsibility), the markets seem spooked. As I write this, Taiwan's TAIEX index is down 5.5 per cent, the Korea Composite Stock Price Index down 5 per cent (to a seven month low) and Tokyo's Nikkei down 3 per cent. Analysts expect the market to crash even further today: the head of one brokerage claims Foreign Institutional Investors are dumping most of their holdings. "It could even touch 3,200 soon," he moans.
The Rupee too has crashed, to a four-month low of 46.02 to the dollar (it closed at 45.51 with RBI support) caused largely by FIIs exiting the equity markets. In keeping with the spirit of the cockroach theory (if you sight one, be certain there are more around that will surface when they feel like doing so), there's more bad news in the offing.
The first has to do with FIIs. As unsavoury as the term communist is in the American lexicon-most FIIs are of American origin-the prospect of two communist parties having a say in the country's governance may not be the predominant reason for this. "FII investments have been affected by global factors such as high international oil prices which may hamper the global economic recovery, a fear of an imminent increase in US interest rates, and the fear of the Chinese economy slowing down," explains Jamshed Desai, Head of Research, IL&FS Investmartindia.
The second has to do with India Inc.. Indian industry, today, is probably stronger than it has ever been at any time in its history. For the year ended March 31, 2004, a sample of 942 companies grew their revenues by 22.68 per cent over the previous year, and their net profits by 34.29 per cent. While political factors are unlikely to affect either the profitability of the competitiveness of India Inc., it would be foolish to expect companies to show the same kind of growth next year. For one, at least part of the growth in profits stems from higher efficiency and there is only so much water than can be wrung out of a stone. For another, the prices of certain commodities have already started falling, resulting in lower revenues in these sectors. "The strengthening dollar, the fear that China may be slowing down, and other factors have resulted in prices falling," says Paras Edenwala, Head of Equity, Birla Sun Life Asset Management Company. "Copper is already down and there are signs of (price) weakness in other metals as well." The banking and financial services sector has little reason to cheer as well. Interest rates are as low as they can possibly get and that could mean banks, especially public sector ones that have huge dealings in government securities, can no longer hope to make a killing form treasury operations.
This is the time when everything is coming unstuck for the great Indian economic fairy-tale
Politics could be one big variable in any economic equation drawn up at this point in time. "There are doubts on (whether) power sector reforms and banking sector reforms (will happen)," says Sashi Krishnan, CEO, Cholamandalam Mutual Fund. Worse, India's precarious fiscal situation may come back to haunt the economy. The former government bet on growth; ergo, the high fiscal deficit was condonable (simple arithmetic: if the economy grows, the fiscal deficit as a proportion of Gross Domestic Produce comes down). The new government will likely bet on development (read: increased government spending). The other big variable is the monsoon. The meteorological department has forecast a good one, but remember, this is the time when everything is coming unstuck for the great Indian economic fairy-tale.
P.S.: When trading resumed at 11.17 A.M, the Sensex quickly shed a further 233 points in four minutes, before trading was stopped again for 2 hours. And when it opened again, at 1.20 p.m. it made some gains but still ended the day 564 points down.
-By Narendra Nathan
---
Now that the CPM is likely to have some say (a lot, actually) in the policies of the new government, here's an economic primer of the party's beliefs, largely for the benefit of those people who thought the reds were finished. Needless to say, most reforms makes them see, er, red.
Privatisation
No sell-off of profit making companies; only of those on the verge of closure
Labour Reforms
Ha!
Foreign Direct Investment
No FDI in retail; no upping of ceilings on FDI in sectors such as insurance and telecom
Banking Reforms
No reduction in government's stake in public sector banks below 33 per cent
Trade
No giveaways in agriculture at the World Trade Organization
Power Reforms
Private sector's role in generation to be reduced
Subsidies
Not even talk of scrapping these will be encouraged. User charges? You must be dreaming
Fiscal Deficit
Public expenditure, especially on agriculture is certain to increase
---
SECOND
Reforming Reforms
A.B. Vajpayee, Chandrababu Naidu and S.M. Krishna, all reformers, were thrown out of power. Is reforms a four-letter word in India?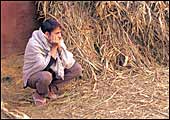 Not feeling so good myself: The cliche was right, reforms haven't yet touched the common man
Welcome to the world of paradoxes, including the grammatical and semantic ones in the last line of the introduction (Is reforms a four-letter word in India?). Economic reforms present the best opportunity for India's rural poor-rural agricultural poor, since many of the breed are farmers-to improve its lot. Yet, it is the rural poor that has been largely responsible for voting reformers such as Ashok Gehlot (in 2003), Chandrababu Naidu, S.M. Krishna, even Atal Behari Vajpayee out of power, although it must be said that the last-mentioned example may have more to do with the politics of coalition than that of economics. "It is intellectually lazy and dishonest to attribute it (the loss of the National Democratic Alliance) to reforms," says Surjit Bhalla, the Managing Director of Oxus Research and Investments. "This election was about electoral mathematics." That's a point of view with which the Bharatiya Janata Party, the dominant constituent of the NDA agrees. "There is no economic rationale for our performance," says P.N. Vijay, the convener of the party's economic cell. "It is dangerous to attribute it to reforms as the next government will then shy away from any."
Messrs Vijay and Bhalla are both right, but only to an extent. Hubris, the choice of coalition partners, and an improperly run campaign laid the NDA (and the BJP) low. And with the benefit of hindsight, the situation seems to have been exacerbated by the former government's reading of the economy. As Subir Gokarn, the Chief Economist of credit rating agency CRISIL sees it, booming macroeconomic indicators lulled the NDA into a false sense of security. "It did not realise the micro-situation was pretty bleak for most people."
The message is clear: reforms are all well, but the tough decisions will have to bge taken first
However, it wasn't as if reforms had no role to play at all. By their very nature, most reforms (like change management initiatives in companies) are top-down, not bottom-up. Managing the process requires political, not economic skills. It takes time for results to show up where they matter most: at the bottom of the economic and population pyramid. An economic model built around subsidies, the absence of user charges, and increased public spending may be unsustainable in the long-term, but the rural agricultural poor crave instant gratification, not a pot of gold at the end of the rainbow. Andhra Pradesh Chief Minister Chandrababu Naidu tried to charge farmers for the power they used and look at what it fetched him in return. The first decision taken by the man who replaced him as Chief Minister, Dr Y.S. Rajashekar Reddy was to provide free power to farmers. In one fell swoop the man has managed to undo power-sector reforms that Naidu effected over nine long years.
Still, it isn't as if Naidu and his ilk are blameless. Aware of the political consequence of any such move, all of them stayed away from instituting agricultural reforms. "Agricultural reforms were put off because it involved taking hard political decisions," says Manoj Pant, a Professor of Economics at the School of International Studies at Jawaharlal Nehru University (JNU). "The economic rationale behind the NDA's showing is the complete negligence of two areas, agriculture and employment," adds Jayati Ghosh, a Professor of Economics at the School of Social Sciences at JNU. In some ways the two issues Ghosh raises are linked: over time, any agricultural reform will lead to an increase in productivity and profits; this will significantly lower the number of jobs in the sector; and it is the government's responsibility to adopt a model for development that creates jobs in other sectors to make up the difference. As Bhalla points out, it was the Congress' failure, over close to 50 years in power, to draft a coherent and sustainable agricultural policy that is to blame for many of the sector's ills. However, the NDA ignored agriculture because it was convenient for it to do so. "No one is interested in micro-level reforms," rues JNU's Pant. "And individuals cannot relate to mega reforms." For those politicos willing to analyse the results of Elections '04, then, the message is clear: reforms are all well, but the tough decisions will have to be taken first. Or, as CRISIL's Gokarn puts it, "the gap between the macro and the micro is significant and any government that comes to power will have to bridge it." "There have to be more visible signs of progress."
---
The national democratic alliance's aggressive disinvestment policy took Bombay Stock Exchange's Public Sector Undertaking (PSU) index to an all-time high. And the NDA's loss in the elections to the 13th Lok Sabha was reflected, most poignantly, in the index. After all, the two communist parties (CPI and CPM) are not in favour of disinvestment and they are the power behind the throne. Want a proxy for the government's economic open-mindedness? Try the BSE PSU Index.