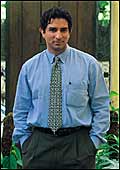 In the early 1990s, when the matter of succession came up at the L.M.-B.M. Thapar group, Gautam Thapar settled it by turning around flagship, paper manufacturing company Ballarpur Industries Ltd (BILT). And lest people consider it a fluke, Gautam has gone ahead and pulled up another group outfit, Crompton Greaves, by the bootstraps. The reward this time is the Chairmanship of the company-a title that is expected to be conferred on the 44-year-old after its next annual general meeting. Says he: "We'll make Crompton stronger in both domestic and global markets." Son of L.M. Thapar's brother B.M. Thapar, Gautam has now trained his sights on yet another laggard in the group, Greaves Ltd. Already, the septuagenarian Thapar has confirmed that the easy-going Gautam (he's known to queue up like everybody else at the cafeteria at BILT's headquarters in Gurgaon) will be the Group Chairman after him. The turnaround, then, will add to his legitimacy as the successor.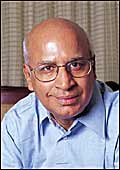 Takeover Artist
IPO or no IPO, S. Ramadorai's appetite for acquisitions seems to only grow with the passing years. The latest company to be gobbled up by the 59-year-old CEO of TCS-after three purchases, including CMC-is the Bangalore-based Phoenix Global Solutions. Says Ramadorai, who's put together a dedicated four-member team to identify potential acquisitions: "This acquisition will give us the impetus to attract new customers and help grow existing ones." If the IPO happens, then you can expect Ramadorai, named one of the World's top 25 consultants by Consulting Magazine, to hit the M&A circuit with a bigger shopping list.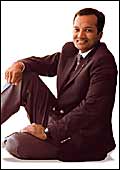 Investment of Faith
Despite his constituency's formidable history, Navin Jindal's political victory at Kurukshetra proved to be a cinch. He beat Haryana Chief Minister's son Abhay Chautala by a handsome margin of more than 1.60 lakh votes. Jindal, 34, a scion of the O.P. Jindal business family, first shot into prominence for his crusade to legalise the public display of the tricolour. As a Lok Sabha mp, he plans more crusades. "I have to improve the basic amenities and educational facilities of my constituents, and I also plan to build Kurukshetra as a major spiritual destination," said Jindal, even as the stockmarket crashed around him. As for his company, Jindal Power and Steel (ranked one of the most investor-friendly companies by BT), it is run by professionals and "will continue to do well". Voters in Kurukshetra obviously believe he can serve them as well as he serves shareholders.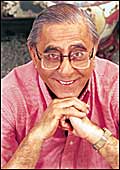 Everybody's Story
It is only apt that 61-year-old Ranjan Kapur, Country Manager for Martin Sorrell's WPP group in India, returns to story telling after an eventful life in advertising. The Perfect Snowball, Kapur's recently published story book about a little boy wanting to make a perfect snowball, losing control of it and then starting all over again, is neither a children's book nor pure adult fiction, or even a management tome. "For one person it was the story of her life, for another it was about his organisation. One chief executive thought I had written about where his company was headed, another CEO thought it was referring to their industry," writes Kapur in the book. After spending more than 30 years at Ogilvy & Mather, Kapur, an amateur sculptor, must know something that interests everybody.
Ace Driving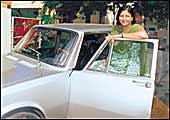 Lessons learnt on the race tracks can come handy in business. Just ask Indra Subramanyam, the 52-year-old Managing Director of the Chennai-based Ehrlich Laboratory. After her doctor husband died in 1997, the maths graduate was pitch-forked into the family business. With some deft manoeuvring and guidance from Sundram Fasteners' Suresh Krishna, Subramanyam, who used to race in Chennai's Sholavaram tracks, is poised to turn Ehrlich into a clinical research organisation. It is also set to get a new driver in the form of Subramanyam's son, who is finishing a course in health management at Cornell University. By the way, it's her practice car, an Alpha Romeo, that you see in the cropped photo.
At It Again
Less than a year after the nanda brothers, Rajan (R) and Anil, crossed swords over the sale of shares of Escorts Heart Institute, they are at it again. The last time around, Rajan, Chairman of Escorts, had wanted to sell EHI shares to a private equity firm. This time he wants to pledge those shares with LIC to raise Rs 100 crore. Anil, again, would have none of it. Playing peacemaker for the second time is Rajan's son Nikhil. "I have seen other business families disintegrate, and I don't want that to happen here," he says. Going by the frequency of the brotherly feud, peace-making may become Nikhil's full-time job.
-Contributed by Kushan Mitra, Shailesh Dobhal, Abir Pal and Nitya Varadarajan