Over the past five months P. Sugavanan, the soft-spoken 59-year-old Director (Finance) of India's only Fortune 500 company, Indian Oil Corporation (IOC), has rarely smiled. Instead, the face of the man who winces every time there is a jump in international crude prices now sports a permanent worried scowl. Between December 31, 2003 and May 11, 2004, the price of crude has jumped from $29 to $37.8 a barrel. However, with the country in throes of the elections to the 13th Lok Sabha, the government was loath to pass on the increase to the customer. Thus, petrol and diesel prices remained steady in the country even as oil companies such as IOC bled. This, when the administered pricing mechanism that gave the government the right to price petro-products as it deemed fit was scrapped on April 1, 2002. Sugavanan has already written off the losses, a few hundred crore of them, as the offshoot of regulatory risks. "There is little we can do about regulatory risks," he says simply and pragmatically. "Other risks, market, credit, and operational, are much more manageable."
That's because IOC, like other Indian companies that increasingly operate in a 'global' marketplace, has discovered the science of risk management. India Inc., explains Sanjeev Singhal, formerly a consultant with PricewaterhouseCoopers, is increasingly turning to "risk management techniques" to avoid "losses due to price fluctuation or a sudden fall in demand, reduce volatility in earnings, maximise returns on investment, and meet regulatory requirements". Sugavanan is right: market, credit and operational risks are easily managed. The first, broadly defined as cross-border, interest rate, or foreign exchange risk can be mitigated through a clutch of sophisticated market-based instruments such as forward and future contracts, swaps, and options. Credit risk, simply the threat of non-payment by customers or dealers, can be offset by using the services of a creditable credit rating agency. And operational risk-losses from unexpected events such as earthquakes, floods, even a collapse of the it infrastructure-can be managed by taking the requisite insurance cover.
Risk management is as complex as a company wants it to be, and as complex as its operations. The largest foreign bank operating in India, Standard Chartered, for instance, defines eight types of risk: cross-border, credit, liquidity, market compliance, regulatory, business, reputation, and that associated with meeting the laws of both the host country and the lead country (the place where the bank is based, the UK). "We must apply full UK anti-money laundering controls wherever we operate in the world even if these are more stringent than the local ones," says Robert Green, Regional Credit Officer, Standard Chartered. The bank has also developed advanced risk management techniques to measure annual credit losses over an economic cycle, volatility in credit losses and market positions, the amount of capital required to protect bank solvency (an extreme scenario), and the risk-adjusted return on capital. All these, adds Green, will be implemented once India adopts the standards laid down in the Basel Capital Accord two years from now. Other banks aren't far behind either. Kotak Mahindra Bank, one of the newest private banks in India, recently appointed Shekar Sathe as its head of risk management. His job, he jokes, is "that of a second driver"-staying on high-alert, watching for danger signals or simply playing the role of a cleaner, maintenance man, and system overhauler as the case may be. Sathe believes the key to managing risks in a bank lies in adequate provisioning. And IOC's Sugavanan, that it lies in managing volatility in oil prices and refining margins. In March 2004, after lobbying the government for years, IOC was finally allowed to hedge against rising international prices of crude, and swinging refining margins. In one month, it managed to save Rs 2.48 crore.
Risk management, at the end of the day, isn't a simple exercise in fire fighting: it's as strategic as strategy gets
That makes risk management sound nice, easy, and math-driven, something that it isn't. For instance, the biggest risk facing tobacco major ITC is the zooming excise duty on tobacco and the transplantation of stringent First World regulations concerning the promotion of tobacco products in countries such as India. The company's risk management solution involves "advocating moderation in taxation as a win-win for the consumer, the company, and the government", says K. Vaidyanath, Executive Director, ITC. However, he adds that the company can do little about other regulations. Exploration major ONGC has worked out an innovative risk management solution to tackle exploration risk: joint ventures. The exploration business involves huge capital investment and is inherently risky; "(We address this) by entering into joint ventures with other exploration companies," says R.S. Sarma, Director (Finance), ONGC. For its exploration activities in Gujarat's Ravva fields, for instance, ONGC has partnered with Cairn Energy, Petrocon India, and Ravva Oil. Software products company i-flex buys that argument. "The key is in joining hands with local partners," says Makarand Padalkar, Chief of Staff (Executive Management), i-flex. To do business in volatile Zimbabwe, the company has forged an alliance with a Kenyan company, Fintech. And apart from taking out the requisite forward cover to hedge its foreign exchange risks, software services company Infosys, its Chief Financial Officer T.V. Mohandas Pai explains, has developed country-specific strategies that have seen the European component of its revenues increase from 17.7 per cent in 2002-03 to 19.2 per cent in 2003-04. Risk management, at the end of the day, isn't a simple exercise in fire fighting: it's as strategic as strategy gets.
---
Truly, a Learning Experience
Higher education scholarships to retain employees? At some BPOs it more than just works..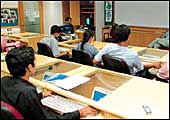 Back to the classroom: Wipro Spectramind employees catch up on their higher studies during the weekend
A little over three years ago, when S.V. Raja, Vice President of hr at Wipro Spectramind, was poring over the Six Sigma reviews, he noticed something interesting. One out of every four employees at the BPO was leaving not to join a rival for a bigger pay packet, but to pursue higher studies. The penny dropped and promptly Raja got the management to approve a scheme that allowed the BPO's employees to sign up for various long-distance courses without having to leave their jobs. It's been 34 months since the scheme was rolled out, and Raja says that attrition is down significantly.
Wipro, though, isn't the only to have discovered that "earn-as-you-learn" programmes can help combat employee attrition in an industry that in a year loses four out of every 10 employees it hires. Others like TransWorks, part of the Aditya Birla Group, Sitel (which is part owned by the Tata Group), ICICIOneSource, and BNKe International also offer their employees the opportunity to continue studying even as they do their full-time jobs. The cost of the course is borne by the employer, either partly or fully. Some have internal "entrance tests" to shortlist the promising employees, while some others consider past academic performance or performance on the job.
Innovative while it is, altruism it is not. There's sound commercial rationale behind it, apart from retention. The average worker who joins a call centre (and possibly not those who do more value-added work such as payroll management or filing of tax returns) is a graduate and in his early 20s, and needs extensive training in one skill or another. Not just the high attrition rate, but the industry's frenetic pace of growth demands a steady pool of workers who can take on greater responsibilities as the outfit grows. For example, an agent may only need telephone skills and knowledge of the client's products and services, but as a supervisor or a manager, he would need leadership and team management skills and the ability to interact with clients and not just their customers. That means having to talk numbers, strategy, and make key decisions. Says Raja of Wipro Spectramind, where 80 per cent of the managers are from within the company: "The initiative up-skills employees, helps us retain our A-level employees, and undoubtedly offers an opportunity to create future industry leaders."
All Are Welcome
Since the idea is to enhance employee skills and also retain them, the BPOs are more or less indiscriminate about sponsoring employees. At Sitel, any employee who has been confirmed can apply for the scholarship programme, "although preference is given to high performers", says Shailaja Puranik, the company's coo. At TransWorks, the applicant must have been employed for a minimum of six months and performed well on the service level agreements (SLAs). ICICIOneSource also insists on the six-month rule and encourages only the top performers to apply.
What are the courses on offer? There's a variety of post-graduate diplomas in subjects such as marketing, finance, and management. The course content and class timings are tailored as much as possible to the specific student's needs or the company's requirements. Even the case studies and projects are tailored to each BPO's specific needs. To ensure that the diplomas and degrees are not just good but also marketable, the BPOs have tied up with management institutes. Wipro Spectramind has roped in Symbiosis Institute of Distance Learning and bits Pilani; TransWorks has joined hands with Narsee Monjee Institute of Management Studies and ICFAI of Hyderabad; and Sitel has an agreement with L.N. Welingkar Institute of Management Development and Research. ICICIOneSource is the only odd man out. It does not have a formal tie-up with any institute. Instead, it allows its employees to pick a course of their liking, and sponsors it. Mostly, the classes are virtual, offline, or held at the institutes. But in some cases, like at Wipro Spectramind, they are held over weekends on the BPO campus.
How much are the BPOs spending on their employees' higher education schemes? It depends on the course and the number of employees who qualify for the scheme. But typically, it ranges between Rs 25,000 and Rs 1 lakh for a course stretching over 30 months. How much of the cost is actually borne by the employer varies. Sitel only picks up half the tab, while TransWorks often reimburses the entire course fee. ICICIOneSource has an upper limit of Rs 25,000, and Wipro Spectramind goes by the employee's performance both on the job and the course. Says K.P. Nair, Vice President (HR), TransWorks: "Staggard reimbursement is done every quarter for those who complete the course successfully and remain with us for at least a year after that."
If the BPOs are going out of their way to educate their employees, there must be a catch somewhere, right? There is. Most require such employees to commit to a minimum period of employment. At Wipro Spectramind, it is a year, while at ICICIOneSource it is six months. BKNe, however, insists on no such commitment. Says Suresh Menon, coo: "It's only a relationship-building measure...a means to convey the management's concern for employees." Whatever be the ostensible motive, the bottomline is that the scheme is working. At Sitel, the attrition rate is down to 30 per cent from 37 per cent in the last eight months. So, look at it whichever way you want-from the perspective of the employer or the employee-this will be a lesson well learnt.
-Supriya Shrinate