An interesting document is currently doing the rounds among key players in the mobile data content business. Film producer Ram Gopal Varma has floated a tender of sorts inviting bids for exclusive time-bound ringtone, wallpaper, and image rights among other mobile phone content for the next 10 films to be released by him. The stated reserve price is reportedly Rs 20 lakh per film. The document in circulation-a draft contract with blanks to be filled in by prospective bidders-has created a buzz in the mobile content business circles.
Welcome to an all-new revenue stream. And it's not just for the movie business. Think mobile operators, portals, content developers and aggregators, managed services providers, why even mobile phone manufacturers. They have all taken their positions in a complex galaxy of activity that has come to be known as the 'mobile data content business'. "The phenomenon (of a rapidly growing market) is less than six months old and is largely due to the fact that there are many more interested parties today to promote this phenomenon. It's an entire ecosystem," says Kunal Ramteke, Head of Marketing at BPL Mobile.
Pegged at about Rs 350 crore (in terms of revenues through downloads), an estimated 8 million subscribers in the GSM market have already warmed up to this medium, if one were to adopt the conservative estimate of an average of 30 per cent (See Penetration Of Mobile Data Services) of the total cellular subscriber base having downloaded content on their mobiles. Ringtones alone currently fetch a revenue of Rs 50 crore, which is expected to double by the end of this year, according to Vipul Pradhan, CEO, PPL, which is the company that administers all ringtone licensing for the music industry. Yahoo! India, a key player, has seen about a million ringtone downloads last year alone, according to the company's Associate Business Development Director, Samir Saraiya.
Mobile content ranges right from ringtones and games to wallpapers, screen savers, images, logos, news and finance as well as communication services like messenger, 'send a song or greeting card'-basically any content that is eventually being paid for by the subscriber. As for the market itself, it is estimated to be growing at a blazing 150 per cent per annum. These, of course, are the GSM market numbers alone. Add the Reliance IndiaMobile numbers and an estimated 70 per cent of rim's 7 million-odd user base is addicted to the operator's 'R World' service, claim Reliance officials. However, since rim has not started charging for its content services, putting a number to the size of the business is practically impossible.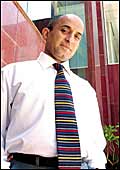 Balu Nayar, Associate VP, Orange:
There's a whole category of wallpapers and ringtones for GPRS downloads
Meanwhile, the GSM brigade is homing in on this growing revenue stream. Apart from the revenues through downloads, there is money to be made through promotions. "We've provided wireless marketing solutions to a host of companies, some of the more recent ones being Kelloggs, Bacardi, Virgin Atlantic, and Coke. They have all realised that there are about 36-38 million mobile subscribers waiting to be reached," says Rajiv Hiranandani, VP (Sales & Marketing) at Mobile2Win, the mobile marketing business of contesting site Contests2Win. Mobile2Win, which offers a complete mobile marketing package wherein the advertiser gets to reach out to all GSM operators at one shot, has seen a 300 per cent growth in mobile business revenues since July 2003, claims Hiranandani, though he isn't willing to share numbers.
Indiatimes, one of the largest aggregation service providers, closed the last fiscal with $2.4 million in revenues from the mobile content business. The previous fiscal the business fetched a bare $1 million. Delhi-based ActiveMedia Technologies, an aggregation service provider that has bagged major clients in the media business like Sony TV, MTV, Indian Express, CNBC, Discovery, and Ten Sports and provides them with an interface to all the mobile operators, is seeing a topline growth of 100 per cent year on year, according to Raj Singh, the company's Business Director.
While advertisers are targeting the widest possible subscriber base, which effectively means content creation for the entire range of phones, the segment that really promises to take off soon is the GPRS-enabled phones, which allow internet access. An estimated 3 lakh GPRS games are being downloaded currently across operators, priced at anywhere between Rs 20 and Rs 99 per download. Says Balu Nayar, Associate VP (vas and New Applications) at Orange: "Hutch has about 162,000 GPRS subscribers and the segment is growing at about 12 per cent per month. There's a whole category of wallpapers and ringtones for this segment."
A simple case in point is that a monotone ringtone costs anywhere between Rs 7 and Rs 10, while a polyphonic ringtone downloaded typically on a GPRS phone could cost up to Rs 15. This is clearly the side of the bread that is buttered since GPRS phones instantly spell larger revenues for the operator, especially given that SMS is the delivery mechanism for content and the subscriber spends on SMS each time he requests for any form of GPRS content. "People seem to be downloading a disproportionate amount of GPRS content. About 1 per cent of the total GSM base is GPRS, yet 10 per cent of all downloads is for GPRS phones," points out Ajoy Krishnamurti, who heads the mobile content business at Rediff.com.
Handset manufacturer Nokia has spotted the trend and is already chalking out aggressive marketing plans to push this segment. Says Sanjeev Sharma, Managing Director (Mobile Phones), Nokia India: "Limited awareness about the possibilities offered by GPRS is a big impediment that is coming in the way of exponential growth for this segment." Nokia plans to initiate roadshows to showcase the multimedia features of Nokia mobile phones and deploy 'Nokia Vans' in tier B and C towns to educate users. Says T.N. Prabhu of Indiatimes: "Content is driving the growth in the GPRS market, which is going to see a lot of development. But the real growth in my opinion will be in the voice-based services segment, which is handset-neutral."
Players on the content development and aggregation side have realised that collaboration is the way forward. Arch rivals Rediff.com and Yahoo! India have come together to share content and shopping infrastructure
The Revenue Model
"It's a bhaji (vegetables) market out there if you ask me," says Vishal Gondal, CEO, Indiagames, which pretty much sums up the market scenario, where a slew of content aggregators, developers, and IPR holders battle for their share of revenues with the most powerful player in the business-the cellular operator. Moreover, content providers are also starting to undercut one another in order to gain a foothold in the market.
First, the economics of the business. How does the operator rake in the revenues? It's basically the subscriber who pays for all the content one way or the other. Straightforward downloads like ringtones or games mean that the subscriber pays anywhere between Rs 7 and Rs 99 per download, depending on what he opts for. Another source of revenue for the operator is the amount the subscriber spends on SMS whenever the SMS is used as the delivery mechanism. Thirdly, when the subscriber asks for information on interactive voice or sends music or greeting cards from his phone, he pays about Rs 6 per minute, give or take a few rupees, again depending on the pricing for the service by the individual operator.
The data business is gaining a lot of prominence among operators also, given the fact that rates in the voice business have fallen dramatically and non-core revenues like data are fast presenting themselves as alternative revenue streams. "As the market evolves, these don't remain peripheral services, they become part of the core service itself," says Orange's Nayar.
As for how the revenues are split between the various market constituents-the cellular operator straightaway bags a lion's share of 50 per cent and sometimes up to 75 per cent of these subscriber revenues following a 15 per cent revenue share deduction by the government. The others, namely the aggregation service provider, content developer, and IPR holder typically, are left to share the spoils between them. The remaining 50 per cent is typically split equally among them. If it's just one entity that controls the business right through that value chain, then the proposition obviously changes and the company bags more than just a third of the spoils. The rules seem to evolve with every new deal in the business.
"Globally, operators are known to share even as much as 90 per cent of revenues with content creators, aggregators etc. I personally don't see an inflection point for the business in India if the current model continues," says Neeraj Roy, Founder of Hungama, a content developer. In some cases, there is a fixed price to be paid to a managed services provider who develops and maintains applications for the portals and other kinds of content aggregators.
Several such technology partners have emerged and business obviously looks good to them. Take the case of ITFinity, which started its managed services business just over a year ago. The company is seeing 40 per cent of its revenues currently from this business segment. Or consider Delhi-based Handygo, which manages mobile services for the likes of Yahoo! The company plans to hire no less than 50 people this year, more than doubling its existing headcount of 40.
Collaboration is The Name of the Game
While the mobile content market may look like a fish market on the revenue sharing front, there's another area where a clear pattern of collaboration has started to emerge. Players on the content development and aggregation side have realised that collaboration is the way forward. Why, even arch rivals Rediff.com and Yahoo! India have come together in a deal where Yahoo's mobile content is being shared with Rediff, who in turn will share its shopping infrastructure with Yahoo. Both portals along with the third heavyweight, MSN, are mobile content aggregators who partner with all GSM operators to supply mobile content to subscribers. "The idea is to establish a seamless stream between the internet and mobile user base," says Rajnish R., Head of Marketing at MSN India. MSN, which powers the content on Hutch's GPRS site and also offers its Hotmail and Messenger services to the operator, is currently talking with a "lot of telcos who find MSN's 12 million subscriber base very attractive".
Even smaller websites with domain expertise in a specific area are quickly jumping onto the bandwagon-like Cricinfo, the cricketing website that runs an initiative with Airtel. Subscribers could log onto the site, play games and also download them on their phones. "The web and the mobile complement each other very well," says Mohit Bhatnagar, Head of mobile content business at Airtel.
The key attraction for the websites is the ability to instantly monetise their content. Take the case of website Bharat Matrimony, which offers its services on the mobile for a payment of Rs 10 per download-an application powered by ITFinity. "Websites have suddenly realised that here is a possibility of service for micro-payments and thereby instant revenues," says Krishna Jha, co founder of ITFinity.
However, all the players are acutely aware of the fact that collaboration taken to the extreme will result in rapid commodification of content and operators are constantly thinking up differentiation strategies. Hutch's recent application 'Mobile to print', where the picture taken on a camera phone is actually printed and delivered to the subscriber by Kodak, is the result of an exclusive tie-up with the photography major. Kodak officials state that 25,000 prints have been delivered since the service was launched in March this year.
Mobile operators clearly haven't lost sight of the war for subscribers and that only bodes well for the consumer. The bottomline, however, is that all the interested parties have discovered a completely new section in the consumer's pocket and it's in everyone's interest to keep the subscriber reaching for that wallet.
-additional reporting by Sudarshana Banerjee