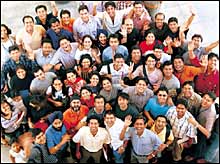 Number of international offers
20
Highest international package
US $151,768 (upto 46% from last year)
HIghest domestic package
Rs 20,55,000
Average domestic salary (incoming)
Rs 5,43,245
Companies making highest offers
Wipro, Infosys, Cognizant, Novartis, Johnson & Johnson
P..K. Rastogi is craning his neck to get a better view through his small camera of the dais in a 1,200-seat atrium at the Indian School of Business in Gachibowli, near Hyderabad. On the stage is Anil Ambani, flanked by Rajat Gupta, Senior Partner at McKinsey and the Chairman of ISB, and Prof. Vijay Mahajan, the Dean of ISB, all wearing the scholar's gown. But Rastogi, a Joint Secretary in the Ministry of Defence, isn't straining to catch a better glimpse of Ambani, Vice Chairman of Reliance Industries and Member of ISB's executive board. Rather it's his son, Anurag, who is the cause of his exertion. "He is graduating today," says the visibly proud mother, Anju Rastogi.
That makes the Rastogis just one of the 219 families that must be preening on their graduating ward. For, ISB, which offers a one-year MBA programme, has not just outdone its own performance in the job market over the past three years, but actually made it to the very top of the placements heap, snagging both the highest rupee salary and the dollar salary-eye-popping at Rs 20.55 lakh and $151,768 per annum, respectively. This year's record placements at ISB must seem sweeter still for another reason. As India's only international B-school (it has affiliations with the Kellogg School of Management, Wharton School, and London Business School), ISB had built up tremendous expectations among students and recruiters. However, the two batches prior to the Class of 2004 had failed to justify the hype that accompanied the launch of ISB in 2001. So, 2004 was the year when the school's critics would have started dismissing it as a high-priced, all-hype institution. "ISB has become more mature now. I think it is becoming more reputable in terms of the quality of education as well as the quality of students," says Andrew Siu Kai Poon, ISB's first international student in the maiden batch, and who now works for Citigroup in Hong Kong.
Recruiters seem to agree. Out of 219 students in the Class of 2004, 192 participated in the placement programme and received a total of 273 offers, which included 221 lateral offers. That means recruiters who came to ISB were mostly looking for students who could start off as managers instead of as management trainees. Some of the companies making the highest offers included Novartis, Johnson & Johnson, Infosys, and Wipro, although the recruiters came from places as diverse as the US and Hong Kong. Among those who looked for lateral recruitment were Goldman Sachs, Coca-Cola, HLL, and HSBC.
A large part of this year's success is due to the school's direct involvement in the placement process. "ISB is the only B-school in India to have a dedicated Career Advancement Services (CAS) office that handles student careers, placement services, and recruiter relationships," says Ajit Rangnekar, the school's deputy dean. Through its rolling placements process, the CAS office is involved, for instance, in "matching recruiter needs with student aspirations and helping students apply for the right jobs", says Rangnekar.
But at the heart of the ISB proposition, however, is a management programme that's quite different from those of the other B-schools. For starters, its one-year MBA is targeted at young managers, unlike freshers who make up the chunk of students at the IIMs. Also, the ISB MBA lays greater emphasis on industry interaction and entrepreneurship. Last year, as part of its curriculum, it introduced Experiential Learning Projects (ELP), which allow students to work on company-sponsored projects. Explains Rangnekar: "Through the ELP, companies get a chance to experience what ISB students have to offer and gain new perspectives on issues relevant to their business."
Similarly, its Leadership Development Programme (LDP) has been re-structured based on feedback from recruiters and students. The LDP course, which consists of 10 classes and is compulsory, has psychometric testing and other analyses to help students better understand themselves, explore their management and leadership styles, and develop their team skills. The course now has electives that better reflect the current business environment. For instance, there's an elective on managing markets, which teaches students about managing activities and processes at the market level. It deals with marketing systems, market plan implementation, marketing processes and organisation. In addition, there are modules on new areas such as BPOs and corporate governance. Says Atanu Sinha, Professor of marketing at ISB: "The key differentiator for the school is the specific skills, tool kits, and the ability to develop expertise in its students to do well in lateral recruitments."
Talk to recruiters and the view, by and large, is that ISB is a good thing to have happened to industry. Says T.V. Mohandas Pai, CFO, Infosys: "Going forward, the work-ex model that ISB follows may be the thing industry prefers." In fact, that's already happening. Satyam Computers, for example, made 10 offers at ISB, but none at the IIMs. Part of the reason, Satyam's Director and Senior VP (and in charge of hr) A.S. Murty explains, is that IIM graduates tend to be "a bit expensive and full of high expectations". Happily for recruiters, ISB, unlike IIMs, has shown a phenomenal appetite for student intake. There were just 128 students in the first batch, but by the third batch the number had jumped to 219. The Class of 2005 has 281 students.
Despite being young and enthusiastic, ISB has a couple of issues to deal with. One is the question of a long-term dean. The school is just three batches old, but it already has had three deans. Hopefully, that should change with IIM-B's former Director M. Rammohan Rao taking over as Dean at ISB starting July 1. Then, there's the issue of fee. At Rs 13 lakh, ISB's is the most expensive MBA programme in the country. Contrast the fee with this year's average annual rupee salary of Rs 9 lakh, and it's obvious that the course's payback isn't as quick as that of IIMs. But on the brighter side, the average salary of the graduating class at Rs 9 lakh a year is close to double the average salary at the time of joining. For example, 26-year-old Anurag Rastogi, a B Tech from IIT Delhi and who had worked with Infosys for four years before coming to ISB, joined HSBC at twice his previous salary. That's one big reason why young managers like him will continue to see ISB as a springboard to corporate success.
---
Reflecting the rebound in corporate fortunes, the 2004 placements at the top B-schools witnessed a surge in recruiters, salaries and overseas offers.
A BT-Coolavenues.com survey.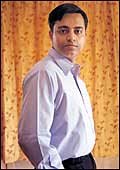 IIM-C's Ritwik Ghosh: The biggest dollar salary at IIMs came his way
On IIM campuses, where crisis usually means running out of cigarette money, 2003 must seem apocalyptic. The six government-promoted institutions were hit with not one, but two crises. First, the examination paper of the Common Admission Test (cat) got leaked in November, raising questions-even if momentarily-about what is considered one of the world's most difficult admission processes. Then, the Union HRD Ministry, which had been pressing the IIMs to slash their course fee by some 30 per cent, stepped up pressure in January this year, turning the IIM campuses into mini-battle grounds.
While the battle with the HRD ministry pitched one heavyweight against another, it left placements unscathed (not that those are issues recruiters would lose sleep over-at least for now). A booming economy and robust business confidence brought a wave of recruiters to the campuses, and they came armed with lucrative job offers. Among the top 15 schools that BT-Coolavenues.com considered, finance and banking made a strong comeback and accounted for more than a fifth of the jobs. Even consulting, mostly missing from the campuses past two years, returned. But it continued to be the biggest recruiter, accounting for more than a quarter of all jobs. Among the industry's top recruiters were Cognizant Technology Solutions, Infosys, Wipro, and HCL Technologies.
H1B visa restrictions notwithstanding, global companies continued to queue up at the top schools. One hundred and twenty three overseas offers were made by companies such as Merrill Lynch, Goldman Sachs, American Express SPG (Strategic Planning Group), and Morgan Stanley, but 91 of those went to IIM A, B, C, and the Hyderabad-based Indian School of Business (ISB) alone. In fact, these four companies recruited only from Ahmedabad, although Bangalore notched the highest number of overseas offers at 27.
But in the B-school sweepstakes, who made the biggest haul in terms of salaries? A big surprise this year: it was ISB, which runs a one-year MBA programme. The highest domestic salary was a whopping Rs 20.55 lakh per annum and the highest dollar salary an Ivy League-matching $151,768 (or Rs 66.77 lakh). But among the IIMs, it was Calcutta and Lucknow that stood top of the heap, although Calcutta beat Lucknow by a huge margin when it came to the highest dollar salary: $120,000 versus $65,000. Traditionally, IIM-A has got the biggest dollar offers, but what seems to have tilted the scales in favour of Calcutta is the surge in the number of recruiters from banking and financial services. Of the 332 offers made at IIM-C, 106 were from the financial services sector, and the top-dollar salary came from a financial services company, too: Capital One, a Virginia-based NBFC that made the offer to Ritwik Ghosh, a double major in finance with minors in strategy and marketing. "My brief is to do a statistical analysis of the business portfolio to find ways of improving profitability," says Ghosh, who, incidentally, is also a mechanical engineer from Kolkata's Jadavpur University. Ghosh's $120,000 a year offer is 26 per cent higher than the school's best offer the previous year.
One B-school that has been gaining in reputation is the Delhi-based FMs. This year, its average Indian salary at Rs 7.04 lakh per annum was higher than that of all the IIMs, except A and C. Its highest Indian salary of Rs 13 lakh per annum was more than what A and B managed (Rs 12 lakh). The B-school, for long favourite of the FMCG companies, also attracted big names from the it sector, including Infosys Technologies and ibm Consulting, both of whom came to the campus for the first time. Apparently, Infosys was so impressed with what it saw that it is said to have made more than 11 offers. In fact, this year, it and ITEs companies accounted for a quarter of all the offers made at FMs. The highest foreign salary of $65,000 per annum was made by Deutsche Bank, Singapore.
Will Placements 2005 be better or at least as good? At the moment, chances are it will be better. The GDP is expected to grow 8.1 per cent, which means both manufacturing and services will clock healthy rates of growth. On B-school campuses, that should translate into better job offers. Crises or no crises.
---
For more details, log on to www.coolavenues.com