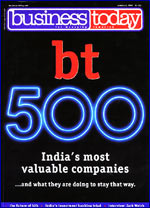 The BT 500
Re-Inventing For Growth
Thatís what the top 10 companies in this yearís BT-500 are doing: changing radically to stay where they are. On top of the value-listings. But money and an opportunistic bent of mind arenít the only things theyíll need to do so.

What Star Fund Managers Think
A take on sectors and companies to watch from the people who watch the market for a living.

The BT-500: A Scenario
A neck-on-the line opinion of what the BT-500 will look like in 2005 (hint: itíll have MNCs, dot.coms, and ex-PSUs).

Those That Grew and, Didn't
A sectoral analysis of the 500 that doesnít throw up any surprises. Technology, media, and telecom are the three kings.

How We Did It
The methodology behind the BT-500.

The Value Rankings
The BT-CMIE listing of the top 500 companies by market capitalisation, along with key financial data. Plus one on the most valuable PSUs.

BT 500: 1 to 100
BT 500: 101 to 200
BT 500: 201 to 300
BT 500: 301 to 400
BT 500: 401 to 500

The BT-500 In Pictures
If numbers are your thing, feast your eyes on a graphical rendition of the stories in the BT-500.
(Note: These are PDF files. You need to have Adobe Acrobat Reader to view them. If you don't have one, download it now.)
Corporates
The Investment Banking Triad
A dekko into the high-stakes world of Indian investment banking, dominated by three companies: DSP Merrill Lynch, Kotak Mahindra, and JM Morgan Stanley.
Another e-Wannabe: ModiCorp
B.K. Modi is restructuring ModiCorp so as to make it a pure e-play company.
Cisco's Next Step Strategy
Increasing connectivity and newly-opened markets have boosted the demand for the companyís offerings in India. Hereís how it plans to take advantage.
Global Trust Bank's Gambit
Chairman Ramesh Gelli is trying to use technology to drive his bankís growth. Havenít other banks done that already?
A Singular Protagonist
Indiaís largest motorbike manufacturer Hero Honda gets ready for life without its joint-venture partner.
Raymond's (in) complete plan
Gautam Singhania has inherited a diversified business empire striving to regain its focus. But whatís its core competence?
LML's Biker Avatar
After a bitter divorce with partner Piaggio, Deepak Singhania is trying to re-make the scooter manufacturer into a mean motorbikes company.
Interview
"Big companies will be the biggest beneficiaries of the Net"
GEís CEO details the fourth and newest growth driver heís identified after globalisation, services, and six sigma: e-biz.
Policy Watch
Dial 'C' For Confusion?
Is the Department of Telecom Services ready for its transformation into a corporate, the Bharat Sanchar Nigam Limited?
Personal Finance
The Thing About MIPs
All you wanted to know about monthly income plan fund-schemes.
Co-operating Credits
The truth about co-branded cards.
Case Game
The Case Of Market Consolidation
In a stagnant consumer durables market, Total Industries finds its margins shrinking. B.M. Ghodeswar of NITIE, S. Motwani of Godrej-GE, and A. Srinivasa of TSM suggest consolidation strategies. Send us your solution which scrutinises the problems in companies like yours. We'll showcase the best solutions on-line.

Trends
Your link to the world of policy development, corporate happenings, industry news, and market trends
BT Dot.Com
Cover Story
Yes, we know everyone believes B2B is the only way to be on the Net. It wonít be easy, though, in India.
Expert Take
What it takes to succeed in the Indian B2B mall. A McKinsey take.
What's Hot
An interview with Jobsahead COO, Alok Mittal; buying consumer durables on the Net; and more happening stuff.
Search Tips
The importance of figuring higher in search results, and some insights on how to do it.