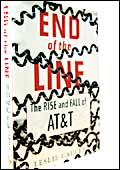 END OF THE LINE
By Leslie Cauley
Free Press
PP: 301
Price: Rs 1,170
Not too long ago, wired, one of the few magazines that believes that form matters as much as content (it really does, for magazines), carried a large infographic on AT&T (Ma Bell), the Baby Bells that it was forced to break itself into, the incestuous M&A play the babies indulged in, and the eventual acquisition, in March 2005, of AT&T by one baby SBC Communications (it started life as Southwestern Bell). For Americans like Leslie Cauley, a telecom journalist, AT&T is more than a company; it is a part of the history of the United States (and since the country itself is fairly young, a vintage of a few hundred years or so, Americans are obsessed with what little history they have). "It's my way of giving homage to a great company and a uniquely American institution," says Cauley in the introduction to End of the Line, and while that admission initially filled this reviewer with trepidation that the author was going to embark on one of those great-company-greater-CEOs eulogy of the kind that dominates business writing these days, such fears were put to rest quickly. Then, it is difficult to say anything charitable about a company and a succession of CEOs that, er, messed things up. Cauley's book, while suffering from an ailment that afflicts most books written by journalists-the breed has problems going back and forth in time while writing about a company in a 500-word anchor or a five-page feature; imagine what would happen in a 300-page book-sums up AT&T's problems (and their makings) pretty accurately and insightfully: financial recklessness, a series of strategic blunders culminating in $62 billion acquisition (of MediaOne) that went horribly wrong, a succession of CEOs that did nothing to diversify into other, promising businesses, and a desire to match the numbers of upstart WorldCom, numbers that couldn't be matched, it later turned out, simply because they weren't real. If this reviewer has his way, End of the Line would become compulsory reading for executives at India's largest telcos (think Bharti Tele-Ventures, Reliance Infocomm, Hutch-Essar) and the bureaucrats who call the shots in state-owned telecom monoliths such as BSNL and MTNL. Just under the surface of Cauley's tale is another, more intriguing one, of the future of a business where voice-calls to any part of the world (let's not forget that AT&T's core business was long-distance telephony) will soon be free. End of the Line is best read between the lines.
---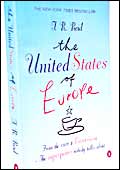 THE UNITED STATES OF EUROPE
By T.R. Reid
Penguin Press
PP: 305
Price: Rs 1,168
SUPER STATE
The end of the cold war in 1991 and the subsequent disintegration of the Soviet republic had left an obvious gap in the new world order: while the United States continued to be the dominant country, there was no one nation that could fill in for the erstwhile USSR. There were concerns that the US, left without any challenger to its authority, would become the global cop: omnipotent and arrogant. Some will argue that it has, but as made evident by the US-European (minus the UK) divide over the war in Iraq, countries in Europe have ably emerged as a counterbalance to the American power. They have done so not individually but collectively, says Reid, former head of The Washington Post's London bureau. In this insightful work, he explains how and why the United States of Europe emerged right under America's nose, and the superpower seemed not to care. Now, of course, it must. The 25-member European Union is not just an association of countries but also a unified market that's simply too big to ignore. Best of all, the EU countries don't have foreign policies that are anywhere near as messy as America's.