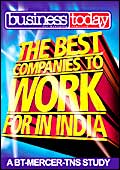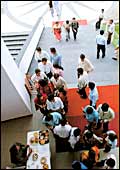 Five is a difficult age for a survey. Five sets of data points, common sense suggests, should be enough to identify trends (and make sweeping statements sanctioned by data). Then, 10 would be better. Business Today's effort to identify the best companies to work for in India turns five with this edition, and while there are some very obvious trends (so obvious that they needn't even be set out in black and white; a quiet perusal of the five listings on this page will make them evident), there are also several big caveats for readers seeking to read something in them (the trends). The first is that, three years into the survey, Business Today changed partners and methodologies (the reasons for the second are explained elsewhere in this issue; see How We Did It on page 78). The second is that the BT-Mercer-TNS study, The Best Companies to Work for in India, 2005, is a participation-based one. Companies choose to take part in it, and they can, just as easily choose not to. Any company that wants to do the right thing by its employees should participate in the exercise; then, it isn't an easy survey to participate in, and companies have no way of controlling the results (and as a policy, BT, Mercer and TNS do not share details of the companies that participated in the survey but did not make it to the final stage). That would mean that a company could figure in the listing one year, and drop out the next simply because it chose not to participate. The third is that companies from the it services and it-enabled services sectors dominate the listing (this year there are seven such in the top 10) simply because more companies from these sectors participate in the exercise; 42 per cent of the participants in The Best Companies to Work for in India, 2005 comes from the two sectors.
The desire among it and it-enabled services firms to participate in such exercises is easily explained: both are people-intensive businesses and have, arguably, hired more people over the past five years than any other business in the country; being part of the Best Companies to Work for in India listing actually increases their equity as an employer-brand. As easily explained is their domination of the listing; most it and it-enabled services mentioned on this page are large (or getting there) in terms of number of employees and very profitable (or getting there) in terms of net profit margins. The money or the promise of money to come provides companies the capital, and the numbers, the benefits of scale, to do such things as build lavish campuses replete with food-courts, swimming pools, and gymnasiums. The absence of exit-barriers-the demand-supply imbalance ensures that an employee can walk out of one company and into another with a 20 per cent to 80 per cent increase in pay-gives companies a cause to do so (build these things), just as it gives them one to focus considerable energies on the hr function. Much of this is elementary economics, not rarefied human resource management.
2001




RANKS

2002




RANKS

1
INFOSYS
1
INFOSYS
2
P&G
2
P&G
3
HP
3
HP
4
ICICI
4
SKBCH
5
HUGHES SOFTWARE
5
SATYAM
6
LG
6
AGILENT
7
HLL
7
BHEL
8
COMPAQ
8
AMERICAN EXPRESS
9
ASIAN PAINTS
9
COLGATE-PALMOLIVE
10
BHARAT PETROLEUM
10
GILLETTE
It shouldn't be this way. In an ideal world, companies, irrespective of the kind of businesses they are in, should aspire to be great places to work. In reality, it is difficult for companies that are not in businesses such as it, it-enabled services or financial services (or just about any other kind of business that is people- or knowledge-intensive) to do this without looking economic ruin in the face.
2003




RANKS

2004




RANKS

1
P&G
1
SASKEN
2
AMERICAN EXPRESS
2
INFOSYS
3
NTPC
3
THERMAX
4
J&J
4
HCL COMNET
5
GSKBCH
5
HDFC
6
TATA STEEL
6
NTPC
7
COLGATE PALMOLIVE
7
DR REDDY'S
8
WIPRO
8
SATYAM
9
IOC
9
PATNI COMPUTERS
10
ITC
10
HUGHES SOFTWARE
Paradoxically, while a majority of the best companies to work for in India are in the it and it-enabled services businesses, not too many of the best employees in India work in these sectors. Spoilt for choice and pampered by their employers, a significant proportion of the workforce of it and it-enabled services companies have emerged mercenaries. Attrition rates at the three companies on the top of The Best Companies to Work for in India, 2005 listing, Infosys, Sasken and Genpact are 10 per cent, 20 per cent, and 31 per cent, respectively. Then again, the desire to look out for oneself to the exclusion of everything else is very much in line with free-market economics.
2005




RANKS

1
INFOSYS
2
SASKEN
3
GENPACT
4
HCL COMNET
5
NTPC
6
HSBC
7
SAPIENT
8
COVANSYS
9
HDFC BANK
10
MINDTREE CONSULTING