Since 2000, when this magazine pioneered the concept of best-employer surveys-essentially exercises with the objective of identifying the best companies to work for in India-the short-list (of the 10 best) has largely been dominated by companies in the it and it-enabled services businesses. Last year, for instance, 50 per cent of the list was made up of companies from these two businesses; this year, 70 per cent is. The lowest figure, accounted for by these two sectors (as a proportion of the top 10) is 20 per cent, and that was in 2003, and 2002-2003, for the benefit of those who have forgotten what that year was like, was the year when the slowdown in it spending in the us, the single largest (and dominant) market for it and it-enabled services offshored to India, a slowdown that had been two years in the making (2001 and 2002) finally caught up with high-flying Indian firms in the two areas.
The dominance of the listing by companies in the two businesses will likely continue for some more time for reasons that have been explained elsewhere in this magazine. The reason why it will continue only 'for some more time' and not 'ad infinitum' is because firms in the it and it-enabled services businesses will have to change their ways in sync with economic and market realities. And it is because other firms, in other businesses, old and new, will also have to change their ways. There is one other point, but that can wait. Indeed, Fortune magazine's listing of the best companies to work for in the US is a mixture of companies large and small, known and unknown, and in businesses that are mature and nascent. Five years from now, the 10th edition of the survey, The Best Companies to Work for in India, 2010 will probably throw up a list akin to that, one that reflects truly the diversity of India Inc.
At one level, this will happen as it and it-enabled services become more mature businesses governed by the same rules and constraints that do others in other businesses. At another, companies in a variety of industries will realise that hr can be something that differentiates them from their peers, in terms of building the equity of their brands as employees, and, perhaps because of this, something that can differentiate their product or service offerings. The most significant reason for the change, however, will come from employees themselves. Any period of economic hyper-activity creates wealth; over the next five years, a significant number of the salaried will become rich (sometimes rich beyond their wildest dreams); these employees will end up making career choices driven not by the usual suspects, money and career progression, but by quality of work, and quality of life. That may sound inconceivable now; five years on, it won't.
---
Laissez Faire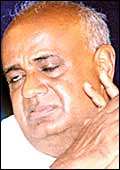 Former PM Gowda: The other guy blinked?
H.D. Deve Gowda, former prime minister of India, and Janata Dal (S) supremo (not a word this magazine would have used; then, at a recent televised interaction, the man himself said this was how the media referred to him) is right. N.R. Narayana Murthy, Chairman and Chief Mentor, Infosys Technologies, is wrong. It is as simple as that. Black and white. True and false. Business, and businessmen, have no role to play in the running of a borough, city, state or country. The role of business is to effectively deploy capital, and generate jobs and wealth, and just because a company-in this case, Infosys Technologies-does this exceedingly well, and is a 'good' company to boot, doesn't give its executives any claim to tell other people how to do their jobs.
In many ways, this is the natural corollary to laissez faire, the economic principle that forms the basis of free market economics (something this magazine swears by), and one that is often used (and rightly so) by people who would like to see the government getting out of business (read: disinvesting its stake in public sector enterprises) and focussing its considerable resources on things it should have focussed on in the first place, things such as primary health and education. Just as right-minded businessmen would like to see governments follow the doctrine of non-interference when it comes to business, right-minded politicos would like to see businessmen return the favour when it comes to things such as governance.
Companies, after all, pay taxes (at least, the more progressive among them pay as much as they are supposed to), and that should be the extent of their participation in government, unless they are asked to do something more, like the government asked Ratan Tata, Chairman, Tata Sons, to head the Investment Commission that was formed to attract more foreign investment into the country. That's a principle that has governed the actions of Murthy's peer, Azim Premji, the Chairman of Wipro. The demarcations are definite: businesses and individuals pay tax and obey rules, and politicians in power take care of the rest, like ensuring that cities have enough roads to deal with increasing volumes of traffic, or enough power to feed more industries, or enough drains to handle sudden rains (although it must be said that there is something to a contrarian school of thought among some politicians that rains can only be good, especially for rural people dependent on agriculture for a living).
Murthy, then, broke this rule (repeatedly) by speaking about what the government needed to do (such as at a recent meeting on urban-rural reforms). What Infosys' Chief Mentor seems to have not realised that when it comes to running cities, or running them to the ground, India's politicians will suffer no help, however well-meaning it is.
---
New Media, New Behaviour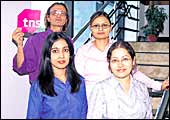 See what I got: Net-savvy consumers know what to buy
It shouldn't surprise anyone that new media (the internet, and the various ways by which it can be accessed) is changing the way people shop, sometimes encouraging them to buy brands that they would not have otherwise considered. Much of this can be attributed to the fact that it is easy to find information on the internet. Ten years ago, someone who wanted to buy, say, a refrigerator, would have had to accumulate information on the products and brands available in the market (price, features, capacity and the like) on the basis of advertisements put out by the companies in question (which are, by the very definition, biased) or actual visits to dealers selling products, or both. The result: imperfect information. And a purchase process based on imperfect information is bound to be, as marketing experts will vouch, imperfect.
Today, anyone shopping around for a refrigerator can find information on most major brands from the company websites. She can also, if she so desires, scour the net for reviews of these brands (even in India there are a few sites that are focussed exclusively on product reviews). Then, there are blogs she can look up (thanks to some very efficient blogsearch engines). The best thing about much of this information (apart from that on the company-sites) is that they are likely to be unbiased (if a little uninformed). What's true of refrigerators is true of cameras, televisions, cars, banks and credit card issuers, and just about anything else. Why, people can even use the information on the net to good effect, deciding which companies to work for and which not to.
Brands tend to become irrelevant (unless they are really really strong brands that evoke strong emotional responses from some consumers) when perfect information is available. When a consumer doesn't have as much information as she would like to, she is likely to justify her purchase decision by saying, "Fine, I'll go with X; it is a well-known brand." When she does have as much information as she would like, the consumer may well end up buying a brand she may never even have considered otherwise.