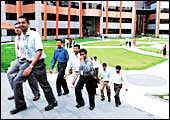 RANK 1
INFOSYS
Numero Uno in the first two Best Employer surveys in 2001 and 2002, Infosys slipped out of the Top 10 in 2003, but bounced back strongly to #2 in 2004. This year, it strides back to the top
Namrata sits at her workstation, a little winded. She had woken up that day a trifle lost.... The last four weeks seemed to have gone by in the wink of an eye. Here she was, a successful senior manager working for her "campus-dream" company for the last seven years, well recognised by her team, carrying a significant amount of company "feathers" in her cap, enjoying regular time-bound career growth, benefits and perks to boot, and now contemplating a job shift. When she took that phone call from the headhunter four weeks ago, her life changed. The picture he painted of the "new kid on the block" company seemed a little too good to be true and she had gone in for the first meeting for a lark. "My first interview outside of my company; let's see what the market has to offer; in any case my position in my company is secure," she had told herself. Then, the meeting itself turned out to be an eye opener: the interviewers were courteous; they sent a thank you note for her time; and they did not interview her, but as the head honcho of the firm described it, had "a mutual sharing of expectations". She had listed her expectations and, surprise, surprise, the interviewers had an answer to most of her questions. They could better her compensation (albeit through a performance linked incentive), offer her a position equivalent to her current role and benefits that were attuned to her lifestyle. To her question on career growth prospects, they showcased their new career management process, which was logical and interactive. You could grow as fast as you desired subject to there being the right positions vacant in so many different career streams. She had never seen this in her company, where growth only meant promotions. The only expectation they seemed to have was that she continue, as they said, "to be yourself and perform and grow". "We'll take care of the rest," the interviewers had promised.
She had come back a little sceptical. No stranger to the phenomenon of recruitment processes painting a rosy picture of the company and reality being something else altogether, Namrata reasoned to herself that she had no reason to leave her secure job.
All the same, she felt a bit of a flutter. The interview had made her feel valued as a professional. Resolving to make the most of that feeling, she had called one of the interviewers saying she wanted to meet some employees and seek their views. That meeting had only served to increase her confusion. She had been taken around the office and asked to pick who she wanted to meet. She had tried to search for cynical faces and chosen five people. They all seemed driven and enthusiastic. They had painted an even rosier picture of the company culture than the interviewers had, talked on and on about its openness, the involvement of the leaders, the projects, the challenges, the events. Phew! Namrata had been left a little breathless. Back in her office she had spoken to a few of her friends in the industry about their perception of the company. They all said they had heard positive things about it and anyone who interacted with the company seemed to be happy. She had surfed the net to see the company's financial performance and the website itself was a revelation. It sported glowing customer and employee testimonials; it listed the company's performance in several surveys; and it even had data on attrition rates and the results of the company's own employee satisfaction survey.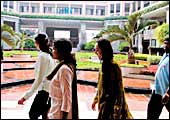 RANK 2
SASKEN
The 2004 survey threw up a giant killer in Sasken, which topped the overall rankings and also came #1 in employee perception. It's down at #2 this time, but that's not bad
Since then it has been nothing but a relentless period of confusion. Namrata has many questions to which she doesn't have the answers. What do I want? Am I being disloyal? What should I do? Is this too much of a risk for nothing? I know my environment so well, but...?
Namrata's dilemma is not dissimilar to the one many of us face. Should we leave behind a good job and a safe career for something new and exciting? Most of us carry out detailed analyses of feedback, perceptions and past experience. Some of us believe in going with the tangibles like compensation and the position on offer, while others just go by their gut. So, how does one decide?
Every organisation today wants to create a system that attracts, develops, motivates and retains talent. What is it that differentiates a good company from the best company to work for? If we were to slice through the information Namrata has presented us, we see that the answer is individualisation. Namrata's experience with her potential employer has made her start thinking about what she wants from a job. We talk of individualisation, but organisations are behemoths. Some of our Top 10 companies employ as many as 40,000 people, so how does one expect the company to give its people individualised treatment? The solution lies in the structure, culture and systems that support this endeavour.
The winners in this year's study value their employees and have striven to create a culture that provides a special employee experience. These companies have demonstrated balanced performance on the four quadrants of the study (see the detailed quadrant analysis on pages 70-76). Their employees are their strongest brand ambassadors; their external interfaces are positive; their alumni talk reverentially and nostalgically about them; their hr systems are integrated; and the hr service delivery is efficient.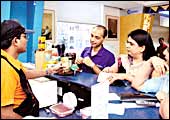 RANK 3
GENPACT
When Gecis (since renamed Genpact) was hived off by GE into an independent BPO company, its management exuded confidence about the future. Its employees seem to agree
The inspiration for Namrata's quandary comes from the information shared by our winners. One company has elevated recruitment to a fine art, and its hr team does not treat hiring as a number crunching exercise. The description of the technology-driven hr processes at another of our winners speaks of its fast and efficient service delivery. The detailed career management system showcased by another winner highlights the degree of autonomy that the company provides its employees to chart their own career in multiple streams through a role/skill-based, performance-factored and business-driven interactive software. Another one of our winners has received strong endorsement of its employer brand from its internal and external labour market. Its employees perceive it as a quality employer, search firms are keen to have the company as client, alumni speak warmly about it, and new hires feel proud to be part of the company.
All that having been said, the analysis also shows that there is nothing called a "perfect" company, even amongst the winners. A company that has done well on one quadrant, may not have done as well on another. Therefore, there is much scope for improvement. One thing, though, is for certain. We found a determination and a resolve to take the steps necessary to become much sought-after employers not merely among the winners, but among some of the others too.
Today, after seven years of exemplary and loyal service and despite no "push" factor, Namrata will be putting in her papers and taking a leap of faith. For, at the end of the day, this new company makes her feel special.
Nitin Dheer is a Principal Consultant and Megha Sahni a Consultant at Merce