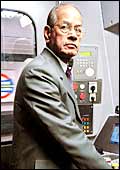 Usually, when bureaucrats near retirement, they'll do anything to get another extension, and if not that, a sinecure. So Delhi Metro boss, Elattuvalapil Sreedharan's case must seem odd. The railway engineer, now 73 years old, wants to retire, but the Delhi government wouldn't let him. That Delhi Metro is yet to complete phase two of its project is the ostensible reason, but the real reason may well be that the government is unwilling to take its chances in completing a project that's become a showcase in project management. Needless to say, the credit goes to Sreedharan and his handpicked team. Not only did the native of Palaghat, Kerala, who earlier pulled off an equally tricky project at Konkan Railways, complete phase one within budget, but did so without a whiff of scandal-an impossible feat in government projects. Sreedharan, picked by Time magazine in 2003 as an Asian hero, has reluctantly accepted the three-year extension, but wasn't available for comment. Hardly surprising. He cares about work, not publicity.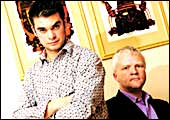 The Men Behind The Hutch Brands
You already know the brands, now meet the men behind them. Keith Kirby and Daren Cook are the gentlemen who've worked on the launch of Hutch and its sister (licensed) brand Orange in India. "We knew Hutch had to be different from Orange, and we wanted to make it a brand that could deliver now," says Cook (left, above), who along with Kirby is part of Hutch's branding team in London. So how many experts does it take to build a brand?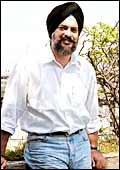 Dream Merchant Turns Dream Chaser
Rumour has it that Pushpinder "Pushpi" Singh has quit Ambience Publicis as its national creative director to turn a Bollywood scriptwriter. But Pushpi, 34, says that "as far as I know, I have never written one or am into writing one currently". So just what does the adman plan to do? He won't tell, except to say that he will be "chasing a few creative dreams", which his friends say could include anything from signing up for a similar role at a different agency or turning filmmaker, or even a creative boutique owner.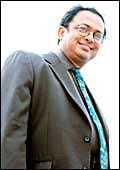 A Piece Of Hospitality
From banking to software and now hospitality. For Jerry Rao, 52, Chairman and MD of MphasiS BFL, his latest decision to pick up an undisclosed stake in Bangalore-based Royal Orchid Group could turn out to be a smart move. Unlike the it business, where Rao has been having trouble getting the juices flowing, there's a supply crunch in the hospitality business in Bangalore. Visitors to the city have to book rooms months in advance and pay through their nose. And as Jerry sees it, the deal-made in his personal capacity-is a win-win for him and the Baljees, the promoters of Royal Orchid. "The hospitality business is attractive and the Baljees are well positioned for growth," he says. The Baljees, on the other hand, hope to lend their family-owned business a more professional touch with Jerry on the board. Besides, with the group looking to expand to Hyderabad, Mumbai, Delhi and Pune, Jerry may never have to worry about not getting a hotel room in these cities.
He Owes His Boss One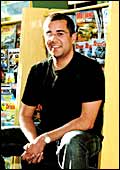 Chetan Bhagat turned to writing as a therapy to deal with a "bad boss who, for three years, messed up my life and made me feel very small". The result was an OK book entitled "Five Point Someone: What Not To Do At IIT". But the investment banker-cum-writer seems to have found a niche. His second book, "One Night@The Call Centre", launched past fortnight, is based on anecdotes heard from some of his cousins who work in BPOs. "I take as much gap as I can to finish the books. Sometimes my schedule goes haywire, it takes its toll," says Bhagat, recent father of twins and who works with Deutsche Bank in Hong Kong. Given that IITs are all the rage within India and now elsewhere, some enterprising producer has decided to turn Five Point Someone into a movie, with the 31-year-old IITian (Delhi) himself writing the screenplay. Sometimes, the therapy can be addictive.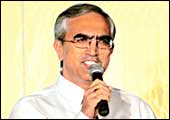 From Motorcycles To Molecules
Late august when Atul Sobti announced his surprise resignation as Executive Director of Hero Honda Motors, many thought he would end up at a rival two-wheeler manufacturer, simply because his parting with the Munjals of Hero wasn't too happy. But Sobti has decided not to hit his former employer where it could hurt. Instead, with some help from search firm Egon Zehnder, he's managed to change tracks to pharma and land a job with Ranbaxy, the biggest Indian company in the business. At Ranbaxy, Sobti, 50, will be in charge of India and the Middle East, besides its global consumer healthcare business. Sobti wasn't available for comment, but he must be thrilled at the opportunity. Ranbaxy is already the world's 8th largest generic manufacturer and by 2012 hopes to be among the top five, with $5 billion in revenues. Sobti, then, can look forward to some speed driving.