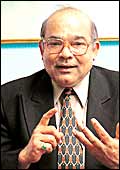 RBI's Reddy: Weak rupee good for exports, but what about imports?
The inter-linked global economy is sometimes a zero sum game. Peter's loss is Paul's gain; so when us Federal Reserve boss Alan Greenspan sneezes, RBI Governor Y.V. Reddy catches a cold. Here's how: the value of the rupee has been falling for sometime now. On October 18, it hit an 11-month low of Rs 45.14 per dollar. The trigger: trade data showing India's deficit in September ballooning to $3.19 billion (Rs 14,355 crore) from $2.16 billion (Rs 9,720 crore) a year earlier.
Yet, the dramatic fall in the currency, especially over the last month, hasn't created any ripples at all. Says Rajiv Kumar, Chief Economist at CII: "A combination of benign interest rates and a weak rupee is good for the economy.'' Official circles also believe that the fall is actually a "correction''. Just three years ago, the dollar was trading at Rs 49, a consequence of the greenback falling against the euro and the yen. With the dollar appreciating against these currencies once more, the rupee had to weaken.
This yawning trade gap could have been cushioned somewhat by higher inflows from FIIs (foreign institutional investors) but that did not happen; in fact, they pulled out a net amount of $150 million (Rs 675 crore) till October 20, in sharp contrast to the January-September period when they invested a net amount of $8.5 billion (Rs 38,250 crore), equal to their purchases for all of 2004. The pullout is directly linked to the Federal Reserve raising interest rates from 1 per cent levels a year ago to 3.5 per cent now.
Reddy's running nose, however, is bringing great joy to exporters, especially to the booming information technology and ITEs sectors, who had been hit by the appreciating rupee over the preceding three years. Says Rafeeq Ahmed, former president, Federation of Indian Exports Organisation: "It's only fair as exporters have had to absorb the losses from the appreciating rupee." Adds Sachin Taneja, VP, Mecklai Financials, a foreign exchange broker: "It seems the RBI is letting the rupee fall in order to shore up India's export competitiveness." After all, Japan and China have raised this strategy of keeping their currency valuations low to an art form.
However, importers, of which the government is the largest, will now be presented with higher tabs for goods purchased abroad. So, we're back to the zero sum game. But we'll deal with that in another story.
-Ashish Gupta
---
A Break From Strikes?
The amended Contract Labour Act could lead to rapid employment generation in the country.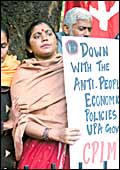 Red flag: Or dawn of reason?
The rhetoric was abrasive and combative, but the fine print indicated an incipient dawn of reason. Following a crucial politburo meeting on October 25, CPI(M) General Secretary Prakash Karat announced that his party "would consider allowing certain it companies and BPOs to function undisrupted as they are linked to essential services". However, in a crumb to the ideological dinosaurs in his party, he has defended the right of employees in these sectors to form unions and carry out collective bargaining.
This concession is critical to the future of the Indian economy. The Ministry of Labour is working on amendments to the Contract Labour (Regulation and Abolition) Act, 1970, to exempt sectors such as transport, construction and maintenance, EOUs, SEZs, hospitals and the it and ITEs from its purview. Implication: once enacted, these sectors will be allowed to freely hire contract workers. Currently, some of these industries do employ contract workers, but the ministry has the power to prohibit such employment through an official notification. The government proposes to relinquish this right under the proposed amendment. An official note circulated by the Ministry of Labour says: "Despite the existence of the Contract Labour Act, the emerging reality in workplaces is increasing the use of contract labour. It is important that this reality be recognised and appropriate formalisation of this ground reality be made in the existing legal framework."
Experts say the amendment will remove a major roadblock to rapid employment generation in the country. But will the Marxists allow this? We can only pray for the best.
-Ashish Gupta
---
Quid Pro Quo
India is pulling out all stops to secure access to the West for its professionals.
The government is going full steam ahead with service sector negotiations at the World Trade Organization. "Our revised proposal is a bold and conditional offer," says Nagesh Kumar, Director-General, Research and Information Systems for the Non-Aligned and Other Developing Countries, a government think tank. India has offered to open up a host of new sectors and sub sectors (see India's Revised Offer On Services), provided the developed countries, especially the US and the EU, make concessions on Mode IV (Free Movement of Professionals Under The General Agreement On Tariffs and Trade). On offer is increased access for providers of architectural services, veterinary services, construction and related activities and life insurance services from the developed world.
INDIA'S REVISED OFFER ON SERVICES

Commerce Minister Nath:

He's made his move

» Allow foreign architecture firms entry into India
» Allow foreign firms entry into research and developmental activities
» Allow foreign firms entry into real-estate services
» Business visitors and contractual service suppliers will be treated as professionals
» Foreign firms allowed entry into non-banking financial services
The revised offer was made by Indian Commerce Minister Kamal Nath at a meeting of the Ministerial Core Group on Services in Geneva in the second week of October, which was attended by Argentina, Brazil, Canada, Korea, Mexico, Singapore and seven other countries. Nath also substantially improved upon India's existing commitments in a number of other sectors such as engineering and computer-related services, research and development services.
On the issue of Mode IV, the revised offer includes all categories of natural persons such as intra-corporate transferees, business visitors, contractual service suppliers and independent professionals. A revised offer is critical from India's point of view as there is currently no differentiation between temporary movement of labour and immigration. Developed nations restrict the movement of professionals by imposing strict, and often unnecessary, eligibility conditions for visa and work permit applications and by limiting the length of stay and conditions relating to transferability of employment. These restrictions raise the cost of entering these markets as service providers by eroding the cost advantage of Indian companies.
The government is now waiting to see what kind of counter-offers the West makes.