HEADLINER
Yunus Bilakhia
BUSINESS TODAY isn't a magazine given to bragging. But just this once, we'd like to say, "we told you so". Micro Inks, the Vapi (Gujarat)-based inks company, which featured on BT's 20 Companies to Watch list last year, has been snapped up by Germany's Huber Group for a whopping Rs 991.50 crore, or Rs 675 a share, making the deal one of the biggest in recent times. Huber, the world's fifth largest and family-run printing ink maker, will acquire between 50.5 per cent and 59.06 per cent from the Bilakhia family, besides making a mandatory open offer for another 20 per cent. While the promoters' holdings will be reduced to a minority position, Chairman Yunus Bilakhia and his son and Managing Director Anjum will continue in their respective posts. "Micro Inks has, in a single move, catapulted from its current position to be a part of one of the global leaders," Chairman Bilakhia said in a release. That's not all. The Bilakhia family will buy out a 46 per cent stake in Huber's European subsidiary, Stehlin & Hostag AG, for an undisclosed sum.
-Krishna Gopalan
Nicholas Piramal Snaps Up Avecia

NPIL's Piramal: In acquisition mode
Less than a year after Ajay Piramal's Nicholas Piramal (NPIL) acquired the UK-based Rhodia's inhalation business, it has struck another deal in the country to buy Avecia Pharmaceuticals for Rs 76 crore. Bought from private equity investors Cinven and Investcorp International, Avecia is a global custom manufacturer, NPIL's area of focus, and had revenues of Rs 290 crore last year. The acquisition gives NPIL's fledgling custom manufacturing business a front-end in the European market, although rising costs mean that much of the manufacturing will happen in India.
Binani Cement Finds Investor
Binani cements finally sealed a deal with J.P. Morgan Chase to sell a 25 per cent share in the company for Rs 250 crore, which includes a debt component. The deal, which had been in the air for a while, will help Binani double its cement capacity to 4.5 million tonnes at a total investment of Rs 450 crore. Binani Group Chairman Braj Binani thinks the deal will allow the company to enter a phase of rapid growth. According to some analysts, inadequate cement capacity hikes could boost prices and, hence, earnings of cement manufacturers.

Ford's Mahtew:
The Indian fiesta
Ford India Steps On The Gas
Ford India, which is set to launch its brand new car, the Fiesta, in the middle of November, has announced plans of investing $75 million (Rs 337.5 crore) "to support further growth in the important Indian market", its new President & MD, Arvind Mathew said in a release. The Blue Oval has already invested $375 million (Rs 1,687.5 crore) in its manufacturing facility in Maraimalainagar near Chennai.
---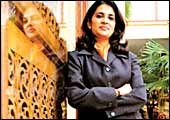 Kinetic's Joint MD Sulajja Firodia Motwani
Is kinetic engineering calling it a day in the motorcycles business? The Pune-based company, which has a tie-up with Hyosung Motors of Korea for sourcing motorcycle kits, has raised Rs 38.40 crore from Reliance Capital Private Equity in return for, effectively, 14.81 per cent of its equity. (Earlier in October this year, Kinetic Motor sold 1.42 million shares to Bennett Coleman & Co for Rs 70.52 a share.) But the surprising bit is that the money raised won't go into the motorcycles business but auto parts. "There's immense potential in the auto components and engineering sector and we intend to focus on the auto components space," says Kinetic Engineering's Joint Managing Director, Sulajja Firodia Motwani.
It's easy to see why Kinetic is looking for opportunities elsewhere. Although Kinetic entered the motorcycles segment way back in 2001, it hasn't been able to build a presence for itself. As per SIAM figures, total domestic sales of motorcycles in September 2005 was 538,889 units out of which Kinetic Engineering sold 2,722 units. This translates to an insignificant 0.5 per cent share. (In contrast, TVS Motor, another two-wheeler manufacturer that split up with Suzuki and is now going solo, has a 13.11 per cent share of the market.) Kinetic's chances of significantly increasing its share in the near future don't look too bright. Hero Honda and Bajaj Auto already hog the lion's share of the market, and Honda Motorcycle & Scooter India (HMSI) has announced plans of doubling its motorcycle capacity. That means stiffer competition ahead. And Kinetic, perhaps wisely, has decided not to fight a battle it cannot win.
---
200 million: The number of people worldwide who now live in countries other than the ones in which they were born, according to the World Bank
$8.86 billion (Rs 39,870 crore): The amount of foreign direct investment into India-which is one-third of the total FDI into the country over the past 13 years-that is routed through Mauritius because of an agreement to prevent double taxation
$35 billion (Rs 1,57,500 crore) a year: Size of the global counterfeit drug industry, according to the World Health Organization
1.41 million: Number of cars covering 17 different models that Toyota is set to recall for repair. This is a new record for the Japanese automobile manufacturer
75,681: The number of cars in status-conscious Delhi that sport a VIP number
279 million francs (Rs 225.4 crore): Sales of Tamiflu, Roche Holding's birdflu remedy, that climbed 17 per cent in the third quarter, as governments stock up on the antiviral drug on the advice of the World Health Organization
$400 billion (Rs 18,00,000 crore): Size of the global airline industry, which generates $1.3 trillion (Rs 58,50,000 crore) in economic output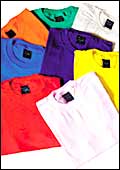 11 lakh: The number of jobs feared to have been lost as a result of the October 8 earthquake in Pakistan
55 million units: Total worldwide shipment of PCs in Q3 of 2005
3,248: Number of patents registered by IBM with the United States Patent and Trademark Office in 2004
Rs 9,000 crore: The total value of blouses, skirts and T-shirts exported from India last year
£1.2 billion (Rs 9,480 crore) : The amount retail entrepreneur Philip Green has banked after awarding himself the biggest pay cheque in British corporate history
---

Shriram Group's R. Thyagarajan
...R. Thyagarajan of Chennai-based Shriram Group who beat two other bidders to walk away with defunct Standard Motor Products' prime property at Perangulathur on the outskirts of Chennai. His winning bid of Rs 154.1 crore was only marginally more than rival bidder Martin Lottery's, which pulled out after quoting Rs 154 crore. Thyagarajan plans to use the 57.84-acre Standard Motor land to develop 5 million sq ft of commercial land to be leased to IT companies and shopping malls. The bids were held at the Chennai High Court.
---

Pact: Between London Metal Exchange and Multi Commodity Exchange of India, for allowing the latter the use of LME prices as the basis for MCX settlement contracts. This will integrate Indian participants with the global market, according to MCX CEO and MD Jignesh Shah. Initially, the agreement will apply to contracts for aluminium, tin and nickel, and later extends to copper.
Signed: By India and Mauritius, a preferential trade agreement. This is expected to help increase the island nation's exports to India and provide India with an opportunity to tap into African markets via re-exports from Mauritius. The areas covered include legal assistance, hydrography and public administration. Mauritius Prime Minister Dr Navinchandra Ramgoolam has also invited private Indian airlines to fly to Mauritius. He has given priority to eight sectors, including IT, agro-industries, pharma and financial services.
Ranked: By the Retail Asia magazine, 17 Indian players, among the 'Top 500 Retail Asia-Pacific Rankings 2005'. China, with 87 companies, heads the list. Japan (72), Korea (48), Taiwan (48), Australia (40), Hong Kong (38) and Singapore (31) are next in the pecking order.
Launched: By Deutsche Bank, retail banking services in India, the first country outside Europe where the German banking major will have a retail presence. The bank has Rs 10,000 crore of wholesale banking assets in India and recently pumped in Rs 419 crore to support its growth in the country.



Jackpot: Hit by private equity investor Warburg Pincus, when it sold its remaining 5.65 per cent in Bharti Tele-Ventures for $847.5 million (Rs 3,814 crore) to Vodafone. Combined with its earlier part-exits in Bharti, Warburg's total take from the telco is a staggering $1.6 billion (Rs 7,200 crore). That should make Rajesh Khanna, MD, Warburg Pincus, a happy man.
---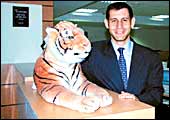 OfficeTiger's Co-CEO Joseph Sigelman
Big boy TCS isn't the only one fermenting action in the outsourcing space. The last six to eight months have seen many Chennai BPO companies acquire businesses based in the us and elsewhere. The idea: rather than provide third- or fourth-party services to clients abroad, service those markets directly. Among the BPOs that have made recent acquisitions are Take Solutions, which bought New Jersey-based 4Bsoft in a $1 million (Rs 4.5 crore) deal; OfficeTiger acquired us-based MortagageRamp for reportedly $25-30 million (Rs 112.5-135 crore); and Ajuba Solutions, a player in healthcare billings, is on the prowl too. "Almost 95 per cent of the healthcare billing companies are less than $10 million (Rs 45 crore) in size. They cannot scale up, so acquisition makes sense," says Devendra Kataria, President, Ajuba. For Take Solutions and OfficeTiger, these aren't the first us acquisitions. Last year, the former bought clinMetrics for $3 million (Rs 13.5 crore), and OfficeTiger had snapped up UK-based, $20-million (Rs 90 crore) Devonshire Group. Says Randolph Altschuler, Co-CEO, OfficeTiger: "With the (MortgageRamp) acquisition, we can expand the depth and breadth of our services and create a global financial services platform."