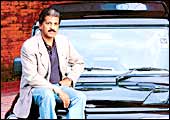 NAME: Anand Mahindra
AGE: 50 years
DESIGNATION: Vice Chairman & MD
GROUP: Mahindra & Mahindra
There's been plenty of action from Mahindra & Mahindra (M&M) over the last few months. The latest, which appears to be in the bag, is the buyout of euro 43 million (Rs 232 crore) Romanian tractor company sc Tractorul UTB SA. Earlier, it had announced a joint venture with Renault to launch the Logan in India, and had followed this up with the announcement of another JV with the us-based International Truck and Engine Corporation to produce light, medium and heavy commercial vehicles in India. Painting the bigger picture is Anand Mahindra, Vice Chairman and Managing Director of M&M, who's as famous for his natty wardrobe as he is for his business achievements. "Micro managing is not my style," says the Harvard Business School alumnus, "my main job is to unleash the latent passion within the organisation. I set the goals, empower people to perform and then step out of the way. After that, my role is to monitor direction and performance parameters internally and to constantly scan the external horizon for new trends and opportunities." That's been his guiding philosophy ever since he took charge as Deputy Managing Director of M&M in 1991. The next goal: become the fourth largest tractor manufacturer in the world over the next five years. The Tractorul takeover, which will take a few months to sew up, will give him a beachhead in Europe and allow him to prise open that market. Incidentally, M&M is already the largest player in the domestic tractor market, with a 25 per cent market share. Mahindra has consciously derisked M&M's portfolio by investing in real estate, financial services and it. But tractors still give him his bread, butter and jam. And given the frenetic activity at Mahindra Towers, Mahindra could well be the man to watch out for in the Indian automobile industry.