ING's Adenwala (R) and Kotak's Shah: Given the number of MFs being launched, fund managers are much in demand
Success comes with its own set of problems. a case in point is the mutual fund (MF) industry which has witnessed stellar growth in the last one year on the back of a booming stock market. So, even while the industry's assets under management (AUM) have grown almost 32 per cent in the last one year to over Rs 2 lakh crore, dearth of people-CEOs, chief investment officers (CIOs), fund managers, marketing heads, analysts, even dealers-is staring the industry in the face.
"Brilliant (lateral career) opportunities and monetary gains have seen (huge) people churn in the industry," says Sanjay Prakash, CEO, HSBC Asset Management Company (AMC). The situation in the industry is akin to a game of musical chairs, well, with a slight difference, with more chairs being progressively added.
Recently, at the fund manager level alone there were several shifts; Vinay Kulkarni from UTI AMC joined Deutsche Mutual Fund, Kenneth Andrade from Kotak Mutual Fund joined Standard Chartered Mutual Fund and Deven Sangoi quit Birla AMC to join Prudential ICICI. And Ashish Ranawade moved out of UTI AMC to join ING Vysya Mutual Fund to handle portfolio management services. With new products such as derivative funds hitting the market and competitors such as hedge, private equity and FII (foreign institutional investors) funds also vying for the same set of people, it is an out and out employees' market.
"With five to six funds (FIIs) being launched every month, the scarcity of talent is being clearly witnessed in this market," says Ajay Bagga, CEO, Grange Advisory (a Sabre Capital firm that is launching a new mutual fund in India through a joint venture with Temasek).
Welcome Outsiders
With a 40 to 100 per cent jump in salaries in the industry, a scarcity of talent and booming business, even professionals from other industries are marching in to fill in gaps across functions. Vikrant Gugnani, earlier with Citibank, joined as the CEO of Reliance Mutual Fund recently. And Rana Vikram moved from ABN Amro to head the distribution and marketing function at the bank's AMC.
"Almost a third of this sector's needs has to be met from other related sectors," says Puneet Singh, Associate Director, Executive Access, a headhunting company active in hiring for funds. So, apart from grooming junior level staff, mainly young analysts to take care of future manpower crisis, most MFs are aggressively recruiting people from non-AMC backgrounds (mainly insurance and banks), and retail brokerage houses and also picking up fresh graduates from B-schools and chartered accountants. "As we expand our operations, we have, for the first time, recruited 10 MBA graduates for our sales operation," says HSBC's Prakash.
Private wealth managers have to produce investment results for clients and manage relationships as well
Of the three functions in the industry-money management, operations and business development-the dearth of talent is more acute in the first two, as sales & marketing people from banks are easy targets and converts to man mutual fund marketing. The challenge for outsiders joining the industry is that there is a lot of catching up to do with regard to issues like risk compliance, legal framework and fund accounting. And fund management professionals, already a limited pool, are increasingly flirting with openings in FIIs, private equity and hedge funds.
There is also a new trend of MFs scouting for sales & marketing professionals to head their AMCs as CEOs. "I have been approached for the post of an AMC CEO. AMCs are targeting sales and marketing guys as they know the market reality, can handle distributors, besides being well versed with the functioning of an AMC," says a head of sales & marketing at a foreign mutual fund.
HSBC's Prakash (R) and Grange Advisory's Bagga: MFs are now hiring sales and marketing professionals
Carrots And More Carrots
"Fund mangers are trying to become specialists (in verticals such as hedge funds and private wealth management)," says Paras Adenwala, CIO (Equity), ING Vysya Mutual Fund, himself an erstwhile equity desk head at Birla Mutual. MF organisations are willing to promote people to take on bigger roles and responsibilities as a means to retain them.
After Ajay Bagga quit Kotak AMC in May 2005 to join Grange Advisory, the group made Nilesh Shah, till then Executive Director (Equity Strategy), Kotak Securities, the President. "Being associated with Kotak Securities and Kotak Portfolio Management Services, it was a challenge for me to take the responsibility at the AMC and try to bring it to the same position as the other financial businesses of Kotak," says Shah, a 12-year veteran of Kotak.
Variable income-going up to as high as 55 per cent for fund mangers, 50 per cent for marketing and sales professionals and 40 per cent for operations people-is also the industry's answer to not just incentivise performance but also to make work more challenging and remunerations more competitive compared to say hedge funds, where mangers get a performance fee. MF managers are (still) paid mainly on the basis of the amount of assets managed, regardless of the fund's performance.
On the flip side, the drudgery of managing customer queries (even from a small investor who has put in just Rs 10,000), distributors and sales & marketing on a daily basis is making a few MF professionals turn to boutique fund houses, where the core job remains fund management, and only that.
---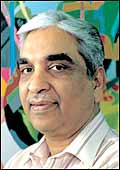 I am a BSc student majoring in physics and want to do my post graduation in the field of computers. Keeping my future and the present job scenario in mind, would an MCA (Masters in Computer Application) or an MSc (Information Technology) be the right qualification to get? Will this help me get a job in a software company? Also, what are the career prospects if I do a course in multimedia?
An MCA or MSC in information technology will always stand you in good stead when you join the job market. As for the software industry, many companies today recruit directly from the campus. Besides, if you do your post graduation from a reputed institute and get good grades, getting a job should not be a problem. Whichever institute you opt for, find out when and which companies conduct on-campus interviews there. If you do a multimedia course, then you have the option of working in an ad agency or a software company working in the media arena. But then the number of companies operating in this field is much smaller compared with the software industry.
I am a 30-year-old doctor from Moga, Punjab, and am interested in becoming a DMP (designated medical practitioner). People planning to immigrate are required to undergo medical examination and only a DMP is authorised to do so. Please advise what one needs to do to become a DMP. Also, what other related areas can I explore? How about medical outsourcing?
DMP is a popular concept in Canadian immigration and the country has DMPs in Amritsar, Ludhiana and Chandigarh. Appointments are based on the requirement in a particular geographical area. If you want to become a DMP for Canada, you can get information from their consular office in Chandigarh or from the Canadian High Commission's website. Similary, you can cull relevant information from the internet for other countries. In case of Canada, once your application is approved, you are put on a two-year probation. After which you are an established DMP. As for outsourcing, the jobs available are in the field of medical billing, trancription and insurance claims. If you are interested in any of these, you should approach a BPO outfit.
I am a 24-year-old graduate working as a copy writer in a reputed ad agency in Hyderabad for the past two years. I also do a bit of freelancing on the side. However, I am not happy with my job or working 9-5. It would be ideal if I could work from home and also make good money at the same time. Do I need additional skills to work in a bigger ad agency in Hyderabad or in other cities? Please advise.
If you are really good at your work, then you can make good money from freelancing. But for that you need to be well established in this field and have good contacts. You have worked only for two years and unless you have a great portfolio to show, you will not be able to muscle your way in a industry which is highly competitive. You could opt to work in Mumbai or Delhi, which have a large number of established ad agencies, but then your cost of living would go up. I would suggest that you work till you make a mark in your field. Then you can have the luxury of freelancing and also making good money.
I am a 23-year-old economics graduate from Delhi University and have done my MBA from a reputed institute. For the past six months, I have been working with an insurance company. However, I am not interested in my present job or the industry as such. I am interested in becoming a newsreader. How do I go about it? Do I need to do any course in this regard. Also, will my economics and MBA background help if I opt for a business channel?
Your economics and MBA background will definitely be an asset if you work in a business channel. Most media houses will give you in-house training and you will have to start with reporting before you get a chance to be an anchor. At the same time, there are a lot of institues offering courses in newsreading. You can do these part-time. It would be ideal if you could do a course in broadcast journalism from a reputed institute like the Indian Institute of Mass Communication, Delhi. Then you should not have a problem getting a good job. Also, given that there are so many new channels being launched, keep a lookout for job ads. You can also go to the websites of various channels and see what vacancies they have and apply directly.
---
Answers to your career concerns are contributed by Tarun Sheth (Senior Consultant) and Shilpa Sheth (Managing Partner, US practice) of HR firm, Shilputsi Consultants. Write to Help,Tarun! c/o Business Today, Videocon Tower, Fifth Floor, E-1, Jhandewalan Extn., New Delhi-110055..
---
Sub-brokers, Anyone?
A new career for stock market professionals.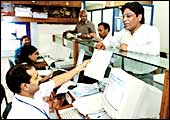 Taking stock: The market's only got better
The economy is on a roll, corporate profits are at an all time high and the stock markets are booming. Little wonder, there is hectic activity amongst market middlemen, with the number of registered sub-brokers with SEBI going up to 12,817 (2003-04) from a mere 1,264 (2002-03).
And guess who is becoming a sub-broker? It is professionals with stock-broking experience (analysts and business development people working with brokerage houses) and CAS. "Today becoming a sub-broker has become quite easy for professionals with a knack for the markets," says Amitabh Choudhary of Amiant Stock Management, a New Delhi-based sub-broker for Geojit Securities. Choudhary jumped on the bandwagon six months ago, after working with Indiabulls Securities and Hotline Capital.
All one needs to become a sub-broker is an initial investment of Rs 3-5 lakh on getting a broker's sub-broker franchisee, VSAT connection, and the like. With broker:sub-broker revenue share on the commission earned starting at 50:50 and moving up to 30:70 as volumes rise, and with lot more products to hawk (commodity trades and depository services), it's time you looked at becoming a market middleman.
---
Temps: Rights & Responsibilities
Here's what you need to know as a temp.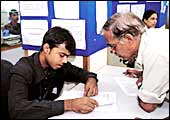 Nothing permanent: But do read between the lines
If you are one of the over one lakh temporary workers (temp) that India Inc across sectors is hiring to bail it out of temporary manpower needs or crisis, it helps to know a few ground rules.
As a temp, you can register with multiple temping companies. The job contract is signed between the temping company and the temp, but only after the temping company's client has validated the candidate. As a temp your provident fund, group insurance, gratuity and medical insurance is provided by the temping agency.
After mapping the industry, experience and the city, a salary primer is created by the temping agency, which also negotiates the temp's salary with the client. But a temp's deliverables are the responsibility of the client and not the temping company, managed services contracts notwithstanding. The temping agency also lays down the appraisal frequency along with the parameters. When it comes to leave, candidates are informed of the leave roster by the temping agency, but approval needs to be taken from the client and the temping agency needs to be informed.