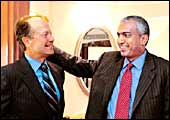 The right man: Chambers (left) and Salgame discussing the latter's new role, across South Asia, including Singapore
Keep an eye on this guy," says john t. Chambers, President and CEO, Cisco, to one of his aides, pointing to Rangu Salgame, President (South Asia), Cisco Systems. "He's going to go places." That remark may have been meant for the benefit of this writer-American CEOs are notoriously media-savvy-and then, it may not have been. In a time-paradox of the sort that would have made Philip K. Dick rub his hands in anticipation of more confusion to come, Salgame, who signed on with the company in late 2003, is the beginning of Cisco's Indian Odyssey that actually began with a $200-million (Rs 940-crore at the then exchange rate) investment in 2001, an investment that has since grown to around $700 million (Rs 3,150 crore at today's exchange rate) by some estimates. It is a start that has culminated in the company's decision to invest $1.16 billion in India over the next three years, arguably the single largest foreign investment in it in the country, and, cumulatively, with the $700 million, a number that dwarfs the investment of multinational companies in capital-intensive businesses. General Electric is a case in point; during his visit to India in May this year, its CEO Jeff Immelt let on that the company had invested $600 million in India over the years. So, what does Cisco see in India?
In one word: a market. "India," a refrain popular among visiting CEOs goes, "is a great resource base for us." And then they launch into paeans about "Indian brainpower", "Indian talent" and "Indian R&D". Chambers, now into his 11th year as CEO, believes that too, which is why $750 million of the $1.16 million will go into investments in R&D. He is also bullish enough on the Indian market-bullish to an extent that rules out any posturing-to have earmarked $100 million (Rs 450 crore) of the total for investments in marketing infrastructure. That amount may look insignificant to lay readers, but as a senior executive in an Indian it firm puts it, "$100 million in marketing? What are they going to do, sell soap?" The point being that Cisco's products do not require as much marketing-spend (or anywhere close) as fast moving consumer goods such as soaps.
Companies, strangely enough, and CEOs are only human. They view the country that is a 'resource base' in one way, a country that is a large market for their products in another, and one that is both in still another. That India, from Cisco's point of view, is both a market and a base for R&D efforts is evident from the way the $1.16 billion investment breaks up: $750 million in R&D, $100 million in marketing, $150 million in Cisco Capital, its leasing arm, $100 million in its venture capital (VC) arm, $50 million in its to-be-constructed campus in Bangalore, and $10 million in e-governance initiatives it will support along with the government of India. "Nowhere outside the us do we have this entire spread of activities," says Chambers. "We have never done it across such a broad range of areas ever before in our history."

The Making Of A Market
It wasn't always this way for Cisco in India. Circa 2003, it had fed moderately off the great Indian telecom boom, but from the parent's point of view, India was still an R&D destination first, a market later. Sometime in the middle of that year, part of the company's senior management team in India, including its President, Manoj Chugh, and its head of marketing quit for reasons that are still not very clear. Rather than tap its internal system for a possible replacement for Chugh, Cisco chose to look without, a search that came up with the name Rangnath 'Rangu' Salgame, a New York-based adviser to several VC-backed firms. He had been a management consultant at Coopers & Lybrand, Vice President of Verizon, and President of its data solutions subsidiary, and was, in effect, working with some VC firms that believed companies in their portfolio could benefit from his experience.
$ 1.16 BILLION

The sum that India will get from Cisco over the next three years is the single largest foreign investment in Infotech in the country
When Salgame landed in India later that year, he saw, not 'India Shining', the tagline of a campaign run by the then ruling NDA government-this would later come back to haunt it when its rivals lampooned the campaign, saying India was shining only for a few privileged individuals-but an economy poised on the brink of rapid growth. The ingredients were all there, he explains, "and I knew that if we wanted to tap the big market that would emerge two, three, four years down the line, we had to act then". At one level, this involved restructuring the company; from being a company structured according to geographies, Cisco Systems India became one structured according to business (or customers) and functions. At another, it involved pitching hq a business plan that required the company to recreate in India, the same business ecosystem it had in the US (R&D, sales and marketing, VC and leasing).
The change seems to have worked: Cisco doesn't publish country-specific numbers, but according to Dataquest magazine, which compiles a list of the 20 largest it companies in India (local and multinational, services and products), Cisco India's revenues have jumped from Rs 1,268 crore in 2002-03 to Rs 2,703 crore in 2004-05; and a company that grew by a mere 15 per cent in 2002-03, grew by 46 per cent a year over the next two. "Cisco has been able to grow as a company, and grow the market as a whole in the past few years," says Sanjay Nayak, CEO and Managing Director, Tejas Networks, an optical networking company. "When someone boasts gross (profit) margins of 67 per cent, it is enviable." In 2004-05, for instance, Cisco bagged the biggest Metro Ethernet (anyone who works in an office with a local area network, shares data through an architecture called an Ethernet; a Metro Ethernet essentially does this over larger distances, typically across a metropolitan area, and is the ideal network for a telco that is seeing the volume of its data traffic outstripping that of its voice traffic) order in India, worth Rs 500 crore from VSNL. More recently, State Bank of India placed the largest order Cisco has ever received (anywhere in the world) for Integrated Services Routers. As Dataquest points out, Cisco's market shares in routers and switches in 2004-05 were an impressive 84 per cent and 70 per cent, respectively. That's a bit.

Technology 101
In many ways Cisco is the internet company. The essence of the internet is information sharing, something that became possible largely due to the advent of something called Internet Protocol (IP). Rather than transmitting information as bits (requiring a continuous link between the points of transmission and reception), IP transmits it as parcels (it effectively breaks it up into parcels, each parcel finds a different, optimal way to the point of reception where it is put together again). What Cisco does is to simply handle the tasks of breaking up the data, finding the optimal route for it, and putting it together again. So, if customers in Kerala can withdraw money from a mobile ATM on a boat (as they indeed can), it is because of Cisco. And if M&M now operates with one unified it network connecting its seven factories, corporate hq and regional marketing offices (as opposed to the two discrete ones it used to work with), it is because of Cisco. These transactions happen over the private internet, which is much much larger than the public internet (or the www) that everyone associates the term internet with. Indian laws, for instance, allow VOIP (Voice over Internet Protocol) telephony within the country on such private data networks and Cisco also makes IP phones that sit at the terminals of such networks. By some estimates Cisco controls (for want of a better word) 70 per cent of the internet (not just the public internet). As Tejas' Nayak puts it, "No one got fired for buying Cisco."
The future of networks is IP, and as an analyst at Gartner, a global it consulting firm, points out, "While its competitors (Avaya, Nortel, Alcatel, NEC) do a mix of IP and non-IP enabled switching equipment, Cisco is only into IP-enabled equipment." Business Process Outsourcing firms, especially those focussed on voice, rely heavily on IP-based Private Branch Exchanges (the term just means that these telephone exchanges are owned by the company in question, not a telco), and the analyst adds that "Cisco is expected to do very well in this segment." Then there is its reach, some 100 cities and towns, across India, an "entry barrier" as Salgame describes it, for potential competitors.
There's no denying that Cisco is the 800-pound gorilla of the networking space. When a new technology that it hasn't worked on emerges and looks like becoming even marginally popular in the market, Cisco simply acquires the firm in question. "I use acquisitions as a way to move into new markets," says Chambers, adding that the company, famed for its pace of acquisition and integration, is back to making 15-20 acquisitions a year after catching its breath for a year or two in between (see After The Bust). Its size and aggressiveness gives Cisco the kind of depth in its offerings that few competitors can match (there is no one company that goes head-to-head with Cisco across all its offerings). Then, Cisco's size doesn't faze technology hotshop Juniper, which claims that what it lacks in terms of breadth of offerings, it makes up through depth, especially in the area it has chosen to focus on, traffic processing. "Customers choose Juniper when they prefer best-in-class networking and network security solutions rather than a something-for-everybody approach," says Java Giridhar, Country Manager (India & SAARC), Juniper Networks.

A Strategic Play
There is a way Cisco sees the world, and the way it sees the future, and there is another way its competitors see the world and its future. The company believes there is sense in making an integrated play across various components of what it sees as the emerging intelligent network.
From being a pure routers and switches company, Cisco has grown into a switches, routers, security, wireless, IP telephony, storage area networking and optical networking company. "Our competitors made a mistake of thinking of this as an individual market; we think they come together," says Chambers. The company also believes the future of all networks (including telecommunication ones that have traditionally been circuit-based) is IP, and its desire to impose this world-view on the telecom sector, where it has some strong rivals, is one reason why the rumour about the company's acquisition-play for Finnish mobile telecom equipment and telephones giant Nokia refuses to go away (Cisco has consistently denied this). "There is a grey area in telecom where the it network guys (read: Cisco) are trying to take over, and the telecom network guys (read: Nokia, Ericsson) are pushing back," says Sunil Mittal, Chairman, Bharti Tele-Ventures, India's largest mobile telephony company. And an executive at a telecom equipment maker points out that companies such as Nokia and Ericsson could "push back" by simply acquiring a competitor of Cisco's. Juniper and Ericsson already have an OEM arrangement where some of Ericsson's high-end offerings for mobile telcos are built on a Juniper platform.
India is the second most-happening, if not the most happening telecom market in the world. And hidden in Cisco's $10 million investment in e-governance initiatives is a laboratory it is setting up, along with state-owned telco Bharat Sanchar Nigam Limited for the development of Next Generation Networks. That's just another small reason why Chambers is bullish on India. Then, as the man puts it, "Every single person I met who was brilliant in the us was Indian," including, back when he was growing up, "the doctors in West Virginia".
INTERVIEW/JOHN CHAMBERS
"India has exceeded my expectations"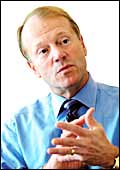 You were here in early 2001, and you are back now. Lots of CEOs of large global companies have come to India in this period, and more continue to. One thing most of them say is, "India is still not up there as a market for us, but it is a great resource base." I know that Cisco has got big plans for R&D, but I can also sense that Cisco believes that India is a big market, a big market that can grow, but also a big market that is already here...
I think India as a market has arrived and arrived over the last two years aggressively. It is like most markets in transition; by the time it becomes obvious to everyone, it is too late to move. You have got to identify marketing trends. We made our decision to put our resources and to bet on India as a market, as well as a resource centre, as well as a business partner in 2001. I would not have made the commitment I did then, a $200-million commitment; I would not have made the changes in the leadership team over the past two years, if I didn't think the possibility of what we are announcing today (the $1.16-billion investment) were there. India, as a market, has the potential to be our biggest market in Asia. It is very possible that India could be bigger for us than China in as soon as two years, or as long as five years.
The second element is, we believe that you cannot make independent decisions. We believe in an architectural approach and what you are seeing us announce today is the most aggressive, the most complete across all functions of Cisco commitments we have made to any country, including the us, and if this plays out the way I think it will, India will be the only country other than the us to have the breadth and depth (of Cisco's operations).

"India has the potential to be our biggest market in Asia. It is very possible that it could be bigger than china in two-five years"
While it (India) is very important as a market, it is a market that is driving our technology direction, it is a market that is driving our services strategy direction, it is a market that is driving our customer support direction, a market that has the potential to drive our R&D direction, and a market where we will work towards common goals, even look creatively at manufacturing. Many people forget that we were among the first companies to drive outsourcing in manufacturing and we encourage our outsourced partners to go into some countries.
So, are you going to encourage your manufacturing partners-many of them are here in one form or another-to make routers and switches out of India?
When you look at the future of a country, it is four corner stones that make it go: education system, infrastructure, broadband, but also things like transportation logistics, environment of innovation and a supportive government. India has the potential to skip a generation in infrastructure build. It has the potential-it has one of the better education systems in the world today turning out a huge number of engineers and can move even faster-to really strategically partner.
That might be the important difference versus any other country in the world. India thinks of partnering and winning together. Some other countries think of partnering and then really taking that market from you. You need the balance of a win-win for large companies to be comfortable about outsourcing in India. I think India has done a remarkable job over the last five years, but particularly over the last two, in terms of positioning.
AFTER THE BUST
For sometime in 2000, Cisco was the most valuable company in the world. Sometime in March that year, the company was valued at $555.4 billion; on the same day, Microsoft was valued at $541.6 billion. Circa November 2005, Cisco's market capitalisation is around $125 billion. The stock itself is down from its peak of the low-80s to the high-teens. Then, as John T. Chambers points out, Cisco hasn't suffered as much as the competition (it ended FY 2005, on July 30, 2005, with $24.8 billion, Rs 1,11,600 crore in revenues, and $5.7 billion in profits; the corresponding figures for 2001 are $22.29 billion and a loss of just over $1 billion). In effect, the company's market capitalisation is down (to more rational levels), its sales are up marginally, and it has turned around smartly. In many ways 2000 and 2001 were watershed years for a company that seemed immune to the forces of gravity (and the market unlike its larger rivals, Nortel and Lucent Technologies).

The company, founded by Stanford University's Sandra Lerner and Leonard Bosack, in the mid 1980s (Cisco is short for San Francisco) has always been an IP-focussed one (see main text for a better picture of what IP is). It grew through the 80s and 1990s, first using its money-clout to buy companies with promising products, then slowly betting on start-ups and acquiring them even before they launched products. The internet boom was the company's golden period (revenues soared to $22.3 billion in 2001). When the bust happened, as Chambers admits, the company took some time to recognise it. The turnaround, which was complete by November 2003 (the company's results for the August-October quarter of 2003-04 showed net profits of $1.1 billion on sales of $5.1 billion) was achieved largely on the strengths of old-fashioned cost-cutting, inventory management and an emphasis on efficiencies (and some layoffs).
At the request of the government, we are looking at manufacturing, not at a transactional level, but to see how we can do here what we have done at other countries; that will start at the transactional level, and to say here's where you must improve on logistics and transportation and here's what you must do with component manufacturers and if you do that, perhaps we will perhaps lead well beyond the initial step. When you talk to business leaders, people say the #1 reason we go to India is innovation and the #2 is talent. I would argue that of equal importance is the willingness to truly partner in a win-win. You see that with individual systems integrators here; you see it with the service providers; you see it with the financial institutions; you see it with the government.
The last time we met, in early 2001, Cisco was coming off a great year. It had been, briefly, for some time in 2000, the most valuable company in the world (in terms of market capitalisation; Chambers laughs at this point and says that they no longer talk about that within the company). Some were calling it the model organisation for the 21st century. Others were calling it the company of the future. And then the internet bubble burst...
I'd say it as a whole went through a period of boom, and then went through a bust.
... and things didn't really go very well for Cisco then. What did you tell yourself at that point in time?
During the 1990s I got to know Jack Welch well, and we continued the relationship through the 2000s and after he retired. I have learnt a lot from GE over the years and Jack is a good friend. He said to me in the 1990s, "John, you have a very good company, but you will never have a great company till you go through a traumatic experience."
In the 1990s, we were clearly the stock of the decade. No one saw the downturn coming. Our peers in the industry had a market capitalisation of a trillion dollars, today they have 60 million. That's six cents on the dollar. The Nortels, the Junipers, the Alcatels, the Lucents. What Cisco was able to do was manage through the boom, manage through the downturn, and then through the period of growth.
The downturn surprised us just as it did everyone else. We made all our changes once we recognised it within 51 days; on day 52 we started to regain market share and growth. So if you look at our market capitalisation versus all of our peers, we have always gained as a percentage of total capitalisation during every period, rapid growth, rapid downturn, and now moderate growth.
You have spoken of how Cisco is different from its competitors because while they are stilling trying to get all the parts of the network together, you already have an integrated solution and are helping customers transform themselves. Now, some companies have done the logical thing and moved this technology play into a consulting one. Why have you never considered that?
You have to see what role you want to play in the market and the role you want your partners to play. I am more Asian in my mentality than American: I partner for life. Yes, Cisco is going to play the role that I hope it will, but I have to do that in co-ordination with my partners, with Indian companies that are already going global, but also our partners such as IBM, EDs, hp, Cap Gemini, and most of them have standardised on Cisco. If I move too deeply into consulting, my partners will consider me a competitor. At the same time, we are providing a very thin layer of consulting, which we also do in India, in co-ordination with our partners.
What's one thing about India you have learnt in the past four years?
How good India is as a partner. It has exceeded my expectations; its companies, industry, people, society and government. India's culture of partnering is unique. That's the reason I am making such broad commitments.
In the four years since your last visit, life for CEOs in the US has changed. Lots of CEOs who were then there have gone, and several in circumstances that are far from pleasant. Your company rode the wave, came down, and is riding it again. So, how have you changed?
As a leader I have-not lost my sense of urgency, make no mistake-realised that to focus on major market opportunities or major market transitions as we call them, be they country, changes in technology, business models, ability to partner with government, takes time, three to five, seven years. That's probably the key change from when I first became CEO and probably even from when you last interviewed me.