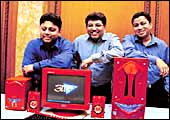 The volume players: (From L to R) Xenitis MD T. Dutta, Xenitis Infotech CEO D.N. Nair and Group Chairman S. Ghosh
The appointment was for 2 p.m. it's past 4 p.m; we've been waiting for two hours, but there's still no sign of Santanu Ghosh or Tathagata Dutta, co-promoters of the Xenitis Group. The receptionist at the group's plush new office in central Kolkata apologises for the umpteenth time. "They're both extremely busy," she repeats somewhat sheepishly. It's another 30 minutes before we're finally ushered into Ghosh's 400 sq. ft paperless office. "Extremely sorry, but we are really pressed for time these days," says Ghosh, Chairman, Xenitis Group.
That's understandable; the two co-promoters, both in their mid-30s, have their plates full. The five-year-old Xenitis Group, which created the sub-10K segment in the personal computer (PC) market, is already one of the largest volume players in the country. Its brands: Aamar PC in the east, Aamchi PC in the west, Aapna PC in the north and Namma PC in the south. Turnover has grown from Rs 7 crore in 2000-01 to Rs 178 crore in 2004-05; the company clocked sales of Rs 230 crore in the first half of the current fiscal ended September 30, 2005, and looks set to achieve its target of ending the year with a turnover of Rs 500 crore. "We hope to grow our topline to Rs 1,000 crore by the end of 2006-07," says Ghosh.
Recently, Xenitis set up a Rs 200-crore state-of-the-art components manufacturing unit at Chinsurah, in West Bengal, in technical collaboration with Unitek Computer Company of China. Xenitis will manufacture computer cases, SMPs (switch mode power supply) units, media chips, peripherals like keyboards, mice, CD-ROM and CD-DVD drives, speakers and home theatres at this facility. This will enable it to expand its capacity from 2.4 lakh PCs a year to at least 4.20 lakh PCs a year. The funds for this project have come from internal accruals and bank loans, says Ghosh. Incidentally, Xenitis makes more than just cheap computers. Its product range includes higher range PCs, laptops, servers and media centres as well (see The Xenitis Range). "Our endeavour is to take India's it hardware industry to the world. Our goal is to make PCs as common as televisions and capture a major chunk of this incremental market. That means targeting retail customers, SMEs, larger corporates and educational institutions," he adds.
They have already travelled part of the way to their target. "I think Xenitis' range of Amar PCs (and regional variations of the brand) has played a big role in improving PC penetration in the country. But its acid test will lie in receiving repeat orders or orders through referrals from existing clients," says Sanjay De, Director, JGD Technovision Pvt. Ltd, one of the leading dealers of multi-brand PCs in the country.
Cut to five years ago. That was when Ghosh and Dutta, who are childhood friends, quit their jobs as Team Leader, IBM (East), and Channel Manager, HCL, respectively, and founded Xenitis. Their exposure to the world of PCs-they had worked in market leaders such as Digital, Compaq, Godrej Pacific and HCL-had opened their eyes to a potential gold mine: they realised that they could bundle open source software with cheap hardware from China and Taiwan to offer reliable branded PCs. The initial investment: Rs 25 lakh, their combined life savings. "From the very beginning, our focus has never wavered," says Ghosh.
THE XENITIS RANGE
Existing Products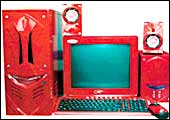 The Aapna range: It's affordable

Desktops:
9,790-25,000
Laptops:
25,000-65,000
Servers:
40,000-1.5 lakh
MEDIA CENTRES:
35,000-1.25 lakh
COMPONENTS:
Cabinet, Keyboard, Mouse,
Power Supply, Speakers: 1,200
ON THE ANVIL
100cc motorcycles 24,000
125cc motorcycles 29,000
150cc motorcycles 39,000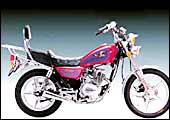 All figures in Rs
Xenitis now manufactures everything apart from hard discs and CPUs at its own plant. It makes it own cabinets, keyboards, power supply units, mice and speakers there; and will soon start manufacturing monitors, motherboards, memories, floppy drives and CD drives in-house as well. Laptops, servers and media centres are also round the corner. Export orders are pouring in from Africa, Dubai, Bangladesh and Nepal and these now account for 10 per cent of sales.
Having established a significant footprint in the PC segment, the duo is now looking ahead. "This is the right time to reboot," says Ghosh. On the anvil is a two-wheeler venture. "There is a large demand-supply gap in motorcycles; and we feel we can replicate our PC success in this segment by playing the price card," he adds.
Xenitis has already tied up with China's Guangzhou Motors Group for a Rs 200-crore two-wheeler manufacturing facility, also at Chinsurah. Work on putting up lines for assembling semi-knocked down (SKD) and completely knocked down (CKD) kits imported from its collaborator is on in full swing at its 30-acre factory there and the first motorcycle is expected to hit the roads in March 2006. The brandname: Xoom. The variants: two apiece in the 100cc, 125cc and 150cc segments. The price: sub-Rs 30K. Says Ghosh: "We want to retain the X-factor of Xenitis."
Ghosh and Dutta are aiming high. They plan to start with 30,000 units per month; double this to 60,000 units within six months of operation, and, then, ramp up output to one lakh motorcycles per month in two years. The agreement with Guangzhou Motors also envisages the setting up of an engine manufacturing unit in the country. Dutta, who is Managing Director of the company, however, adds that it's too early to talk about manufacturing engines in India. "This will come only a few years later," he says. The Chinese company has a technical collaboration with Honda Motors of Japan for its engine manufacturing facility at Guangzhou in China. Won't this lead to a conflict of interest with Honda's existing operations in the country? "No," says Ghosh, "Guangzhou's agreement with Honda permits such collaborations."
D-Day is less than six months away. The Xenitis brass is burning the midnight oil strategising with leading consultants like PricewaterhouseCoopers and KPMG, putting in place dealer and service networks across the country, and convincing ancillary units to set up units near its plant at Chinsurah in Hooghly district. Ghosh declines to name any of the players he is talking to. "They're all big players in this sector, but we can't reveal names till we finalise our arrangements with them," he says.
"The two-wheeler business in the country is growing at 35 per cent per annum. Four major brands command 90-95 per cent of the market. Our target is to take a 5 per cent share from each; that way we can start with a 20 per cent market share," says Ghosh, adding: "Don't think that's a tall order. Our greatest achievement in the PC sector has been to force every other player to cut prices. We will do exactly the same with two-wheelers."
Brave words. They could even make it to the long list of famous last words. The road ahead promises to be bumpy. Two-wheelers are a very different ball game from PCs. It's one thing to import computer parts at cut rates from China and Taiwan and assemble cheap computers in India. It's quite another to put in place an eco-system that supports a large two-wheeler operation. "Since they will import CKD and SKD units, getting started may not pose too much of a problem. But capturing market share with a lesser-known Chinese two-wheeler brand will be no mean a task as several globally established brands are freely available in the country. The entire business model rests on the price advantage. But it remains to be seen whether there is at all a big market for low-end two-wheelers in India," says an industry analyst. And that's not counting the obvious problem of taking on entrenched players like Hero Honda, Honda Motors, Bajaj Auto and tvs, all of whom have much deeper pockets than Ghosh and Dutta. The duo is aware of these issues and so, is trying to plug these holes with the help of MNC consultants and business advisors. The Bajaj Auto and Hero Honda spokespersons declined to comment when BT sought their opinions on the impending entry of Xenitis into their home turf.
There is also a growing concern that Xenitis is spreading itself too thin. The two-wheeler project is coming up at a time when its PC business is in aggressive expansion mode and the group has also taken up a major media venture (read: a 24-hour Bengali news and entertainment channel, a vernacular daily and a special interest magazine). The group is pumping in Rs 80 crore into its media foray. "We are extremely upbeat about this and have hired the best brains in the industry," says Dutta. The duo is setting up a new company to execute the media project, with Suman Chattopadhyay, former Executive Producer, Star Ananda, as the third promoter. There are whispers that the channel is being financed by a cartel of coal traders, but Ghosh and Dutta brush these aside. "All the money is coming from internal accruals and from bank loans. We're aiming high because we believe that if you have to do something, then you should do it in a big way and do it in style," says Ghosh.
Xenitis is the archetypal small company that's dreaming big. So far, it's stuck to its knitting, ridden its luck and managed to come out on top. Now it has ventured into unrelated fields, strewn with the carcasses of other adventurers. Whether it can stay on its growth curve will be interesting to watch.