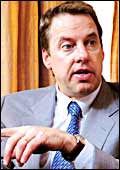 In the four years that William Clay Ford, Jr. has been the CEO of Ford Motor Company, things haven't panned out exactly as planned. The Detroit major is continuing to lose share in its biggest market, the US, and investors have been shocked by the losses the company announced this third quarter. Part of the losses is due to the staggering pension and healthcare costs that Ford (like General Motors) has to bear, adding an estimated $1,400 (Rs 63,000) per car. But Ford, who self-admittedly never wanted to be the CEO of the company his great-grandfather founded, has put in play a restructuring programme that promises to make the auto giant more competitive and profitable. In India recently to launch the Fiesta, Ford, who's begun starring in company ads, spoke to BT's R. Sridharan on the issues facing the company. Excerpts:
You have been at Ford as a CEO for four years now and this is your first visit to India. Obviously Fiesta is the big reason why you are here. But is there more to it?
I met with your Prime Minister earlier today, and I think clearly India is important in the global automotive world. It is growing dramatically and you know the specific reason, as you pointed out, is the Fiesta. But this won't be my last visit to India by any means.
In India, Ford already does a whole lot more than just make cars. You have an IT back-office, but I was wondering if you are going to do any high-end work like what GM is doing... designing diesel engines for new models?
Well, we have no announcements today, but clearly we've had great success with the IT and backroom operations that we send into India. With the innovative capacity that exists here and with the supply base that is built up here, it's not a big reach to consider doing more work here.
Globally, there is a trend towards small cars. Even in the US people are beginning to stop buying SUVs and looking at smaller cars. India, of course, has always been a small-car market. How do you think Ford is placed to handle this kind of a shift in the market place?
You almost have to answer it in two different ways, because you mentioned the US. What's considered a small car in the US is actually a big car in India. So, it's really not apples to apples at all. I will speak of the US for a minute and then come to India. In the US, we are very well positioned because we saw this trend happening four years ago. We certainly didn't anticipate the hurricane spiking gasoline up quite so quickly, but as we sat around thinking, it became absolutely clear that natural resources in the future would become more dear, and in a world of constrained natural resources, we needed to make our product cycle plan respond to that.
So what we've got coming now very much does respond to it. We are launching three new small cars in the US right now as we are sitting here. You may have heard that I've announced a ten-fold increase to our hybrid commitment, and we are launching about 250,000 ethanol vehicles next year. I feel in the US we are very well positioned to take advantage (of this shift). In India, which is a small car market, we have chosen to participate in ways where we can create segments. And I think you have seen that in the vehicles that we have launched in India, and we'll do so again with the Fiesta and that's really been our approach and that will continue to be our approach in future.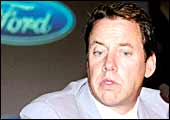 "India's growing dramatically. This won't be my last visit to India"
Four years ago when you became the CEO there were great expectations of you. You said that by mid-decade you would bring the automotive business to profitability-something that hasn't happened. How would you rate your own performance during the last four years?
When I took over, we were losing about $5.6 billion (Rs 26,880 crore then) and today we've been profitable every year since I took over. Today, our net income is just under $2 billion (Rs 9,000 crore) and we would obviously be profitable this year again as a corporation. We do have our problems with the US automobile business, and we are in the process of fixing that. This year has been a real struggle as we have had to deal with record commodity prices, a weak dollar and, what's been written about so much, the legacy cost issue, both the pension and the healthcare. Particularly the healthcare issue has really swamped us this year. Nonetheless, unlike some of our competitors, we are profitable as a corporation.
But it is your financial services business and not the automobile business that makes money.
Exactly. Again you need to segment the automobile business. We make money everywhere in the world, except the US. Brandwise, except Jaguar, all our brands are profitable and regionally we are profitable everywhere, except the US. We do have a US issue and we are in the process of addressing that.

Some of the factors that you mentioned were not specific to Ford but applicable to the whole industry. Yet, companies like Toyota and Nissan are growing in the US. The ailment seems to be specific to Ford and General Motors.
Well, simply because we are hundred years old and we built up an infrastructure that's hundred years old, including our retiree structure, which was dependent upon company-provided healthcare and pensions. Our competitors have none of that. Yeah, all our competitors are dealing with oil prices and steel prices, but nobody is dealing with not only the embedded cost in terms of healthcare and pensions, but also brick-and-mortar infrastructure that we built up over a hundred years. With today's flexible manufacturing, we don't need that kind of installed capacity any longer.
Our competitiors that you mentioned have the luxury of either shipping directly into our country-which many of them do-or building new facilities with a very young workforce that doesn't have any of the retiree, healthcare or pension costs. What we are doing is addressing that. You know it's painful because you are taking a hundred-year-old company and you need to radically restructure it to exist in today's truly global environment and we are in the process of doing it. It is a painful process and unfortunately it touches many many people, but it has to be done and we are in the process of getting it done.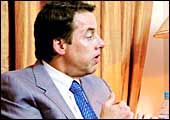 "We need to radically restructure to exist in today's environment"
In such a scenario, would Ford be able to leverage India's low-cost manufacturing advantage in any significant way?
Potentially, but there are a lot of factors that play into it. Obviously, shipping costs are an issue, and if you look at the supply base, it's not just about cost; it's about quality and partnership, and it's about technology. One of the things we have just done is announced a restructuring of our supply company (Visteon) and it's not just a cost equation, it is really about which suppliers do we partner with in the long term and, therefore, do we have confidence in their ability to deliver us high quality, the latest technology and partner with us upfront as we go through the design phase for our vehicles. India certainly can play a role in that. There is no reason why it can't, but it is not just a price equation.
What do you make of Delphi's bankruptcy? What does it forebode for the US automotive industry? Are there any regulatory changes that the industry needs to compete successfully?
Clearly, the Delphi bankruptcy signals that the whole supply base in the US is very fragile, but it's too early to say politically what ramifications it will have, but I think it's fair to say that there certainly will be some. And there has not yet been a national dialogue on competitive manufacturing in the US, but if the Delphi bankruptcy does not spur that, then I don't know what will.
When you talk of innovation, do you think Ford will be in a position to innovate to bring to a market like India a car that meets emission norms, safety standards and yet be small and cheap enough for the mass market?
That's something we want to do, and we can and are working on. When you innovate, there's an upfront cost like (in the case of) hybrids, and over time as you get into second and third generation of any new technology, you would expect the cost to come down and in fact, we do expect the cost of hybrids to come down. But initially when you introduce it, there is a cost that has to be borne partly by us and partly by the customer. That is why India may not be the recipient of the first generation of new technology of some of these things. At least, not today. In the future, there is no question it could be (a recipient).
Ford was the company that really invented mass manufacturing. Do you think you can still come up with new revolutions that will change the industry paradigm in some ways?
Well, you know that's a tough act to follow. But yes I do absolutely, because everything I just mentioned in terms of innovation, it will set us apart. And it's not that others can't do it. It is just that we want to be more ingenious about the way we do it and bring it to market. It doesn't mean we have to invent everything. We didn't invent the car, we didn't invent the assembly line. We just figured out a way to (build the car) in a mass market way that then was available to the average person. When I speak of innovation, people often think it means invention. It can be an invention, but it doesn't have to be. It can mean a more clever application of somebody else's invention.
Going by what you say, a lot seems to be happening at Ford. So why aren't investors excited about the company? Your stock is still close to the 52-week low...
Because they haven't seen...because of the general environment around. We mentioned Delphi. You know that shook our whole country. And they haven't seen the results of our restructuring yet. I think there's very much a wait-and-see attitude.

When do you think some significant results will be available for all to see? How much more time would you give Ford?
Well, we are launching three new vehicles that are important to us, and we expect those to do well. Again, we are talking us, because the rest of the world (for Ford) is doing very well and is very healthy. Our market shares are growing outside of the US, our financial results are good outside of the us.
If you ever lost your job at Ford, do you think you would be able to find re-employment in Hollywood as an actor?
(Laughs). Well, I am in TV ads right now. I just shot some new ads for us in the US. They just started running this week, but I am not sure they are Hollywood material. No, I think if I were to ever leave Ford Motor Company, I will probably devote myself to some sort of humanitarian effort. I have been very lucky in my life, I've been given a lot and, therefore, I feel it's incumbent upon me to give back and I keep trying to do that in my current job with Ford Motor Company and also in my private life, and try and instill that in my children. So, I suspect that if I ever didn't do this, I would probably devote my time seeking ways to help other people.