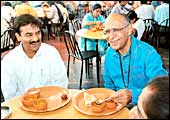 MindTree's soota (right): When it comes to keeping employees happy, a shared meal and a smile can go a long way
It's just seven years old, and is already among the most preferred employers in the country. it services company MindTree Consulting had come in at # 11 on our 2003 list, but didn't quite make it last year. Now, it's back, and with good reason. The 10-person start-up of yesterday has today morphed into one of the most recognisable names in the industry. But that's not why MindTree is here. It's here primarily because it has managed to retain the character of a small, closely-knit organisation despite its growing profile. Still a comparative midget with just $55 million (Rs 247.5 crore) in revenues, MindTree has managed to hold its own among 400 pound gorillas, keeping attrition levels well below industry averages and becoming a much sought after employer for fresh grads and experienced pros alike.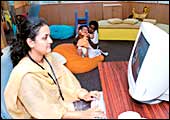 It's baby's day out: In a special initiative, mothers have their workstations at the crèche, so they can mind their babies too
"We try and retain the same values we started off with," says Ashok Soota, Chairman & Managing Director, MindTree Consulting. The company's values are reflected at different levels in different ways-like when Soota, a former Vice Chairman of Wipro, tells an exhausted techie to take time off and get some shut-eye; when busloads of MindTree Minds (that's what the company calls its employees) spend their Saturdays at old age homes; and mothers' workstations are moved to the company's crèche, in a programme called Baby's Day Out, so that they can manage their kids while carrying on with the work at hand.
The result? MindTree has an overall attrition of just 12 per cent and just 1 per cent at the senior management level, compared to the industry average of 20 per cent and 10 per cent, respectively. "We want to make MindTree a great place to work in," Soota says, "and that begins right from the day we hire people. Our Arboretum Initiative gives new recruits time to settle into our culture; we don't like rushing them into live projects." The Arboretum is a programme which assimilates new Minds into the MindTree culture.
SNAPSHOT
REVENUES:
Rs 247.5 cr
PROFITS:
Not available
Total employees:
2,800
Attrition (per cent):
12
Average career tenure:
5 years
Training budget (actual):
Rs 1.12 cr
Training man-hours (actual):
96,000
Soota and MindTree coo Subroto Bagchi closely monitor the people function at MindTree (the latter is also the global People Head of the company) and employees see them as accessible sounding boards. "Soota's door is always open, even for the junior-most employee in the organisation," says Anshuman Singh, a senior it consultant at the company who quit TCS to join the then fledgling MindTree six years ago. And salary is no longer the most important metric employees like Singh consider when they decide to make a long-term commitment to the company. "As we are a VC-funded company, we face certain constraints on this front. So, we have to offer other incentives to make MindTree a preferred employer in the increasingly competitive market," says Puneet Jetli, General Manager, People Function, at the company. How? By promoting, on an average, a third of its employees every year. And, by offering lucrative stock options. Soota admits that going public is very much on the radar of the privately held company.
MindTree also encourages employees to make cross-functional shifts, and the firm's Competency to Culture (c2c) initiative has senior company execs guiding greenhorns on the best possible career choices. Besides, Mindtree's leadership courses are often attended by 25-year-olds who've been marked out for future leadership roles.
A DAY




IN THE LIFE OF


ASHUTOSH SINGH, 31, Senior Consultant MindTree Consulting

Ashutosh Singh's day begins at the canteen. After a quick cup of coffee, it's down to work; Singh ploughs into a load of e-mails and goes into small group discussions with his team at The Pub, a bright blue informal meeting enclosure modelled on Bangalore's numerous watering holes. It's more of the same over the next couple of hours; then it's time for lunch, followed by more work. At 4.45 p.m. he's helping a colleague who's stuck on a particularly difficult algorithm. This stretches to 6.00 pm. It's Friday evening and an air of informality extends over the campus; movie plans are being finalised even as project deadlines are being put in place for next week. Then it's pubs (the real ones) ahoy!

The day begins for Singh with several interactions, one of them being this session with the innovation community at MindTree
It's lunchtime for Singh, and obviously there's much to smile about
Business analyst Anand N. (seated) gets some help from the expert
Like many of its other people initiatives, MindTree's mentoring programme, too, is innovative. It has tied up with Nalanda, an organisation that focusses on bringing slum kids face-to-face with their corporate benefactors. "Nurturing people is a top priority," says Jetli. Given that quality engineers are a scarce resource (the operative word here is quality, not engineers), Soota, Bagchi and Jetli are not afraid to experiment in their quest to keep their employees "joyous". There are at least 25 voluntary communities thriving within MindTree that are involved in pursuits ranging from writing Java code to spirituality to long-distance trekking. The company also organises a Carnival in February every year where employees and their extended families can unwind; Symfonia is a birthday celebration for MindTree Minds; and Healthy Body in a Healthy Mind is run by Soota himself. "You can't wait for a problem to crop up and then try and solve it; today's employees want a much more proactive approach," Jetli says. This means individual units have separate hr arms-MindTree has one for it services and another for R&D-to cater to specific requirements of individual employees.
Despite this, there is clearly some room for improvement. Though employees perceive the company's culture to be a strong binding force, they feel the need for more career counselling and an improvement in the compensation and benefits packages on offer. The top Minds are aware of this. "We are simplifying our procedures and practices. The goal: become even more employee-friendly," says Jetli. As a company that is rapidly adding to its numbers, MindTree will have to keep raising the bar in order to remain a preferred employer.
INTERVIEW/

ASHOK SOOTA

/CMD
"We Try to Create a Joyful Workplace"

Mindtree CMD Ashok Soota spoke to Business Today's Rahul Sachitanand. Excerpts:
MNCs and large Indian companies are aggressively hiring in India. How will you ring fence MindTree from their assault?
Around 60 per cent of MindTree's employees are lateral hires, many of them on the basis of peer referrals; so techies can work with their friends here. But despite this, we have to admit that MNCs are a threat to Indian companies. Not all our employees have the same career goals; some may aspire to more management-oriented roles, while others may wish to remain techies. We try and accomodate all of them. And I'm happy to say that we haven't really lost any significant numbers of people to the competition.
How have you managed to keep attrition rates so low?
We have created a place where it's a joy to work. The other thing that appeals to our employees is that we are among the fastest growing companies, and expect to cross $100 million (Rs 450 crore) in revenues in six years (of existence). That's something few of our contemporaries have managed. I also try to give a personal touch by making it a point to personally address new inductees myself. We have also reinvented a dated concept like the company crèche, where working mothers can keep an eye on their kids while at work. These, and initiatives like a company carnival, help us retain our employees.
You've entered the acquisitions game (MindTree recently acquired two small IT services companies Linc Software and ASAP Solutions). How difficult is it to integrate people from different work cultures?
As MindTree continues on its fast-growth path, it will encounter the same people issues that large organisations face. The challenge lies in finding synergies and challenging roles for senior employees of the acquired company.