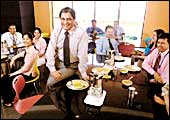 There's no hierarchy: HDFC Bank's Puri (front) believes happy employees translate into happy customers
He's one of India's most respected bank CEOs, yet Aditya Puri doesn't fit snugly into an archetypal banker's double-breasted suit. The 55-year-old chief of the country's second largest private sector bank isn't a great one for networking, favouring an evening stroll down Mumbai's Worli Sea Face to a sundowner in a room packed with card-exchanging honchos. If you're trying to reach Puri to invite him for a corporate shindig, don't bother attempting to dig out his cellphone number-he doesn't own one, which is difficult to imagine in the 24x7 universe of financial markets. That Puri is a chartered accountant and not a management graduate from one of the fancier B-schools might perhaps explain his uncharacteristic approach.
SNAPSHOT
REVENUES:
Rs 2,429.27 cr
PROFITS:
Rs 665.60 cr
Total employees:
11,777
Attrition (per cent):
18
Average career tenure:
Junior Management:
1.7 years

Middle Management:
4.5 years

Senior Management:
7.3
Training budget (actual):
Rs 2.8 cr
Training man-hours
(budgeted/ actual):
72,800/ 162,024
The atypical banker avatar, however, ends once Puri steps into the bank headquarters in the heart of Mumbai's mill district. Over the past decade-HDFC Bank began operations in January 1995, with Puri at the helm-the Managing Director has pulled out all stops to weave the bank's business philosophy carefully around four core values: Operational excellence, customer focus, product leadership and people. "There is consistency in the bank's policies. Every employee clearly knows where the bank is headed," says Sharad Bishnor, VP (Operations) who had left the bank for a brief period to join Zensar Technologies, only to join back in August 2004.
Since start-up, HDFC Bank has grown from half-a-dozen employees into a mammoth family of 11,777 people, who are driving the business by over 25-30 per cent annually. "We add 400 people every month to meet the growing business requirements," reveals Mandeep Maitra, Head HRD at HDFC Bank. At the same time, there is an army of executives growing along with India's fastest-growing bank; that's evident in the average employee age, which has moved up from 23 at inception to 27 years today.
In its 10th year, the bank clocked a total income of Rs 2,429.27 crore, net profits of Rs 665.60 crore and reserve surpluses of Rs 4,209.97 crore. Yet size doesn't matter much here. Many state-owned banks are much bigger, and what sets apart HDFC Bank from other banks is "culture, people and the rewards based on performance", sums up Rajanish Prabhu, VP (Credit Cards).
A DAY
IN THE LIFE OF
MANDEEP MAITRA, 39 Head (Human Resources) HDFC Bank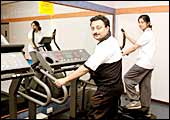 With 30 per cent of its staff being recruited via an employee referral system, the bank hopes it will never face a shortage of good people
Senapati Bapat Marg isn't the best corporate address to visit if you're one of Mumbai's 6.5 million suburban train commuters. The closest station is Lower Parel (on the Western Railway), from where S.B. Marg is a good 10-12 minute walk away. It isn't exactly a stroll in the park either, with the footpaths dirty and the roads too narrow. As I pass one of the many outmoded mills and step into the environs of the sprawling all-blue glass HDFC Bank House, everything changes spectacularly. I walk across a spacious lobby, step into a 1,088-kg unmanned lift, and on the sixth floor I meet Mandeep Maitra, the HR Head of HDFC Bank. Blame it on the walk, but I decide to begin with not the most delicate of openers. Mergers must be painful for employees, I prod, referring to the six-year-old merger of Times Bank into HDFC Bank. "Merging balance sheets doesn't take time at all, but it isn't the same when people are involved," she explains, recollecting those days in 1999 when 600-odd Times Bank employees were absorbed into HDFC Bank.
Maitra today heads a strong 40-member HR team, and doubtless one of their biggest successes has been the Karo Sifaarish programme, an employee referral system. She introduces me to Ayaskant Sarangi, Senior Manager (Credit & Risk), who shifted from ICICI Bank when his buddy Sumit Kakkar pulled him in. Maitra's favourite line to motivate new recruits is a killer. "I tell everybody, 'please look into the eyes of top management. I think you will see a dream called HDFC Bank and you will see passion in their eyes'." If that doesn't work, tell me what else can.
Interestingly, HDFC Bank is also one place where the best buddies work together. The bank runs a successful employee referral scheme, which encourages employees to recommend friends and, in the process, earn incentives. "Our employees' referrals are 30 per cent. That means I have some very happy people, otherwise nobody would call their friends to (work in a place of) misery," quips Puri. Today, 15 per cent of his employees are fresh out of college and in a world where every B-school graduate today wants to be an MD in three-five years, the bank has indeed succeeded in keeping the attrition level low at 18 per cent (the norm in the banking industry is 20-25 per cent). Quarterly incentives to salespeople, concessional housing loans and sponsored courses-such as one from iim-Ahmedabad tailor-made for mid-level employees-go a long way in keeping employees content. Employee stock option schemes, which cover 95 per cent of the workforce, also do their bit for retention. The blurring of hierarchical lines also helps keep employees at ease. For instance, as Maitra points out: "One-and-a-half years back, the bank started an upward feedback programme, which allowed subordinates to rate their bosses. Adds Prabhu: "The top management's down-to-earth approach makes them accessible to everybody."
Right from the start, HDFC Bank's mission has been to provide service levels one typically associates with the savvy foreign banks at an affordable price, the target customer groups being the middle- and lower-middle class. For instance, a minimum account balance of Rs 2,500 (as against the standard Rs 5,000) is offered in semi-urban and under-banked areas. Today, HDFC Bank's customers interact with the bank in a variety of ways-via 531-odd branches in 228 cities, 1,147 ATMs, and net banking as well mobile banking for the upwardly mobile customers. If HDFC Bank has emerged a preferred choice for 80 lakh customers-as well as 1.85 lakh shareholders-it's got plenty to do with the employees' state of mind. As Puri puts it: "If I don't have a happy employee, I will never have a happy customer."
INTERVIEW/

ADITYA PURI

/MD
"Every Employee Should Feel A Part Of The Success"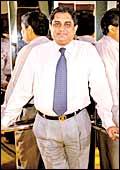 Excerpts from an interview with Aditya Puri, Managing Director, HDFC Bank.
In a service-oriented organisation like yours, is it the employee who comes first or is it the customer?
If I don't have a happy employee, I will never have a happy customer. Clearly, the reason for our existence is providing service to a customer. So the customer is bound to come first and that's what the organisation believes in. But we also have to make sure that employee interest is also taken care of.
So how do you ensure that the employees' interest is taken care of?
The vibrancy of the organisation depends upon the commitment and enthusiasm of the entire workforce in a company. Our values are customer and people focus. The ethics are so deeply embedded that anybody even discussing the non-ethical stuff at any level with any employee is unlikely to get a very pleasant response. We also have various levels of communication with the employees. I do video conferencing all over the region twice a week to get the message across to as many people. We have a very flat reporting structure and anybody can approach the higher ups. It is also my own personal goal to make sure that every employee should feel part of the organisation as well as the success.
Are you comfortable with an 18 per cent attrition rate?
At the key middle and top level, we have hardly had any attrition. However, we have to live with this problem at the entry level. If India is going to grow at over 8 per cent, there is going to be a tremendous demand for people with experience. In fact, people should get used to 15-25 per cent attrition rate at one-two year experience level in the industry. I think it should be acceptable.