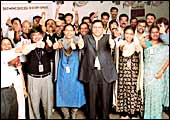 Thumbs up to Covansys: Subrahmaniam (centre), flanked by jubilant employees, conveys a spirit of camaraderie
Covansys-ians come to work on Friday in informal wear; the only caveat: jeans aren't allowed. "They used to come in ragged and frayed ones," says K. Subrahmaniam, President and CEO of the Indian operations of Chennai-based it company Covansys, with a wry smile. But jeans apart, an air of informality pervades the air at the company.
The lack of bureaucracy is one of the factors that makes working in Covansys a pleasurable exercise. It's common to see the CEO walk into the induction room, where presentations are made to new recruits, and chat them up. Several freshers later confess that they hadn't expected to interact with him so soon after joining. "This is a good place for freshers," says J. Shyamala, a Project Associate who joined as a fresher 18 months ago, without hesitation. "There are opportunities for growth, one has the freedom to take up projects of choice and work flexi-time." Little wonder then that search firms say it is easy to find candidates for the company. This is borne out by its relatively low attrition rate of 18.59 per cent, compared to its peer group average of 20 per cent; average career tenure is also relatively high at 4.73 years. This is all the more creditable because the 20-year-old Covansys is still not a top-tier it company. But that hasn't stopped it from taking great pains at being a "caring employer". K.K. Kannan, who joined as a security guard in 1996, is a case in point. Kannan was, and is, a voracious reader who spent several hours a day at the company's library, reading whatever he could lay his hands on. Sarang Iyengar, Senior Vice President (Administration), noticed this and recommended that Covansys sponsor his graduation and post-graduation studies (he will complete his Masters in Computer Applications in 2006). Along the way, he was inducted as a full-fledged programmer.
INTERVIEW/

K. SUBRAHMANIAM

/CEO
"We try to create a joyful work"

Covansys president and CEO K. Subrahmaniam spoke to BT's Nitya Varadarajan. Excerpts:
What is your recruitment strategy?
We have a "Bring your Buddies" programme and we give first preference to these people. This way, techies can work with their friends and our expenses on headhunters come down. We pass a portion of the savings to employees as incentives. And the obvious advantage is that attrition levels are lower.
What is your approach to people management?
We try to be approachable, direct and friendly. We have set up power groups across the company which are non-hierarchical; they are empowered to discuss any topic-including advising the management on how to handle clients better. These meetings can get riotous, but are very transparent. No decision is forced on anyone; and the results are put up on the bulletin board where just about anyone can read the same. Action emanates from this. We also have unique employee recognition programmes every quarter, where achievers are given awards for their, and their team's performance over the previous quarter. This has a massive impact on employee morale.
How do you ensure that communication channels from the top to the bottom and vice-versa remain open at all times?
Apart from the structured route of "town hall meets" (which do not happen as often as we would like because of the huge numbers involved) and other layered meetings, we also have an unstructured approach. I walk around, interact with people, get to know their names, their problems, attend their domestic functions when time permits and attend the functions they organise within the office. One hears and learns a lot this way. Our people do not expect office funding for their fun and games, but they expect our involvement and participation. I participate in rangoli competitions, for instance, and can say confidently that I am quite good at it.
Says G. Ravindran, Head, Global hr, at Covansys: "Our culture has always been extremely down-to-earth and friendly, but we tweaked it further to provide a sharper focus on employee welfare earlier this year." A rapid growth in manpower from 2,350 in April 2004 to 4,000 in April 2005 made it necessary for Ravindran and his team to formalise these "soft systems" and improve communications between senior management and employees lower down the hierarchy. Its compensation structure is also very competitive, and is driven by the principles of market and internal parity, performance, role, experience and tenure.
SNAPSHOT
REVENUES:
Rs 1,645.6 cr (2004)
PROFITS:
Rs 96.8 cr (2004)
Total employees:
5,935 (India), 7,500 (total)
Attrition (per cent):
18.59
Average career tenure:
4.73 years (India)
Training budget (budgeted/ actual):
Rs 2.13/ 2.5 cr
Training man-hours (actual):
140,000 hours (India)
There are, however, some crucial-even critical-areas that need attention. On an average, promotions take a painfully long time (7.5 years). The company needs to look into this aspect of its hr architecture ASAP. And employees feel career counselling at the company could do with some improvement. But for these, it may have been ranked even higher than it has. Says Subrahmaniam: "We are revamping our mentoring programme to ensure the large number of new entrants have a clear growth path and plans."
"Fresh graduates undergo intensive training and get promoted every two to three years and become fully responsible for delivery after gaining about eight years of experience. We also have a fast-track programme where leaders are identified early and promoted faster."
If it can act on these, there's every chance of Covansys improving its ranking in the years to come.
A DAY
IN THE LIFE OF
UMA PALANIAPPAN, 39 Vice President (Projects) Covansys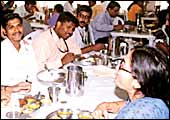 So, how about a good south Indian lunch? And that also for free! Now, employees certainly won't mind even if it is a mere 10-minute affair
The first thing Uma Palaniappan does at office is answer emails that have piled in during the night. Then she's off to spend time with coders as part of her company's "Break Down Tiers" programme. Juniors and seniors work together here, jokes are cracked, and personal queries are made, but a lot of work also gets done. The atmosphere is light and the dress code informal. This is followed by a quick 10-minute lunch; it's free, but only south Indian food is available. Palaniappan then gets down to the really serious business of discussing status reports with project team leaders in India, the UK and the US, often till late in the evening. And every evening, she also plays mentor to employees in her own department. For example, a colleague who had just become a mother, found the late hours inconvenient. Palaniappan sorted this out by extending the timing of the in-house creche from 7.30 p.m. to 11.30 p.m. These and other chores keep her occupied till 7.30 pm. Then it's back home to unwind and get ready for another day.