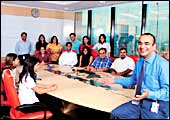 Sapient's Banerjee (right): Sapient India has not just transferred its American values to India but built on them
Raise your Spirits,
Raise them High,
Search for Tars (errors in codes),
And say Bye, Bye.
(Claps all around)
It's nine in the morning at Sapient's Gurgaon office, and the OPODO team (it works on a pan-European travel portal) is getting started for the day's work. What's with the cheering and clapping bit? "It's almost like readying yourself for a big, hairy, audacious goal," explains Sanjay Menon, a 30-year-old senior project manager in charge of the UK businesses in India. Apparently, every such team (some 40 of them) across Sapient's two offices in India (the other is in Bangalore) goes through a similar drill every morning.
Sapient more than knows the importance of morale. Set up in 1991 as a client/server application development outfit, the Massachusetts-based company went on to become an Internet consulting firm in the late 1990s and survived near death after the Internet bubble burst. Even as some of its rivals such as Scient and Viant keeled over, Sapient managed to reinvent itself starting the mid-90s. It shifted focus to high-end application development work with more predictable revenues and became one of the first it companies to spot the advantage of offshoring work to India. While Sapient, with $254 million (Rs 1,117.6 crore then) in revenues last year, did go through painful layoffs in the us as it shifted work to India, it made sure that it remained an employer of choice and, more importantly, created the same work culture that its young founders-Jerry Greenberg, 42, and Stuart Moore, 45-had given it in the us. In fact, to this day, it's part of Moore's job (both Greenberg and Moore are co-Chairmen and CEOs) to ensure that the workplace at Sapient remains one of the best in the industry.
The Sapient DNA
Ok, so you are a rocket scientist. But that don't impress the folks at Sapient much. "If a person has domain skills but lacks core values, (he is) not hired," declares Preneet Sinha, Manager, People Strategy (read: HR). Core values, she says, are things such as client-focussed delivery, creativity, leadership, openness, people growth and relationships. Strategic context, on the other hand, is the raison d' etre of Sapient and encompasses purpose, core values, vision, goals and client value proposition. People management is considered so important at Sapient that it is built into its corporate purpose of "being a great company, enabling human potential". Says Soumya Banerjee, co-Managing Director along with Changappa Kodendera: "It creates a powerful environment of freedom, flexibility and trust." (On BT's Best Companies to Work For in India, 2005 survey, Sapient had the highest average score for employee satisfaction, and it may have ranked higher than #7 had it been able to share India-specific numbers relating to hr and training investments.)
A DAY
IN THE LIFE OF
SANJAY MENON, 30 Senior Project Manager/Sapient Corp.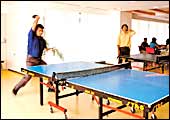 A game of table tennis helps employees unwind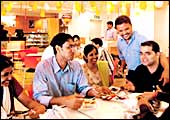 The smile is ever present, at work, at play, even at informal interactions
As the man in charge of Sapient's UK businesses in India, Menon oversees a team of 350. Most of his time is spent on people and delivery but he also plays career manager-and sometimes simply a sounding board-to 14 juniors. On a recent Friday, Menon's schedule is packed with meetings-mostly with potential hires to meet a sudden spike in workload. But post-lunch, he does have time to meet with Anubhuti Srivastava, a managee who is headed to London on an assignment but has two issues: role clarity and compensation. "The clients are going by title and not by role," complains Srivastava. Menon's advice to her: The client will lose its paranoia when Srivastava actually gets to London. And as for compensation, "focus not on a salary increase but on a promotion in the near future, which will take care of the compensation as well", says Menon, whose wife also works for Sapient.
The meeting finishes and Menon talks about how this was one of the easy interactions. "Sometimes it can be very difficult, especially when people need a reality check," explains Menon. Who gives him a reality check? "Well, Soumya (Banerjee) is my career manager," says Menon. "To me, working at Sapient is about playing to your strengths and also being pushed out of your comfort zone," says Menon, whose previous stints at PwC and IDBI have involved managing corporate restructuring and risk. As Menon walks me to the lift, he calls out to his colleagues for another meeting. Apparently, there's another potential hire who needs to be met before Menon calls it a day.
Respect for the individual starts right at the first point of contact with Sapient: the hiring stage. There are no mass interviews, instead a personalised welcome note shows up on a whiteboard when you walk into the interview room. Each applicant, irrespective of the level of hire, goes through five hours of interview with at least five people before joining the company. And once you sign up, a bouquet of your favourite flowers finds its way to your home a week before you join. Take the case of Rajat Beri, a 32-year-old consultant from PricewaterhouseCoopers' Washington, D.C., office. Initially, he was apprehensive of moving to India, but the interviewers put him at ease. "They even took the trouble of providing a book to me while I was waiting (for the interview) and there was a person from the us on the interview panel," recalls Beri, now a senior project manager at Sapient.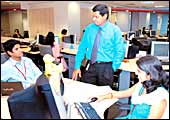 Sapient's Kodendera (centre): Respect for the individual, every individual, is evident in everything the company does
Roles and not titles is the motto that drives growth in Sapient. Vertical growth happens through a quarterly promotion cycle wherein 18-22 per cent of people in each title get promoted. A performance management system means a 360-degree appraisal by peers, supervisors, subordinates, self, career manager and managees if any. An appraisal decides compensation and whether a person is ready for promotion after playing a step-up role. (People with potential in their current roles are chosen to play step-up roles for the next level in the hierarchy.) No one is promoted into a role without being groomed for at least six months. Domain change is another facilitator to growth and employees can change domains after an assessment. Consider Sandeep Mahal, a 27-year old Senior Associate, who felt that he would be more marketable as a project manager rather than a creative designer and switched domains. "I got the opportunity to lead a team a couple of times and realised that my value addition was greater in project management," explains Mahal.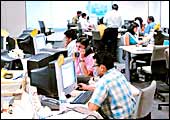 Compensation is typically a sticky issue at organisations. At Sapient, employees are paid market rates, but there's a strong reward-and-recognition policy. There are spot bonuses and spot rewards based on the client's recommendation and there are gifts for a person's one-, three-, five- and 10-year anniversaries at Sapient. One of the more special awards is something called a Founders' award, where the winner along with his family is invited to spend a weekend with Greenberg and Moore in Bermuda. The person is chosen by a global Sapient vote and for the last two years the winners have been from the India centre.
Coming to compensation, it is performance- and consistency-based, but Sapient as an organisation looks at creating long-term wealth for its employees globally. So, a senior employee, based on her performance, will be allotted restricted stock units (RSUS). This July, 160 managers (and above) were allotted RSUS-they accounted for 95 per cent of the eligible management. These shares have a four-year vesting period, but you can sell a quarter of your shares every year. All employees are also allowed to enrol in an employee stock purchase programme (ESPP) for which they can set aside up to 10 per cent of their salary. Other benefits include reimbursement of training and tuition up to Rs 40,000 and a computer purchase programme for people who have completed one year at Sapient. "So that they can practice their coding and do online courses at home," laughs Sinha.
SNAPSHOT
REVENUES:
$253.9 m
PROFITS:
$22.8 m
Total employees:
1,627
Attrition (per cent):
15.4
Average career tenure:
2.92 years
Training budget (actual):
$1.07 m (global)
Training man-hours (actual):
81,000
Not surprisingly, Sapient boasts of one of the lowest attrition rates in the industry. But the question is, why do people leave Sapient at all? Higher studies, personal reasons, better compensation, growth and change from a consulting firm to a software product company are some of the reasons. But Sinha says that the company is so connected to its employees that it usually gets to know six months in advance of an employee putting in his papers. The 'connection' is maintained on a daily basis by hr managers, career managers and business unit leaders. "It's about creating multiple roots," explains Binoo Wadhwa, Director, People Strategy.
The career manager is a skip level above and acts like a guide and mentor. In short, the career manager is the one who fights your career-and, once in a while, your personal-battles for you. Indeed, the career managers are accountable for their managee's growth and are evaluated by them in a 360-degree appraisal. Says Kodendera: "People growth is a part of being at Sapient; you are measured by how your people grow." There are a variety of ways in which Sapient allows its consultants to grow professionally and personally. Those who've done at least two years at Sapient can avail of sabbaticals, personal leave of absence, flexi-timings and even relocations. "We relocated people to Korea and Switzerland, although we have no offices there," notes Sinha. That means people in those countries work out of home.
Two other important retention tools used by Sapient are morale surveys and focus groups. A morale survey happens every six months for all employees, while the focus group sessions are held quarterly and try to catch the pulse of a new hire. In the last few morale surveys, Sapient has recorded 94-95 per cent participation. "Some of the responses are rude but just the same they force us to change and become increasingly transparent," says Wadhwa. It is this openess to criticism-and thus the willingness to change-that enables Sapient to be a great company to work for.
INTERVIEW/

SOUMYA BANERJEE

/CO-MANAGING DIRECTOR
"Core values is what we look for in people"

Along with co-MD Changappa Kodendera, Banerjee fields questions on the Sapient culture. Excerpts:
What would you say is the culture of Sapient?
Soumya Banerjee: Sapient is a purpose-, vision- and core value-driven organisation, where every single person at Sapient has the freedom to take decisions in line with our strategic context. It creates a powerful environment of freedom, flexibility and trust. The culture is about enabling human potential, making our clients successful and making our lives and careers successful beyond our dreams. When ck joined Sapient nine years ago, he was an associate at the entry level and today, he has set up the Bangalore centre because he had the passion that Sapient then enabled.
How do you ensure that this culture percolates down to everybody?
Changappa Kodendera: People are involved all the way from the ideation standpoint. Once we have articulated the strategic context, we actually do a global rollout in smaller groups with a discussion around the strategic context and everybody ends up feeling connected. At the end we also get feedback, which is incorporated. The hiring process is actually where it starts; we look for similar core values aside from just the domain skills of coding.
Everybody talks about a 360-degree appraisal. How much of a reality is it at Sapient?
CK: It's as fluid as people walking up to me and giving their opinions on various decisions and as structured as it can get in a performance management system.
SB: We all are rated whether it is Jerry, Stuart, ck or I.
Who are your career managers?
SB: Stuart Moore, our co-CEO.
CK: Mine is Clayton Locke, who is the ex-MD of Sapient India.
Why have two MDs?
CK: We have had two CEOs since the day we started the company. Even if you go down to a project level structure, we actually have a technology manager and programme manager on projects. I would say it's more in our DNA. I feel like I definitely have a coach in Soumya, and can bounce ideas off him. I can ask for help as well as for load balancing.