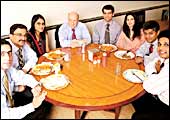 HSBC's Booker (fourth from left) with his crack team: A family that eats together stays together, but not for life now
It's tempting to draw a parallel between the new-look English cricket line-up skippered by Michael Vaughan and the Niall S.K. Booker-led team at the Indian operations of the Hongkong and Shanghai Banking Corporation (HSBC). Unlike many English squads of the past, the current bunch just can't stand the thought of losing (which enabled England to beat the Aussies in the recent Ashes series). HSBC India too till recently wasn't exactly renowned for the fire burning in its employees' bellies. "A job at HSBC meant you had a job for life," recalls Anurag Adlakha, Area Financial Controller. However, things changed once Booker took over as Group General Manager & CEO, India, in November 2002. "The uniqueness about HSBC is that it cares for its customers, has a long-term vision and is a fair employer," he points out. Now for the punchline. "All this is merged into a will to win. I try to create a picture of winning. That to me is the New Age HSBC," emphasises Booker.
SNAPSHOT
REVENUES:
Rs 2,287.9 cr
PROFITS:
Rs 336.9 cr
Total employees:
3,948 (as on July 31, '05)
Attrition (per cent):
21.8
Average career tenure:
Junior Management:
9.22 years
Middle Management:
5.77 years
Senior Management:
9.31 years
Training budget (budgeted/ actual):
Rs 10/ 9.4 crore

Training man-hours (budgeted/ actual):
20,000/ 20,460
The bank's impressive headquarters in uptown Mumbai houses some 800 employees, and if the atmosphere here has to be described in a couple of words, it would have to be "quiet efficiency". But don't let the hush delude you into believing it is all humdrum at HSBC. The first sign of pent-up ambitions coming to the fore was when the Hong Kong-headquartered bank acquired a stake in UTI Bank. The acquisitive intent didn't come as a bolt from the blue just to the world outside-internally too employees were surprised, pleasantly. "It resulted in our organisation being seen as one with an aggressive intent and possessing the capability of execution," explains Adlakha.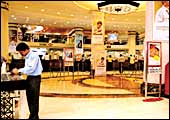 Such hardnosed corporate strategy and stress on performance juxtaposes starkly against the gentility and benevolence employees are treated with. For instance, employees are actually encouraged to leave early to be a part of a family occasion. All the tough talk at office notwithstanding, life for HSBC employees is not just about work. Incredible as it may sound, the workforce is virtually cajoled into taking leave. That's why employees are allowed to carry forward into the new year only five out of 30 days of privilege leave. In fact, come January 2006, the system of carrying forward leave will be stamped out. "The objective is to have a good balance between work and life," explains Shishir Agarwal, Vice President (Employee Relations).
To be sure, the word "compassion" comes up rather often when one interacts with HSBC employees. For instance, a voluntary retirement scheme that was implemented after Booker took over wasn't without the human touch, and employees had little room to feel that they'd been hard done by the management. Booker admits it was the toughest of times, alleviated to some extent with dignity and attractive severance packages. "People can accept hard decisions as long as they are fair," he says.
A DAY
IN THE LIFE OF
SHISHIR AGARWAl, 35 VP (Employee Relations)/HSBC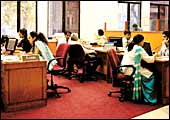 The atmosphere at HSBC's Mumbai headquarters that houses some 800 employees, is one of quiet efficiency. But don't let the hush fool you
Shishir Agarwal has arguably the toughest job in HSBC. As Vice President (Employee Relations), he's got to not only ensure he fits the right person into the right job, he also has to do his bit to keep morale buoyant even as he reins in attrition. As he begins his busy day, Agarwal tells me the work culture at HSBC is one where the means and ends are equally important. "It is a compliant and a process-driven organisation. There are no short cuts here." Over a cuppa during the morning tea break, Agarwal recalls one of his tougher assignments-a voluntary retirement scheme (VRS) that HSBC completed in 2003. "At the end of the day, one needs to have a humane approach and taking good care of the employees is important. We did exactly that and the employees were also happy," he states. They should have been-while 300 employees were what HSBC budgeted for in the VRS, the actual number who opted for it was 519.
Lunch in the cafeteria is with colleagues. Amidst plenty of banter and laughter Agarwal is preparing himself for a meeting later in the day. I interrupt him to ask where he recruits his workforce from. "We do not pick up too many from the management schools at the entry level, though there are a lot of summer trainees who come in," he explains. At higher levels, there is a fair number that comes in from rival banks.
I have heard a lot about HSBC's work culture, and as if he's read my mind, Agarwal brandishes a recent employee attitude survey that shows HSBC in good light vis a vis other MNC banks, and even HSBC worldwide. (The result of this has been a more energetic workforce. As it is, the worldwide best HR policies that have been successful are adopted in India)
If bidding goodbye to employees is tough, bringing on board fresh, passionate talent, and then retaining them, can't be much easier. Nothing works better than a bit of tinkering with compensation, and that is exactly what HSBC has done. The bank's introduced a variable element in the package, which essentially leaves the employee with more cash-and the freedom to decide what to do with it-rather than company-provided benefits like a car and housing. "The change in the compensation structure has helped us in getting better people. The objective has been to have an active and an energetic workforce," says Agarwal. He adds that initiatives like "Bright Ideas" (employees come up with ideas on how to work better) and "Thanks Award" (an instant recognition of good work) have resulted in employees feeling more strongly for the organisation. Such rewards are an imperative for, as Booker puts it: "If an employee has done great work, you cannot add another room to his apartment or 100 seats to his car." The head of HSBC's formula for success isn't too complex: Create an environment that encourages winners, and then reward those winners handsomely. That's got to work, right?
INTERVIEW/

NIALL S.K. BOOKER

/CEO
"Never Go Public With Your Disappointment"

Excerpts from an interview with HSBC CEO Niall S.K. Booker.
On the concept of leadership and teamwork.
It is important to put yourself in the shoes of those being led. To me, teamwork comes down to selecting the best people. While strategy is not rocket science, it is important to have a sound bunch of people who can execute it.
On the culture at HSBC.
This is really all about leading from the front and communicating with the employees all the time. While it may be hard to be positive everyday, the trick is to never go public with your disappointment. As I believe, between being optimistic and realistic, I would want to be a realist (he makes a reference to Jim Collins' book, Good to Great: Why Some Companies Make The Leap... And Others Don't).

On what working together at HSBC means.
The HSBC work culture is about encouraging groups to be together and celebrating success is one way of doing it. For instance, those in the call centre get dressed up for a bhangra. All this leads, in turn, to better performance from the employees. We have been doing well and have been lucky since the economy is also on the growth path. What has really happened in the last few years has been a case of turning a ship around without sinking it.
On the need for the employees to have a high-quality life.
Employees need to have a good life. We try to reduce workloads. We keep asking for feedback from our employees. Based on this, we have a better sense of direction and a good remuneration package in place.