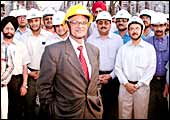 NTPC's Jain and his team: With attrition rate of just 0.4 per cent, the employees are definitely in good company
If attrition rates and average service tenures were the only indicators of employee satisfaction, then people at India's premier power generation company, National Thermal Power Corporation (NTPC), would easily top any happiness index for employees. With an attrition rate of just 0.4 per cent and an average career tenure of 20 years, it may well cause both tech start-ups and legacy majors to turn green with envy.
Before you dismiss these figures as a function of a public sector mindset-unambitious, laid-back and complacent-sample this: alumni, freshers and search firms alike have an extremely favourable view of the company; and competitors consider its hr practices extremely robust. Proof: Anil Ambani poached K.K. Sinha, its Director, HRD, in July this year. His brief: redesign Reliance Energy's hr practices.
SNAPSHOT
REVENUES:
Rs 26,517 crore (2004-05)
PROFITS:
Rs 5,807 crore (2004-05)
Total employees:
23,385
Attrition (per cent):
0.4 (2004-05)
Average career tenure:
20 years (74 per cent)
Training budget (budgeted/ actual):
Rs 1.13 crore
Training man-hours (actual):
1,611,952 (2004-05)
Ask Vijay Kumar Gupta, gm (hr)-who has been with NTPC for 26 years-why he's stayed with the company for so long, and pat comes his reply: "I've had no reason to think of moving." Not only has it given him full freedom to implement various innovative hr practices, it has also taken full care of all his needs. "Which company," he asks, "would pay the full medical expenses of its employees, their families and even dependent parents after retirement?" Adds Dinesh Batra, Senior Manager, Corporate Planning: "It is NTPC's ability to manage challenges and convert them into opportunities that makes it such a great place to work in." For instance, when it faced the problem of disposing of the residue ash from its power plants, the NTPC team came up with the idea of selling it as construction material (ash mixed with cement is used in construction) in West Asia. "The plan was conceived and executed in six months flat,'' adds Batra. Such nimble-footedness, popularly attributed only to the private sector, adds to NTPC's draw as an employer. "Employee satisfaction levels have jumped 20 per cent between 2001 and 2004 despite no major revisions in compensation levels," says G.K. Agarwal, Executive Director, HRD. Interestingly, the company conducts employee satisfaction surveys in-house every year and gets an outside agency to do it once every four years.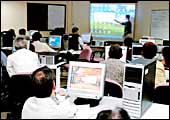 NTPC sees training as an investment, which means staff is always riding the learning curve
But what really attracts fresh recruits to NTPC are the learning opportunities and the chance to develop all-round capabilities. "In NTPC, training is seen as an investment. Hence, budget is not a constraint. Last year the training budget was Rs 1.5 crore," says Swatantra Kumar, gm and Head of the company's Gurgaon-based PMI (Power Management Institute). Adds Jasleen Kaur, an engineer who joined NTPC from Ingersoll Rand: "NTPC gives its employees enough time to learn before thrusting them into the job. It is not like the private sector where one is expected to run even before one learns to crawl." Young recruits are taught better communications and presentation skills at the Delhi-based National School of Drama and at week-long English speaking classes; the rigorous theoretical grounding freshers get on virtually every aspect of the power sector-construction, operation, maintenance and technical service of projects-at PMI is said to be the best in the country; and company-sponsored courses at IIT Delhi (Master's Degree in Power Generation Technology), MDI Gurgaon (Executive MBA Programme) and The Energy & Resource Institute, School of Advanced Studies (Master's Degree in Regulatory Studies) for employees at all levels mean Team NTPC is always riding the learning curve. This is what makes Vijay Kumar, a mechanical engineer from Ranchi and a 2000 batch trainee executive, a die-hard fan of NTPC. He is on a two-year all expenses paid leave from the company while he pursues an MTech in power generation technology from IIT, Delhi. "Private companies may pay higher salaries, but nowhere else do you get these kinds of facilities," he says." Not surprisingly, NTPC's hr policies have received ISO 2000 certification.
A DAY




IN THE LIFE OF


RABEEN SINGH, 31 Senior Officer, HR Department/NTPC

Rabeen Singh reaches office by 8.45 a.m. and rushes into a meeting. On the agenda are new milestones and targets set for his group by Chairman C.P. Jain. Off the agenda are the jokes that make these meetings enjoyable. This one breaks up only at 1.10 p.m. It's lunchtime; Singh heads for the ground floor canteen with his colleagues for a quick bite and some gossip. Post-lunch, he gets busy finishing his assignments, often shouting across his open bay for help from colleagues. The clock strikes 6.30 p.m., signalling pack-up time. Singh heads for the gym, mounts the treadmill for 30 minutes before heading home.

With the company taking care of medical expenses even post retirement, for NTPC employees, staying fit comes naturally
After a hard day's work, employees have the option of unwinding by playing pool or sweating it out in the gym
NTPC pays trainee engineers about Rs 7 lakh per annum (cost to company), which is quite competitive, though not top of the charts, by industry standards. But it is invisibles like training, education and healthcare that are the real icing on the cake. Argues Ashok Swarup, Deputy GM, HRD: "Taken as a whole-the pay and perks, the various welfare measures and the productivity linked-incentives-the compensation package at NTPC is among the best in the country."
The company also has a very sound mentoring programme. All 556 trainees recruited this year will have senior managers as mentors, who will help them tide over teething problems and foster a sense of belonging. Says Ranjana Mittal, faculty member and teacher of organisational behaviour at PMI: "What we thought existed only in books on hr practices is actually practiced in this public sector company." Little wonder that NTPC has regularly made it to this list-it came in at #3 in 2003 and at #6 last year.
INTERVIEW/

C.P. JAIN

/CHAIRMAN
"Some churn is always good"

Excerpts from an interview with NTPC chairman and Managing Director C.P. Jain:
How do you train fresh recruits?
NTPC has elaborate training programmes for its incumbent executives. Not only do they go through rigorous classroom training at the Gurgaon-based Power Management Institute set up by NTPC, they also put in stints at various departments and plants in the course of their year-long training programme. So, trainees are familiar with our needs, systems processes and also our long-term goals. There is a continuous on-the-job training for all employees-there is also a compulsory seven-day training for all officials; this includes overseas training programmes for senior managers.
How do you motivate workers?
The best way to motivate anyone is to let him/her know that performance will be rewarded. Thus, as an executive rises up the organisational ladder, the weightage for performance gradually increases while that for seniority decreases. In fact, for people at the deputy general manager level and above, no weightage is given to seniority at all. We also have a number of platforms to develop a culture of participation through what we call "quality circles". Here, employees are not only allowed to suggest new ideas (in relationship to their responsibilities) but also given the freedom to implement them. An individual needs not just money, but also good growth prospects, a great working environment and a sense of belonging. We try to foster that kind of feeling in the organisation.
How did NTPC deal with the sudden resignation of K.K. Sinha, former Director, Human Resources Development? Do you have a system in place to replace key personnel who leave?
If a senior executive leaves the company, it is obviously a loss. However, it helps if the organisation is prepared for such an eventuality. After all, everyone has to leave sometime or the other. Fortunately, NTPC has lot of depth in its human resources and, hence, can face up to such losses better than most other companies. You see, we consciously groom employees to take on higher responsibilities. And, look at it from the point of view of existing employees-if they know that no outsiders will be recruited in case of a churn, that slots left vacant by departing superiors will be filled from within their ranks-then motivation levels down the line will be that much higher. So, some amount of churn is good for the organisation.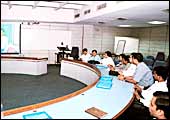 Honing skills: Learning opportunities are aplenty
But despite these impressive achievements-it scored the highest among all shortlisted companies on hr Metrics-there are some areas where NTPC needs to put in more effort. Its gender ratio is skewed 22:1 in favour of males. This is clearly unacceptable. As executives are recruited through an all-India written test followed by interviews, there is little that the company can do to change this in a hurry. But the ratio does seem to be improving. There were only nine women in the 2002 batch of recruits; the figure has jumped to 43 in 2005. Also, it has an unnecessarily long menu of leave entitlements. This is obviously a function of its status as a PSU Navratna-it has to follow the government's calendar of holidays-but this can also have an adverse impact on employee productivity. Realising the problem, the company has already taken some innovative steps. "We have reduced the number of closed holidays from 12 to eight and increased the number of restricted holidays from two to six so that offices remain open for more days,'' adds Agarwal.
But these are minor blemishes in an otherwise glittering report card. So the next time you use "public sector" as a pejorative term, think of NTPC. It might force you to rethink your terms of endearment.