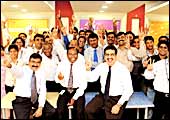 Band of boys:
HCL Comnet's Nayar (front right) believes happy employees mean better service for customers
HCL Comnet has a rather unique way of informing employees about its internal goings on. Instead of printing newsletters, as is the norm in most places, it blares entertainment programmes, pep talks by senior managers, news about internal developments and, sometimes, silly announcements by employees themselves through a network of speakers mounted in common areas like the cafeteria. Radio Comnet, as it is called, is a pre-recorded audio newsletter played through an intranet server-a first in internal communications in any Indian company. "We constantly innovate while reaching out to our employees," says Vineet Nayar, CEO, HCL Comnet. The company is now hunting for an RJ (radio jockey) from within its ranks to make the radio newsletter more interesting. Doing whacko things isn't a novelty at HCL Comnet. Last December, the company celebrated its 10th anniversary with a skit by all the 14 original founding managers (internally called Star Band). CEO Nayar, Chief Operating Officer Anant Gupta and Head of Human Capital Management J. Kalyanaraman were all in it, dancing to the tune of Dhoom Machale, a hit number from the Bollywood flick Dhoom. A recording of the event is part of HCL Comnet's corporate video presentation. Says Nayar: "For everybody else, it's customer first. For us, it's employee first." Translation: It's the employee who services the customer, so if the employee is happy, he'll try and service the customer better.
SNAPSHOT
REVENUES:
Rs 305.5 cr
PROFITS:
Rs 17.11 cr
Total employees:
2,200
Attrition (per cent):
15.1
Average career tenure:
4.71 years
Training budget (actual):
Rs 0.55 cr
Training man-hours (actual):
3,757
The Noida-based remote network infrastructure management company first entered the BT Best Employer's list last year at #4. It has maintained this rank, though its rolls grew almost 100 per cent from 1,200 employees to 2,200 now. It's expected to grow to 3,200 people by end-2006. So what, apart from fun and games, keeps such a burgeoning band of employees happy? Nayar points to HCL Comnet's compensation policy as one of the reasons; it has recently moved to a system of "trust pay". "We tell employees that we trust them completely and offer a fixed package that does not change according to the external environment," says Nayar (variable pay of 30 per cent is the industry norm). So the demand-supply dynamics-or winning or losing an order-does not bother employees on a daily or quarterly basis. But Nayar warns that losing a client is not taken lightly in the organisation. "We celebrate every victory, but we do not accept any loss," he says. "We do not penalise anybody, but send e-mails to concerned people suggesting ways to improve." That's evident. Average career tenures are relatively high at 4.71 years. "Transparency is the key to making employees feel comfortable," says Kalyanaraman, a 20-year veteran at the group. "We follow a ground-up approach; everybody (from line supervisors and above) gets an opportunity to take part in policy making." The company also has a very proactive promotion policy. The promotion rate of 48 per cent means half the workforce can expect to move up every year. This, naturally, makes for very happy employees.
A DAY
IN THE LIFE OF
KEWYN WALTER G., 25 Asst Manager (Service Delivery) HCL Comnet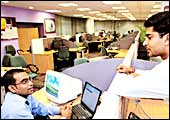 A 'Trust Pay' policy keeps the expanding pool of employees-now at 2,200-happy, and the average career tenure is relatively high at 4.71 years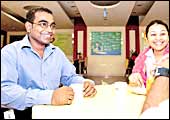 Skill upgradation includes an MBA programme, held on-site. Plans are also afoot for a B.Tech course for diploma holders (about 10 per cent of its workforce)
Kewyn Walter G., an engineer from national college of engineering, Madurai, and an MBA from Loyola Institute of Business Administration, Chennai, is working on a project for one of the largest diesel engine manufacturers in the world. He takes a company cab to work-it's only a couple of kilometres from his Sector 19 residence in Noida-and reaches office at about 1 p.m., a full hour before his shift starts at 2 p.m. The first thing he does is to check his e-mails and then sifts through all the reports which his team members send (based on which he sends weekly reports to his clients). So what he essentially does is remote manage the servers of his US-based clients sitting here in Noida. It's a high tension job. "I carry my (office-given) laptop home so that whenever there is urgent work, I can go online with my client wherever I am," says Walter. His department has 15 teams comprising 165 members in all. "Today, we organised a group photograph of all 15 teams in the department. We will paste it on each workstation along with each team's achievements." Typical college stuff, but it's par for the course in a place teeming with 25-year-olds. During his interaction with (US-based) clients, he behaves as if he is in America. For instance, when he goes out for dinner at 10 p.m, he tells his clients that he's going for lunch. "We have to follow our clients' timings," he says. By the time work winds up, it's 11 p.m. But Walter hangs around for another hour because he simply likes hanging around. It's midnight by the time he's through with this. Finally, it's time to go home-again, in a company cab.
"But the most important feature of our hr architecture is the 360-degree feedback system," says Nayar. That means everybody, from managers (who have at least two to three reportees) right up to the chairman, is assessed by subordinates on parameters like people orientation and skills, among others. Finally, after the scores are tallied and benchmarked against peer group averages, the results are sent back to the employees who have given the feedback. "We've made the whole organisation accountable to the employee," he adds. Not surprisingly, HCL Comnet scored the second highest among all companies on this list on hr Metrics.
INTERVIEW/

VINEET NAYAR

/CEO
"We create a company for first timers"

Excerpts from an interview with HCL Comnet CEO Vineet Nayar.
What is the secret of being a best employer?
We wanted to create a company for first timers. And we looked at what we could do to make it their first and last job. At Comnet, the employee comes first, unlike in other places where customers come first. We have made the whole organisation accountable to the employee. Our customers are interested in HCL Comnet because of the value we create for them. And creating value for a customer is each employee's responsibility.
How did you do it?
If you really want to create a new culture, a large percentage of people you hire should be young (the average age at Comnet is 25 years). And you have to give them real responsibility. You have to create an excitement quotient. The organisation has to have a young mindset. Where else do you see a CEO running around as Santa Claus (I did it last Christmas)? The idea is to create an organisation where everybody wants to come and work.
What about compensation?
We have a unique system here. While everybody else pays 30 per cent of the salary as the variable component, we trust the employees and pay them 100 per cent. We call it Trust Pay. And 85 per cent of the staffers have their salary fixed for a year while the rest (senior managers) know how their salary will grow in the next three years, unless something dramatic happens.
Your company is extremely sales-driven. Doesn't cut-throat competition make employees nervous?
Yes, our business is very cut-throat. We send condolence cards to those who lose the business, while we celebrate every victory. Losses are not accepted in our organisation. But I would like to add that nobody gets penalised or ridiculed. We talk to the person who's lost business and suggest ways of improving. This improves skills-and morale, too.
The company also invests heavily on educating its employees and on upgrading their skills. Under its Comniversity initiative, it offers an MBA programme in alliance with IMT Ghaziabad, on the Comnet premises itself. It will soon sign an agreement with an engineering institute in Noida to launch a B.Tech course for diploma holders (about 10 per cent of its workforce). "They can, thus, be promoted as graduate engineers," says Kalyanaraman.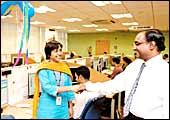 360°: Assessment by subordinates is high on the HR list
But despite these measures, the attrition rate has risen from 8.5 per cent in 2003-04 to 15.1 per cent the next year. It's still below the industry norm of 19 per cent, but does it indicate slipping hr standards? "Not really," says Kalyanaraman, "We have changed the methodology and are taking into account freshers who leave the organisation within 30 days of joining." But its gender mix, at 1:11 in favour of males, is way below industry standards and sits uncomfortably with its label of being an equal opportunity employer.
But like most other companies on this list, the asset side of its hr balance sheet far outweighs the liabilities. For proof, ask the employees.