Genpact's Pramod bhasin (standing): Transparency and communication helped him avoid a crisis at Genpact
If there's one company that shouldn't have made our Best Companies to Work for in India, 2005 list this year, it's Genpact, the erstwhile GE Capital International Services or Gecis. For a large part of last year, the BPO faced uncertainty over ownership with GE, which set it up way back in 1997 as a captive unit, deciding to sell a majority stake in it. Daily speculations on potential buyers and uncertainty over its future must have been unsettling for its employees, several of whom (including key executives such as Srikanth Karra, VP (HR), and Parthasarthy Iyengar, head of risk and compliance) left ahead of General Atlantic Partners and Oak Hill Capital Partners buying it in November last year. But guess what? That hasn't stopped the employees at Genpact from voting their company right into the Top Three this year. (In our survey, employee satisfaction carries the heaviest weightage of 35 per cent.)
So how did Genpact's President & CEO Pramod Bhasin not just manage to keep his flock together but keep them happy as well? "My senior managers and I decided to keep all our employees informed about each and every development," he says. "We encouraged all team members to raise their concerns and seek clarification on any kind of doubt they had in mind." That apart, Bhasin held personal web chats and face-to-face interactions with his employees to assure them that the management would not accept any arrangement that was not good for the company's growth. Says Piyush Mehta, Senior VP (HR), Genpact: "The biggest concern among employees was about the GE brand going away. So we assured them that GE would remain a stakeholder even in the new arrangement. In fact, we had constituted several teams whose mandate was to clarify various reports appearing in the newspapers."
Apparently, Genpact's management handled the situation extraordinarily well, since the BT-Mercer survey points to a high level of employee satisfaction and confidence in the management. An analysis of the responses (employees were randomly chosen by the surveyors; see methodology on page 78) shows that employees believe that the organisation supports diversity and open communication and that the management not just adheres to hr policies but lives and drives the organisational values. Coming from the employees of a company whose parent is best known for its hyper-competitive workplace and a ruthless culling policy, this is some feat.
A DAY
IN THE LIFE OF
MARVIN CARVILLE, 31 Assistant Vice President/Genpact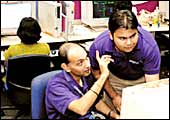 Carville (left) joined as Process Associate in 1998 and is Assistant VP today. Despite getting two job offers a month, he is not willing to leave Genpact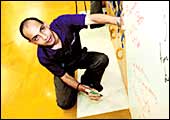 Apart from work, Carville is nuts about soccer. Part of Genpact's soccer club, he does not miss practice sessions even if he's been working the previous night
It's three minutes past two on a recent Friday afternoon, and Marvin Carville has just reached office (he works for a BPO, after all). The first thing he does, like most of us, is to boot up his PC and check his emails. "That sets the pace of the day for me," he says. In the mail box are requests and proposals from different team members and clients in various locations. Since Carville, a hotel management graduate who joined Genpact as an entry-level associate, works different time zones, he must prioritise his work in a particular way. The proposals from the UK, China and Far East are dealt with before the clock strikes 6 p.m., after which all US-related tasks are taken up.
Today, apparently, the British Telecom business development team in the UK has sought feedback on a particular design solution. Carville needs to discuss it with a colleague who's an expert at customer fulfilment. The duo discuss the issue over a cup of tea, which is followed by a quick lunch. Carville is back at his work station to take on another interesting project. A client has asked for managing its receivables across 15 destinations. "Such projects are quite challenging because we need different language capabilities and communication tools," he explains. When I take leave of Carville at around 6 p.m., he's not even through half day's work. He's got a long evening ahead of him. But I don't think he'll get much sleep thereafter. There's an early morning soccer session the next day and Carville, part of Genpact's soccer club, has a record of not missing any.
Not A Big Paymaster
Once again, the overwhelming employee enthusiasm does seem a bit ironic, considering that Genpact doesn't pay top dollar to its associates. "We don't promise our prospective employees the moon," says Mehta. "And unlike our competitors, we do not lure talent by offering abnormally high salaries and perks," he adds. The starting salary at Genpact at around Rs 1,20,000 annually is at the median level, when compared with rivals in the industry, some of whom offer more than Rs 2,00,000 per annum to even plain graduates. The company doesn't make up for smaller pay packages with huge bonuses or lavish increments either. Yet, being the employer of choice has been its stated goal ever since it set up shop in 1997. And according to Bhasin, "The company has achieved this goal without fail year after year."
He rattles off numbers to support his claim. Despite an extremely stringent hiring policy-only four out of 100 applicants get hired-Genpact has managed to hire around 8,000 people so far this year. (Obviously, Genpact is growing its business ferociously, having just come out of the GE cocoon.) The rate of attrition, claims Mehta, is almost half of the industry average. "Our annualised agent level attrition rate has been 30 per cent in the tech support division and 33 per cent in collections against the industry average of 97 per cent and 77 per cent, respectively," exults Mehta.
INTERVIEW/

PRAMOD BHASIN

/CEO
"It's not all about pay cheques"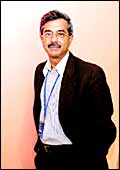 Excerpts from an interview with Pramod Bhasin, President and CEO, Genpact.
Wasn't your GE linkage a big pull for prospective employees? Wouldn't it be harder for Genpact to attract talent now?
Indeed, the GE lineage made the sailing much easier for us. Today, we have our own individual market presence and strong brand equity. The fact that one of the country's top business publications has chosen us as one of the best companies to work for, says it all.
Why did GE pull out from Gecis and the hot BPO sector?
It is not that GE has abandoned us. The group still holds 40 per cent stake in the new entity, Genpact, and 85 per cent of our business, across the six countries we are present in, is still ge's. The current equation serves both the parties well.
It is said that Genpact is a poor paymaster.
We believe in rightful and realistic wages. We strongly feel that fat pay cheques are not the right means of attracting talent. High salaries impact the cost-effective business model of BPOs on one hand and build wrong hopes among employees on the other. Those starting their careers at an early age need good training, guidance and exposure to best global business practices more than money.
Will the recent study on "inhuman" working conditions in BPOs impact hiring?
Not at all. These false alarms are being raised by people living in the 18th century. The younger generation today understands the challenges and the requirements of modern day businesses. I am sure they are not going to pay any heed to such unwarranted criticism.
Riju Vashisht, VP (HR), promptly points out that there are hundreds of employees who have been with the company for at least five years. "Some of them started their careers with us as associates, which is the entry level post, and are now serving in various top positions like Vice Presidents," she says. Marvin Carville is one such employee who, after a diploma in Hotel Management, had joined the company in December 1998 as Process Associate and is now an Assistant VP handling new projects across regions such as the US, the UK, China and Romania.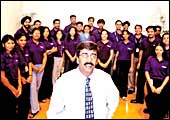 Genpact's Mehta: He's got the GE culture to work with
But why does Carville, who claims to be getting at least one offer every two months from Genpact's rivals, choose to stay on in a company where penny-pinching is the norm? How do Bhasin and his team retain their workers without offering them big financial incentives, which apparently is the biggest motivator for most employees? "We offer our people a career, not a job like most of the other BPO operations," declares Bhasin. "It is the promise of producing well-rounded professionals who could take on bigger responsibilities and challenges in future that helps us in tapping and retaining the talent," adds Mehta.
Investing In People
To be fair to Genpact, it spends an enormous amount of money on its people. Last year, it spent more than $10 million (Rs 45 crore) and over 1.5 million man hours on training. It employs an array of hr tools to address the professional and personal, long-term and short-term concerns of its people. It has an in-house army of 170 certified trainers who coach employees not just in areas like client processes, product and compliance, but also soft skills such as leadership and decision-making. For the new recruits, there are dedicated courses for honing communication, interpersonal relations and etiquettes.
SNAPSHOT
REVENUES:
Rs 1,908 crore (2004)
PROFITS:
Not available
Total employees:
14,000 in India; 19,000 worldwide
Attrition (per cent):
31 average
Average career tenure:
4.5 years
Training budget (budgeted/ actual):
Rs 45 crore
Training man-hours (actual):
1.5 million (2004)
Apart from offering a whopping 1,500 professional certification programmes, Genpact runs a project called Genpact University, wherein it has tied up with some of the top business schools like xlri and IIM Bangalore. These institutes hold special tests and classes for Genpact employees. The company pays the entire tuition fee if these employees stay back for a stipulated time after finishing their course. "We launched this programme after we found out that many youngsters left jobs to pursue higher studies," says Mehta. At present, 2,000 Genpact members are enrolled for various courses across half-a-dozen such schools. These employees are eligible for flexi-hours and even paid holidays for studying and writing their exams.
On the lighter side, the hr team keeps organising various extra-curricular activities in which the employees' family members are also encouraged to participate. Bhasin and his team take a lot of pride in the fact that practices like in-house meals, pick up and drop facilities and security guards with women, were initiated by them in the industry. Yet, there are a couple of issues that the BT-Mercer poll of Genpact employees throws up. One, not surprisingly is compensation, which employees feel needs to be aligned with industry standards to increase the impact of compensation on retention. Two, employees feel that hr should improve its ability to provide career guidance to them. Bhasin & Co. had better take note.