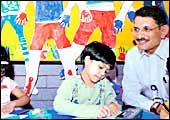 Just kidding! Spending time with his employees' kids brings a smile on Sasken CEO and Chairman Rajiv Mody's face
Hewlett-Packard, Microsoft, apple Computers, and the very Indian Sasken Communication Technologies have something in common. They are all garage start-ups. Sasken, then, has some very large shoes to fill: hp is today a $80 billion (Rs 3,60,000 crore) conglomerate, Microsoft is the undisputed leader in desktop operating systems, and the iPod has made Apple a household name. In many ways Sasken is looking to adopt the same maverick work culture of hp (Garage Rules, the company's founders called it) several thousand miles away at its Bangalore hq. The company, which made an IPO this year (oversubscribed 78 times; an offer price of Rs 260; a listing price of Rs 400; and a current market price of Rs 328.5), is on the fast track. It has opened new campuses in Pune and Delhi and is eyeing Chennai as its next location. And after a brief disastrous foray into products, Sasken has sharpened its focus and is today a pure telecom software company. The change seems to have worked: Sasken's 1,700 professionals have made 27 patent filings (and won five awards) and have had the satisfaction of seeing five million phones run on their IP (that's intellectual property).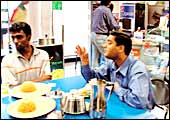 Sasken's success in the marketplace is less an indication of the skill of its engineers (although they are fairly skilled), more a testament to the employee-friendly policies. While everyone has the same size cubicle, the same flying and parking privileges, Sasians (as employees at this company are called) are challenged to come up with new and innovative ideas, with senior executives just a cubicle away for help. Hari Iyer, People head at Sasken, says that a theory of equity presides over all interactions at Sasken. "We don't want anyone to feel inferior here, everyone's expected to come up with new ideas and challenge the existing set up," he explains. Putting people first means that Iyer gave up a Sunday siesta one day a few years ago to interview the current Chief Marketing Officer, Swaminathan Krishnan. "I wanted to return to Bangalore and Sasken was one of the places I applied," remembers Krishnan. "Iyer was happy to meet me on a Sunday, with me dressed in casuals and with no CV in hand." And the CMO, in turn, is expected to pass on this people-oriented nature to his subordinates. "This means that new recruits don't call me Sir and they work on their own terms," says Krishnan. For others such as Milind Gandhe, a 10-year veteran at the company, the flexibility of Sasken's People Policy means that he can take weeks off to recover from the last few months (hectic due to an IPO he oversaw) and take his family on a South African Safari. One of the most popular hr concepts in the company is Hibernation, where stressed code jocks get a six-week break after working for four years. While Gandhe will be on Safari, others have taken the break to just switch off and recharge.
SNAPSHOT
REVENUES:
241.77 cr
PROFITS:
22.78 cr
Total employees:
2,121
Attrition (per cent):
19
Average career tenure:
2.1 years
Training budget (budgeted/ actual):
Rs 15,000/ 17,000 (per person)
Training man-hours (budgeted/ actual):
15,000/ 17,655
Most people believe working in an IT firm means long hours and repetitive tasks (it sometimes does). Sasken prefers to view itself as a tech hotshop, where employees can switch departments and divisions if they feel jaded in their current position. Leveraging the 3c Model-Competence, Commitment and Character- Sasians often make a switch just to test themselves at something new and untried. Vinay Dabholkar, 32, who started off as a specialist in the geeky field of electronic design automation, will soon (after a Hibernation of course) make a switch to the customer-centric field of marketing. "This means going back to my books and reorienting myself for a job that requires more fieldwork and travel," says Dabholkar. Like other innovation hotbeds, dress codes are non-existent (Dabholkar meet us in a grey T-shirt, jeans and leather slippers) and the hierarchy has just five layers. "Deadlines are sacrosanct, but at the same time, (Rajiv) Mody (the CEO) and other senior executives always encourage us to balance work and life," he adds. This means Dabholkhar doesn't have to come in on weekends and can catch a game of badminton with his wife and eight-year-old son or sharpen his fluting skills (the flute is his latest musical passion after keyboards and the tabla). "You have to respect the people who work for you and this means going the extra mile to ensure that they are happy both at work and while they are away from their cubicles," says Mody. "We take a lot of pride in our people practices," says Krishnan and rattles off specifics: Sasken is the smallest (by revenue size not by its grant) sponsor of the post graduate diploma in software management held at the Indian Institute of Management; it pays half the health insurance premium of employees; imports ergonomic chairs, rather than buying local variants, and more such.
A DAY
IN THE LIFE OF
VINAY DABHOLKAR, 35 Program Manager/Sasken Communication Technologies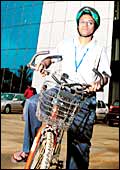 Cycling his way to work; that's none other than Sasken's Program Manager Vinay Dabholkar
It's hard to miss Vinay Dabholkar. He cycles to work from his home a few kilometres away. When his first cycle was stolen from outside Sasken's campus, he just acquired a new one, this time with shock absorbers (to protect his laptop, he claims). His wife, a teacher at the upscale Bangalore International School, drives to work (she has a longer commute). Dabholkar, a seven-year veteran of Sasken, is an IIT, Bombay alum, who moved to India after a stint with Motorola in the US. His geeky exterior hides a steely core, something I discover during a conference call he has with a European client that I sit in on; he goads, badgers, even bullies responses from an initially hesitant client. The conference room itself is bare, except for a new age phone and ergonomic chairs, something that Dabholkar says reflects the egality of the workplace at Sasken. Some more work and it is time for lunch (Thai today) at the company's canteen. "I have had offers from other companies but the incentives from Sasken are just too good to pass up," he says, adding that he shortly proposes to go into Hibernation, where employees who have spent four years with the company get six-weeks of paid leave (Dabholkar will use his time to recharge for a switch to marketing). As we walk back, Dabholkar rattles off the other benefits at Sasken: two-weeks of paternity leave, no concept of time in and time out, a liberal leave policy, and the freedom to buttonhole CEO Mody wherever and offer him suggestions. The rest of the day (a long one) passes in a blur: more meetings, more calls, and the like as Dabholkar races to meet deadlines before a long weekend (the Diwali weekend) that looms.
Not too long ago (five years ago), Sasken was a small start-up, which conducted business meetings over a mug of beer; things have become a lot more professional today. "When we were small the kind of work we did was different," says Iyer. "Today the company's grown significantly; we are no longer just working on single project but engaging with the customer." To keep pace with this change, employees spend more hours in the classroom, broadening their domain knowledge and technical expertise. Sasians can avail of a one year sabbatical to update their knowledge, with no compulsion to return to the fold. "We need to provide people with the right work environment for us to fully utilise their skills," adds Mody. "Contrary to perception, services, not just products, can be a highly-innovative area."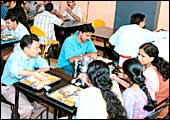 Healthy diet: Sasken employees enjoying a meal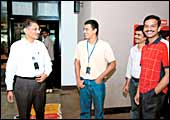 Interacting with employees: Mody (L) seems to be enjoying it
In a market dominated by large companies, a company such as Sasken has its task cut out. It doesn't offer the highest salaries in the business. "This means that we (the top management) have to work that much harder to keep talent at Sasken," says Mody. Four years ago, Sasken had to swallow a bitter pill when it initiated 20 per cent salary cuts across the board to stay afloat in a moribund market. Today, Iyer says the challenges are very different. "We are a growing company will be hiring some 400 freshers this year; the challenge is to create an exciting place to work for them." Mody admits that while Sasken has done well in terms of business over the past 12 months, there are specific people pain-points that the company needs to address if it is to sit at the high-table of business. "Attrition is a definite concern and it's a number I would definitely like to bring down; starting salaries are something we also need to look at when we consider how quickly the market is changing," he enumerates. That's not all; given Sasken's intense focus on telecom software, finding skilled people, especially capable mid-management, is going to be a challenge for the organisation as it expands. In addition, employees who wish to follow a purely technical path don't yet have a clear career path ahead of them at the company. "We are working on this facet," says Iyer. "Given our technology-orientation, it is inevitable that we have employees who want to focus on this rather than get into people management." Its continued presence in this listing (it was #1 last year) implies that Sasken is good at addressing such issues.
INTERVIEW/

RAJIV MODY

/CEO
"I don't believe in time cards"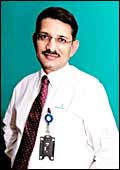 Excerpts from an interview with Sasken CEO and Chairman Rajiv Mody.
Salaries in the IT industry seem to be increasing constantly. Do you think these hikes are sustainable over the long term?
Our starting salaries are not the greatest, we offer around Rs 2.5 lakh per annum, compared to Rs 3 lakh-plus that some others do. But we believe that the best and brightest minds join us because we are growth-oriented. I believe that there's a mad rush to get rich fast among youngsters and I don't believe that this is sustainable. People need to work for a while and gain experience before they can head a team; this is not something that happens overnight. The real problem will happen if and when the market slows down; when they're (employees are) caught with no place to sit when the music stops.
Sasken's adopted some innovative employee practices that seem to give your employees a lot more freedom than other organisations...
The people working for me are adults and I treat them with respect; I don't believe in time cards. Employees are free to come in when they want and I only want to reach their targets on time. We have just five levels of management and everyone including me has the same size cubicle and travels economy class. While we drive our employees, we also believe in giving people a break from work, so we have the concept of Hibernation, where people who've slogged for four years or more can take six weeks off at our expense.
Is attrition a problem for Sasken and do you believe there is a war on for talent? What can you and the industry itself do to curb this?
Attrition is clearly a problem for the industry and at Sasken too. I would like to reduce this statistic significantly. There's an undeniable war on for talent and since we don't pay top dollar, we also need to clearly define job roles and ensure that each employees' job is enriched. We need to strengthen our mid management and ensure they get more autonomy and responsibility; my job is to only enrich and mentor these managers.
Sasken's come a long way from the company that started in a garage 16 years ago. Do companies in such a growth phase begin to lose their original identity?
We try and have meetings across functions and departments to try and foster that small company mentality. As we grow in size, we also need to find ways of handling the pain points that come with larger scale. These may relate to attrition or the need to make each employee feel that their role and contribution is vital to the success of Sasken.