SNAPSHOT
REVENUES:
Rs 7,129 crore
PROFITS:
Rs 1,891.67 crore
Total employees:
46,196
Attrition (per cent):
10
Average career tenure:
2.16 years
Training budget:
Not available
Training man-hours (actual):
673,462
When hurricane Rita tore across vast stretches of the United States, Infosys Technologies, a very Indian company, found itself in a position where it had to arrive at a snap decision to evacuate some 80 employees at its Houston Development Centre. "The decision to move these people was taken in just 15 minutes during which time it was decided to move these people to safe ground. People are our main assets and we decided in a short time to charter an aircraft and get them to safety," says Bikramjit Maitra, Head (HR), Infosys Technologies.
Implicit in Infosys' decision to do something for an employee group as small as 80 is the desire to retain the culture of a small company that has served it well through its 25 years of existence. Despite having nearly 50,000 employees on its rolls across the globe, the company tries to keep the same small-company atmosphere as it grows into a multinational with a rich Indian heritage. A company that began life 25 years ago in Chairman N.R. Narayana Murthy's flat in Pune is today spread across nine locations in India and half a dozen overseas. The company is no longer just a software services outfit; its BPO subsidiary Progeon has nearly 3,500 seats and the company has made significant investments in its consulting foray too. Despite expanding so rapidly, "we like to maintain a smaller company touch and we have split the overall business into several smaller independent units of around 4,000 people each. Every unit is almost fully autonomous and even has its own hr arm", says Maitra. Splitting the company this way works both ways, according to Mohandas Pai, Infosys' CFO and Director (hr). "We have created these 15 business units to try and foster a small company culture at Infosys and at the same time give each division the support of being part of a large, financially safe organisation," he explains. While Infosys has split the company into many smaller mini-Infosyses, it has also evolved distinct hr policies for software services, BPO and consulting. "The people we hire in each segment are different, so each have to be governed by its own set of independent practices," says Pai.
Shades of a winner (L to R):

Infosys' Nilekani (centre) on the move with two Infoscions; the company's sprawling 80-acre Bangalore campus; and a bird's-eye view of the Terminal, a food complex that serves Infoscions with three types of cuisine
Managing an increasingly heterogeneous group of employees doesn't just involve complexity at the level of business units or subsidiaries. As Infosys continues to expand globally, it involves complexity at the level of cultures and geographies. "In the us, there's a lot of focus on shorter workdays and upward mobility," says Pai. "In Europe, on the other hand, personal time is treasured and yearly family vacations are taken seriously." The main challenge for Infosys, according to him, is to attract and retain some of the best talent in the world. That's easier said than done. If, at one level, Indian vendors such as Infosys have acquired some sort of brand equity in other countries, then, at another, large MNCs are queuing up to expand their presence within the country. "We believe that our global delivery model is far superior and more proven than the strategy adopted by our competitors, especially the multi-nationals," says Maitra. Then, that doesn't make his job of adding numbers to Infosys' workforce (in the first six months of this year, the company has hired 6,000 people, taking its workforce strength to 46,196 on September 30) any easier. "There is a battle for high-quality talent and the challenge is to hire high-quality people. We believe that we have an edge because we have an open, transparent culture, and we invest heavily in training and leadership," adds Pai. Indeed, over the past decade Infosys has emerged, arguably, India's most desirable recruitment brand with an average of one million resumes being processed by its hr department every year. And in addition to being a much sought after employer, Infosys also manages to retain people for at least a couple of years once they sign on the dotted line. "We believe that our attrition rate (around 10 per cent), which is half the industry average, is among the best in the industry," says Maitra.
A DAY
IN THE LIFE OF
PAYAL RAI, 32 Senior Project Manager/Infosys Technologies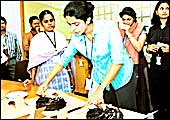 An impromptu birthday bash gives Rai (front) a break from work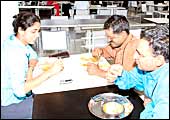 With a conference call looming, it's time for a quick lunch with two colleagues

For Payal Rai, 32, a senior project manager at Infosys Technologies, there are some memories of the now $2-billion (Rs 9,000-crore) company that refuse to go away. They include the time when Infosys Chairman and Chief Mentor (and then CEO) N.R. Narayana Murthy stood in a lunch line; when Hosur Road was a manageable single-track path to Electronics City; and when the company itself had just 1,000 employees working out of one building. That was in 1995 when she first signed on with the firm. A decade on, a lot has changed for Rai. "I definitely miss Infosys as a small company, but on the other hand I am proud to be part of its phenomenal growth story," she tells me as she lugs her laptop to a conference room to start a call with a colleague in Australia. The conference call happens after a quick 30-minute lunch break at the Terminal, a two-level food complex that services three kinds of cuisine. "Project managers have been given laptops recently and with the kind of traffic we have to wade through, it's really useful for us to start the day early," Rai says, after the call (for the record, Rai is at "work" by 8 a.m.).

A little later, Rai and I are ushered into a conference room, where an impromptu birthday party for two Infoscions is on. "This is a chance for us to step away from our schedules to meet up for a few minutes," says Rai (who is here because the two people whose birthdays are being celebrated are part of her group). "While we may all work in the same group, different schedules mean that we rarely get to spend time together." Then, it is back to work, work and more work (Rai's day typically ends at 6 p.m.).
While Infosys has evolved into a $2-billion company (it will close 2005-06 with at least that much in revenues; its revenues for the April-September period already tot up to Rs 4,366 crore, just under $1 billion) in 25 years of existence, it has also had to face criticism that its founders still continue to hog senior management positions (four of the six people who founded the company still hold executive posts). In the recent past, senior execs like Hema Ravichandar, Group Head (hr), and Basab Pradhan, Head (Sales), have quit when faced with an apparent glass ceiling. The company's President, CEO and MD Nandan Nilekani is quick to defend the company. "Infosys was started by first generation entrepreneurs who have worked under someone and know the problems faced by software pros," he says, adding that the company is a meritocracy and his children aren't expected to join the company as a rule. While the days of catching Chairman Murthy at the canteen for breakfast or lunch or walking unannounced into Nilekani's cabin may now be things of the past, there are other things Infosys is doing to maintain its reputation as one of the country's (and according to company execs) the world's best employers. This includes the creation of perhaps the world's largest training facility at the firm's 270-acre campus in Mysore, Karnataka, after an internal assessment highlighted the need to groom a stronger second- and third-tier management. "We have to enable our second and third line of management to become effective leaders," says Pai, while Maitra points out that the company has to invest in nurturing employees not just from India but nationals from some 40 countries who work at Infosys and are valued at over $6.4 billion (Rs 28,800 crore) by the Lev and Schwartz model popularly used to measure human capital. "We want to grow, but we want to keep the core character of Infosys intact when we do," says Maitra.
His reference is to the soul of the company and that is very much in evidence one rainy Wednesday afternoon when a group of Extratelestrials (that isn't a typo; groups typically have names drawn from customers) decide to take a quick break between back-to-back meetings and celebrate some birthdays, even though the actual dates were a week or more ago. "We have these events regularly to try and create a sense of belonging among employees, especially new inductees," says Payal Rai, 32, a 10-year veteran of the company. Unlike some other companies, these events do not involve a whole lot of planning and involve just a 10-15 minute break, a quick chat over cake and Coke (or Pepsi), and an even more rapid return to work. Nilekani himself tries to keep in touch with delivery managers, meeting them as often as his schedule permits and spending an hour or more in each meeting. "Infosys seeks to foster an open, transparent culture," says Pai. While hr execs such as Maitra may have been able to meet with every employee a decade or more ago (when the workforce numbered just around 1,000), technology now helps them prepare individual career paths for Infoscions. "That's something that stands out for me about Infosys," says Rai. "Employees can choose at what pace they want to run their career. I have chosen not to run at break-neck speed, but the company is okay with that." Despite overseeing a company with such a large workforce (and despite whet this writer mentioned earlier in this article), Nilekani insists that his door is open all the time for suggestions and comments. As if on cue, two over-eager recruits nearly ruin a photo-shoot for this article when they rush over to Nilekani to shake hands with someone they have "admired for many years". A patient Nilekani then steps away from the interview to spend a few minutes with the techies. Employees come first, you see. Then he returns and smiles for the camera. The brand matters too.
INTERVIEW/

NANDAN NILEKANI

/PRESIDENT, CEO AND MD
"Infosys is a fair and democratic employer"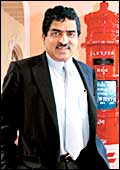 Infosys CEO Nandan Nilekani speaks to BT's on the company's people practices. Excerpts:

Is the employee profile of Infosys changing as it transforms itself into a multi national company? How do you manage such a wide cross-section of people?

We are recruiting people all over the world today; we are hiring people for our Chinese operations, Infosys Australia, consulting operations and freshers from American colleges. We have around 1,000 foreigners and this will increase significantly over the next decade as Infosys becomes a truly global company. While Infosys has evolved to a company of over 46,000 people, we have learnt to identify our core values at Infosys and build our people practices around them.

How critical is it for a company like Infosys to develop a strong middle management? Do mid-managers have a long-term career at the company?

Infosys is a professionally run company and the founders are all first-generation entrepreneurs. None of our children will inherit the company, so we have to focus on developing the next generation of leaders. Initiatives such as the investment in the Learning Centre in Mysore are part of the plan to create a second rung of leadership that can take over at the right time. I don't believe that there's any limit to how high a professional manager can go at Infosys. We give employees a fair chance to grow and share in wealth.

Infosys' founders continue to hold several key management posts 25 years after the company was formed. Do you need to democratise top management?

Infosys is a fair and democratic employer and no one is being held back from their natural career growth path.

You have over 46,000 employees today. How do you keep an individual Infoscion from getting lost in the crowd?

We have to drive the benefit of both scale and the spirit of "smallness" that we try and foster within Infosys. We have broken up the company into several smaller units and I try and meet as many people as I can personally. There is a defined career path for each Infoscion and senior managers will mentor them on reaching their targets.