What: Zee TV introduced a unique concept of one-minute ad breaks in one of its most ambitious projects launched in recent times. The show, Saat Phere-Saloni Ka Safar, had four sponsors (Radio Mirchi, Zandu, Mother Dairy and CavinKare). Their usual 30-second spots were cut to 15 seconds each
Why: "It was a unique promotion," says Tarun Mehra, Vice President (Marketing), Zee TV. The channel thought it would be able to win over Prime Time (9:30-10 p.m.) eyeballs from some of its rivals
Uniqueness: Uniqueness: A half-an-hour show has seven-eight minutes of ads. But, on October 17, the first day of Saat Phere telecast, couch potatoes had an uninterrupted viewing experience. It was business as usual next day onwards
Opportunity Lost: Around Rs 7-9.8 lakh
Opinion: Says C.V.L. Srivnivas, Managing Director, Maxus: "It is an interesting initiative to check the increasing ad clutter on TV. But broadcasters will have to look at alternative sources of revenue to sustain such initiatives"
---
Who: Lakshmi Niwas Mittal of Mittal Steel, who became the world's largest steel producer by acquiring Wilbur Ross, Jr.'s International Steel Group for $4.5 billion (Rs 20,250 crore) last year
What: He's made another equally big acquisition. Last fortnight, he bought Ukraine's state-owned Kryvorizhstal for $4.8 billion (Rs 21,600 crore) in a televised bidding that saw some chest-beating too
Upside: The acquisition puts more gap between Mittal Steel and #2 Arcelor, whom he beat for the Ukrainian steel giant
Downside: Analysts are worried Mittal Steel is taking on too much debt, given that days earlier it signed a deal with the Jharkhand Government to set up a 12-million-tonne steel plant in the state. Besides, Kryvorizhstal needs expensive upgrade
Result: Standard & Poor's has put Mittal Steel on "credit watch"
---

Zee's Chandra: Stumped!
It seems Essel group chairman Subhash Chandra's apprehensions that the Board of Control for Cricket in India (BCCI) was determined to disqualify his bid for Indian cricket's telecast rights were not totally misplaced. Zee Telefilms was declared ineligible after the cricket board opened its technical bids on October 4, and submitted the results before the Delhi High Court. BCCI cited two reasons for disqualifying Zee. One, the broadcaster did not have three years minimum experience in sports broadcasting and second, it had never been an original licencee of any sports property before. Zee, obviously, is not amused. "Some of our rivals didn't have any in-house expertise in live production of cricket till last year and the properties they have telecast in the past were not owned by them, but by their parents based outside India. Yet, their bids have been accepted," says Ashish Kaul, Vice President, Essel Group. The game, however, is far from over. According to Pratibha Singh, one of Zee's counsels, "The court was not convinced by BCCI's line of reasoning. It has sought a detailed explanation in support of its arguments against Zee." The case will come up for hearing on December 12 now.
---
P-WATCH
A bird's eye view of what's hot and what's not on the government's policy radar.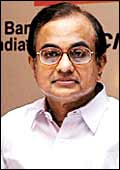 FM Chidambaram:
Redeeming his pledge
TAX EVADERS, BEWARE
Way back in 1997, P. Chidambaram, then Finance Minister in the United Front government, had declared: "I will come down very, very heavily on tax evaders." Today, as FM in the UPA government, he is redeeming that pledge. Chidambaram recently announced that the tax authorities have collected the names, addresses and other details of all people who run up mobile phone bills of more than Rs 1,000 a month; who spend more than Rs 2 lakh a year with their credit cards; withdraw Rs 10 lakh or more in cash; or invest more than Rs 2 lakh in mutual funds. So, if you haven't paid your taxes, this may be your last chance to come clean. Or else...
OLD OIL IN NEW BARREL?
Consumers can look forward to some relief from high petrol prices-but only after six months. The government has set up a six-member inter-ministerial committee headed by C. Rangarajan, Chairman, Prime Minister's Economic Advisory Council. Crude prices have come down from their September 1 peak of $62.78 (Rs 2,825.10) per barrel to about $55 (Rs 2,475) now, but the spectre of volatility remains. Petroleum Secretary S.C. Tripathi says the panel will look into the incidence of taxation on crude and petroleum products and submit a report on rationalising the same by April 2006. The guiding principle: the burden of high prices will be shared equally by the consumers, the government and the oil companies. Now, why does the government need a committee to recommend something that it is already practising?
IT'S RAINING TRADE PACTS
The Manmohan Singh government is finalising free trade agreements (FTAs) with many more countries and trade blocs. Its logic: With multilateralism floundering, regional trade agreements seem to be the only way to integrate India's economy with the globe as well as find new markets for its goods. But India Inc. is upset; it wants a more calibrated approach to the issue. Why? The absence of adequate infrastructure, the cascading effect of internal taxes and duties, and inflexible labour laws combine to whittle down India's global competitiveness. Sounds like a replay of the Bombay Club argument. The government, meanwhile, is going ahead with its plans.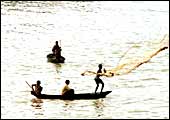 Fishing out:
Jobs plus profits
EASIER ECO NORMS
Project clearances will become easier from next year. The Draft Environment Impact Notification, 2005, prepared by the Ministry of Environment and Forests, allows for the expansion and modernisation of existing projects without environmental clearance and empowers the ministry to grant temporary working permission of up to two years on receipt of applications in the prescribed format. The notification will be gazetted in early 2006.
A BOOST FOR FISHERIES
The government is setting up a National Fisheries Development Board to optimally tap the potential for increased fish production. The sector provides employment to 14 million people, but has never received the attention it deserves. Says Union Agriculture Minister Sharad Pawar: "Farmer suicides are practically non-existent in regions where they are also involved in livestock rearing and fisheries." The board will especially focus on inland acquaculture. Maybe, just maybe, the lot of the Indian farmer is finally heading north.